Ask the experts
Here is a selection of Q&As from Your Hampshire and Dorset Wedding magazine. If you would like your question answered by our experts, please email it to editor@yourhampshiredorset.wedding.
To view more Q&A's on a different topic, please select one from the list below.
Hot topic: Autumn weddings
Local experts advise on seasonal celebrations
---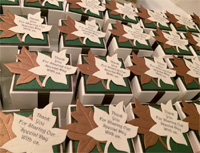 The write stuff
Q. We're getting married next November. How can we reflect our autumnal theme throughout the wedding stationery to give a flavour of our day?
A. Carol Slark says: Think burnt orange, dark green and all things rustic; trees, wood, leaves and moss. Kraft card is ideal for a countrified effect, embellished with tactile hessian, string or leaves. However, if you want seasonal style with an elegant feel, pearlescent card works well printed with seasonal images and trimmed with satin ribbon in deep, rich colours.

Whatever you choose, it's important to stick to your theme and don't try to incorporate too many elements as this can confuse matters and spoil the impact. You can tie the whole look together by continuing the theme, materials, motifs, colours and embellishments throughout the stationery from the invites to the tableplan, place settings and beyond.
---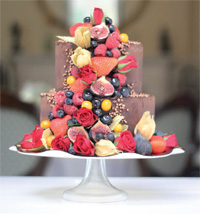 Autumn tiers
Q. As our first date was a romantic woodland walk on a glorious autumn evening, we want to celebrate the season on our wedding day. What style of cake would fit the bill?
A. Jill Chant says: Naked cakes are a trend that shows no sign of slowing abd they don't just have to be scattered with fruit and dusted with icing sugar either. They can be a high-impact, visual feast, presented on a wooden cake stand and decorated with seasonal blackberries, crab apples, dried orange slices and leaves. Draw on nature's colour palette for inspiration with rich, opulent shades of purple, red, orange and brown.

Buttercream and ganache-covered cakes lend themselves to autumn weddings and look stunning adorned with chocolate leaves, touches of edible gold leaf and bright seasonal flowers such as chrysanthemums or dahlias.

For something more traditional, sugarpaste flower decorations in lush, autumnal hues are ideal or a hand-painted cascade of leaves looks very elegant on an ombre iced cake.
---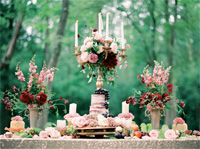 Subtle touches
Q. We're planning to tie the knot next October and want the venue décor to include a nod to the time of year without being too obvious. Any ideas?
A. Sian Bowron says: Capture the essence of the season with rich russet and gold tones and bring the outdoors in. Add a feminine touch with soft peach and pink hues and use fruit to add texture and interest – simple, on-theme and cost-effective. You can even spray paint the fruit to coordinate with the rest of your décor.

On-trend metallics are glamorous and blend beautifully with earthy autumn hues. Personally, I love a bit of sparkle, and a sequin tablecloth is a simple addition that can transform your cake or sweet table and make a great talking point too.
---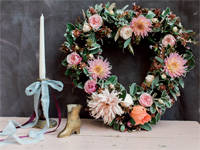 Burnished tones
Q. What type of flowers would you suggest for our autumn wedding to reflect the colours and feel of the season?
A. Jenni Prosser says: For me it's all about texture and shape. I love using interesting blooms, grasses and foliage in my bouquets and arrangements, such as acacia baileyana which has a wonderful metallic hue and soft, interesting texture or cotinus (smoke bush) with its fluffy panicles. For a natural, rustic look, there are lots of setaria grasses I'd recommend, like the wonderful, nodding heads of setaria red jewel.

Japanese anemones keep going well into the autumn and are beautiful both in bud and when flowering. Their long, dancing stems have so much character and they go beautifully with chocolate cosmos with its irresistible scent. Burnished-bronze echinacea buds will add depth to a romantic blush and dusky pink palette, while dahlias are a firm favourite in all their amazing colours and shapes.

Complement your flowers with metallic vessels; think mismatched burnished copper and brass. It will help the autumn tones really shine through while adding a sense of romance and opulence.
---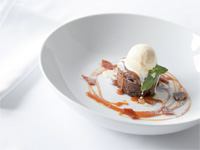 Food for thought
Q. We're having a sit-down meal for our November wedding. What dishes would you recommend?
A. Sally Pickles says: Comfort food is enjoying a steady revival. It hit the headlines in 1998 when Kate Winslet married Jim Threapleton and had sausage and mash for their wedding breakfast. These type of dishes always make a comeback in the autumn. For example, we have coq au vin on the menu for several of our forthcoming weddings along with Old Winchester mash (featuring a delicious local cheese from Lyburn Farmhouse). Beef wellington is another seasonal favourite, followed by sticky toffee pudding; delicious with homemade clotted cream ice cream.
---
Contact our experts...

Carol Slark
Stationery designer

Jenni Prosser
Florist

Jill Chant
Cake designer

Sally Pickles
Caterer

Sian Bowron
Wedding consultant
---