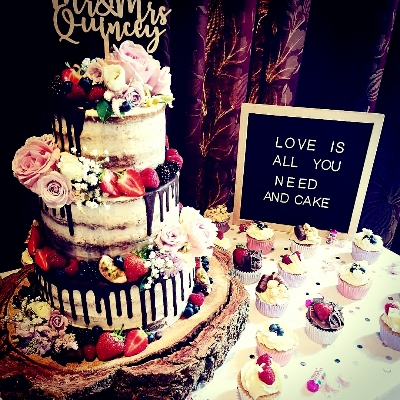 Great cake expectations
Q. We love cake but can't agree on what to have for our wedding because there's so much choice. Any ideas to help us decide?
A. Alexandra Bishop says: Alexandra says: Despite being one of the oldest wedding traditions, cakes for the big day have changed dramatically over the years and continue to evolve. Trends vary from year to year, which is exciting for us. Every couple has their own concept and ideas and we have the honour of bringing them to life. Here are a few of the trends currently causing a stir to help inspire you.

- Rather than a traditional tiered creation, there's a move towards having a range of sweet treats instead. We've been creating towers of brownies, doughnuts and even individual cheesecakes. This is a fantastic way of making the cake more accessible to guests, as they can help themselves, with no waiting for the cake to be cut. Plus, who doesn't want to be dancing the night away, doughnut in hand!

- Naked cakes remain popular and I reckon they're here to stay, along with buttercream designs. Many people are looking for alternatives to the usual icings and are choosing softer gooier options. Influenced by dwindling love for traditional fruitcake, couples want their guests to be really excited to eat their cake. Decorations have become lighter too, with the use of fresh ingredients proving increasingly popular. I mean who doesn't want to eat a cake covered in delicious fresh berries! To add to the more relaxed look, fresh flowers, rather than sugar ones, are a popular choice. This is a great way for couples to tie in other elements by incorporating blooms used for the wedding flowers.

- Dramatic illusion cakes are a hot trend for next year and beyond. Made to look as though they're floating, or with clear boxes used to separate the tiers, they're a real statement piece and fantastic talking point. It's also a great way to add height, without the need for too much cake. We have some fantastic new designs in mind using these techniques and can't wait to showcase them in the coming months.
Alexandra Bishop, The Pastry Corner
www.thepastrycorner.co.uk