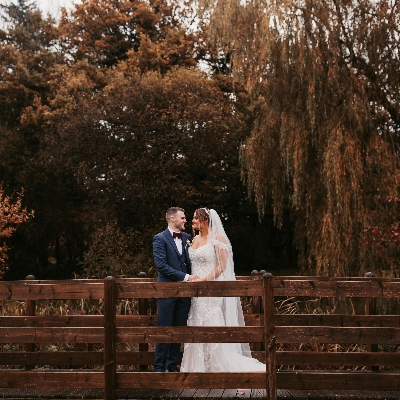 'tis the season
Q. What colours and decorative details would you recommend to create a seasonal look for a winter wedding reception that's cosy and not too over the top?
A. Lois Baw says: Lois says: As the seasons change and we move into late autumn, early winter I always recommend minimal colour with lots of candlelight. I love white and neutral tones, especially at the vineyard because I think the colours from the vines speak for themselves. In early November, the leaves are a beautiful burnt orange and provide not only a stunning backdrop for photos, but inspiration for the big-day colour palette too.

You can't go wrong with floating candles, log slices and lanterns for the venue styling. We provide fairylights in the Old Winery and under the Byre to add extra twinkle to your day. As the daylight hours get shorter and the sun sets, candles create a romantic yet snug atmosphere. For the Christmas period, subtle metallics work well with a rich burgundy or forest green colour scheme, providing a natural festive feel without over doing it. If you're a big fan of the season, why not have baubles as favours, mini-Christmas trees as centrepieces and hot chocolate and marshmallows as a winter warmer after the meal? One of my favourite things about this time of year is the moody twilight hours, so make sure you check what time the sun is setting, grab your photographer and head out for some stunning photos!
Lois Baw, Three Choirs Vineyard
www.vineyard-weddings.co.uk