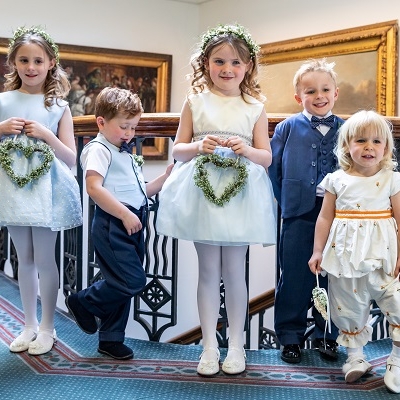 The wedding squad
Q. I'm looking for flowergirl and pageboy outfits; what advice can you share with us?
A. Dawn Clarke says: All children grow at different rates and don't necessarily fit within certain age ranges. It's incredible how different the sizing can be from one company to the next – some are generous but others are not. Always measure your children before buying an outfit to check sizing charts. I once knew a client who purchased three outfits online, but not one fitted the flowergirl!

For pageboys, my top tip for trousers is always to buy ones with adjustable buttonhole elastic fitted inside the waistband. Little boys are notorious for having slim waists but grow rapidly in height – this way, you'll get a good fit on the day and they can get continuous wear from them.

If you still can't get an outfit that fits, always consider smaller British companies that offer made-to-order designs. You may pay a little more, but you can guarantee excellent quality and a perfect fit.
Dawn Clarke, Dawn Clarke Designs
dawnclarkedesigns.co.uk