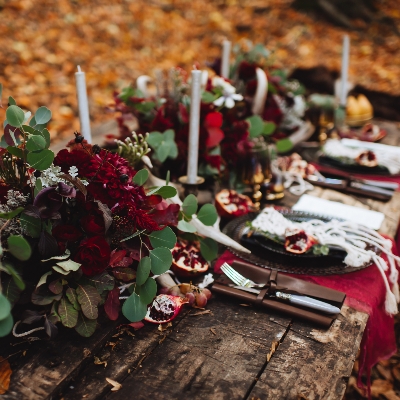 First glimpse
Q. We want to set the tone for our October wedding from the get-go. How can we make sure our stationery gives our guests a taste of what's to come?
A. Hannah Read says: Hannah says: As with most aspects of design; be it graphic, interior or fashion, a great way to generate ideas is to look to the season. Nature can be such a strong inspiration, evoking thoughts which all of us can relate to.

For an autumnal invitation, those classic 'leaf-turning' colours like amber, dark green and rich burgundy are the perfect choice. Although there's nothing to say you can't still have a pop of colour, as long as it complements the other tones. Imagine fuscia or magenta, which can be found in the beautiful sunsets that take place at the changing of the season.

When it comes to textures, an uncoated card stock or brown Kraft paper is great for that earthy tone; think crunchy forest floors or logs stacked in a roaring open fire. Equally, a coloured stock with single colour print could have a similarly stand-out effect if you're looking for a more modern style to the traditional rustic look.

Metallics are also a great way to reflect the season. Rich bronze foils and digital gold inks would complement an autumnal colour palette perfectly. A vibrant orange invitation with gold text would make for funky, contemporary stationery or a deep burgundy and bronze palette could add a rich and indulgent flavour, like a glass of full-bodied red wine on an October evening!

Finally, don't forget your envelopes! Let your guests be dazzled from the moment the invitation lands on their doormat. If you're handwriting the addresses, choose a pen to complement your colour scheme, with a fine tip for accuracy. You could also seal the envelopes with personalised stickers to set a stylish tone for your big day.
Hannah Read, Hannah Read Design
www.hannahreaddesign.co.uk