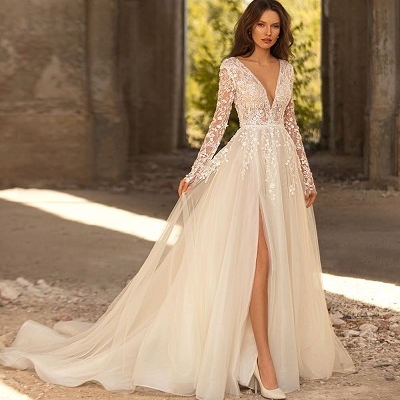 Fashion-forward
Q. I want to look on-trend on my big day. What's fashionable at the moment, and what designers I should look out for?
A. Anneliese Ward says: We were lucky enough to visit both the London and Barcelona Bridal Fashion Week this year. After two years of Covid restrictions, we were keen to feel and touch all the dresses and fabrics again. Here we have scouted all the latest fashion trends in the bridal world.

There's a huge trend towards plain and classic styles but with a modern twist. In particular, overskirts are in huge demand as it allows you to have two different looks with a dramatic A-line skirt for the day and a more fitted sleek silhouette for the evening. One designer who does this well is Eva Lendel, a Ukrainian company that has set up a second hub in Poland despite the war to continue to serve all their beautiful clients.

Modern brides are pairing their clean gowns with understated pearl details. Cathedral-length veils scattered with tiny pearls teamed with a pearl headband are uber fashionable at the moment. Another trend which graced the runways is frothy blouson sleeves that can be detached for that desired second look.

The bridal world is also seeing a move towards a sexier trend with some skirt slits, so brides can show some leg and those all-important shoes. If you don't want to go full-on femme fatale with a figure-hugging silhouette and skirt slit, go for a timeless look with a twist and opt for a formal ball gown with sleeves and an unexpected thigh-high slit.
Anneliese Ward, Chameleon Bride
chameleonbride.co.uk