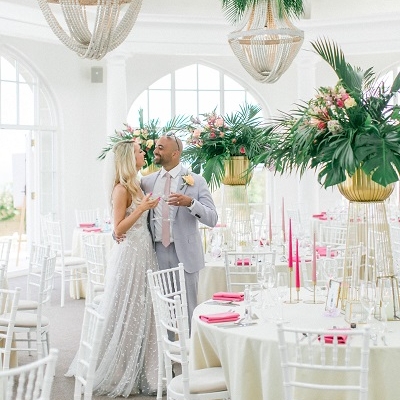 Setting the tone
Q. What venue styling trends should we look out for in 2023?
A. Tessa Haskell says: It's going to be all about colour this upcoming wedding season, whether that's focusing on the tones within a specific spectrum or pops of bright hues.

Viva magenta has been released as Pantone's Colour of The Year 2023, which has been described as a brave and fearless shade that promotes a joyous and optimistic celebration. As we desperately need the most extravagant sense of celebration, incorporating this colour will only cement these feelings. Opting for a statement colour doesn't mean your look needs to be garish and overbearing. Get the best results from your desired shade by featuring it through arrangements alongside complementing hues. Perhaps you might decide only to bring hints of your statement colour into your table styling through the candles and napkins or by adding silk ribbons to your bouquet.

Why not take that colour and roll with it, choose to use nothing else but the tones from that shade spectrum for some serious wow factor? However, this tends to lend itself to colours on a more neutral scale. Select tones of lavender, also prominent for 2023, blush, nude or mocha to explore the scale from the very pale through to the much deeper tones. Consider a tonal spectrum for bridesmaids' dresses, table styling and florals to create a bangon- trend look.
Tessa Haskell, Penn Creative Collection at Pennsylvania Castle Estate
www.thepennestate.co.uk