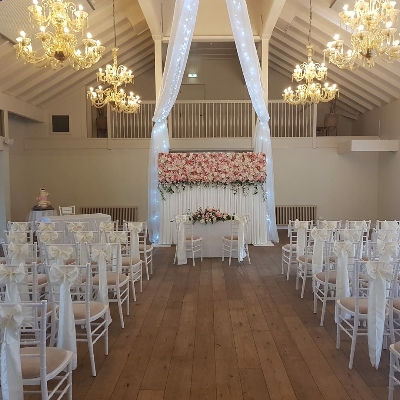 All in the detail
Q. We want to make the most of our country venue for our summer wedding including the outdoor areas, weather permitting. What would you suggest?
A. Clare and Matt says: Clare and Matt say:

- Lighting is often overlooked but can be one of the most cost-effective ways to transform a venue. You can create a lasting magical impression indoors and out with everything from twinkling fairylights to a starlit LED dancefloor to add to the party atmosphere. Get really creative with decorative and different colour bulbs and with the summer months ahead, take the party outside with festoon lighting and exterior uplighting. 

- Don't forget details like the seating to complement the look and feel of your day. Chiavari chairs are a popular option, they provide an elegant alternative to chair covers and can be dressed to match your theme.

- Drapery is great for a multitude of tasks; it can enhance a host of different spaces, create a focal point, frame the top table or even disguise any unwanted features. Our bespoke ceiling drapery and starlight backdrops are ideal for extra wow factor while adding elegance and finesse to your big day.

- Extra touches like a ceremony arch, white carpet aisle runner, decorative lanterns, blossom and bay trees can make all the difference too.
Clare and Matt, Luminique Events Ltd
www.luminiqueevents.co.uk