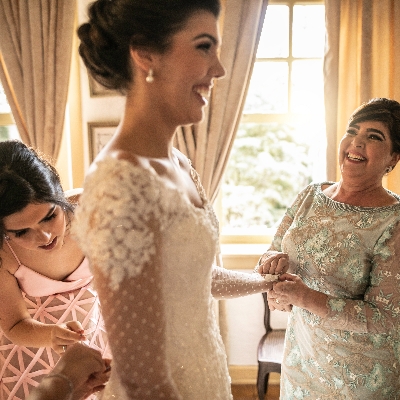 The final cut
Q. We've downsized our wedding after postponing it twice and are putting aside some of the budget for a bumper party with all our friends and family next year. We were originally planning to have a videographer to film our whole day but wonder if it's worth it now. What would you advise?
A. Simon Parris says: Simon says: The important thing to remember in these changing times is not to over commit yourself financially. So why have a video? This is something that's often asked and many of my couples say that having their wedding filmed ended up being one of the best decisions they made for their big day. It's about capturing all the sights, sounds and emotions, providing you with lasting memories. As well as your own personal recollections, your photographer will capture a range of special moments and a beautifully crafted film will add a whole extra dimension, including scenes previously unseen by you and your partner.

The approach that I've found works well for my couples is to initially book the lowest priced package (normally the ceremony only) – that way you can secure the services of your preferred supplier and at the very least will have a wonderful film of you getting married, the lead up to it and immediately afterwards. By doing this, you're not over committing and can budget and plan for everything else that you want for your wedding. Once the date is in the diary, nearer to the time, I then give my couples the option to upgrade and extend their coverage, budget allowing and at the original prices quoted at the time of booking, to include all aspects of their day.

People also often ask whether having a videographer at a wedding is obtrusive? The answer to that is, if filmed properly, absolutely not! The very best moments are always the ones where your friends and family don't even realise they're being filmed – that's the beauty of a long lens!
Simon Parris, Final Cut Wedding Films
www.finalcutweddingfilms.co.uk