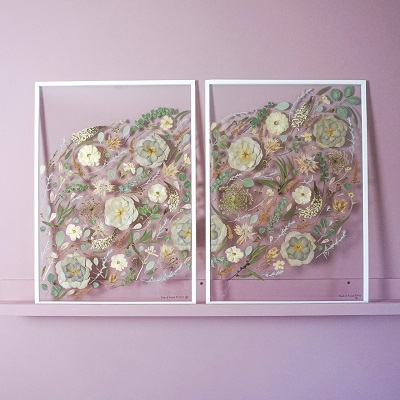 Darling buds
Q. We hate the idea of chucking our flowers away after our wedding. How can we enjoy them after our big-day?
A. Lucy Whitfield says: Flowers play an essential role at weddings as the blooms will show your personalities, add a romantic atmosphere to your venue and convey memories after the day through the certain florals used.

But what happens to all those lovely and expensive flowers once your wedding is over? They can be given away to guests or displayed for a week or so, but they will inevitably get thrown away. Aside from your wedding photos, there's no lasting physical memory of the beautiful florals.

You get more value out of your flowers by getting them professionally pressed while gaining a genuinely bespoke and sentimental piece of artwork to display for years to come – it might even become a family heirloom! For loved ones that have been a big part of your special day, giving them a piece of art created from your wedding flowers is a personal and special gift.

If your wedding has passed and you didn't preserve your bouquet, there's always the option to get it recreated to be pressed – can you think of a more perfect anniversary gift?
Lucy Whitfield, Fields of Pressed Flowers
www.instagram.com/fields_of_pressedflowers