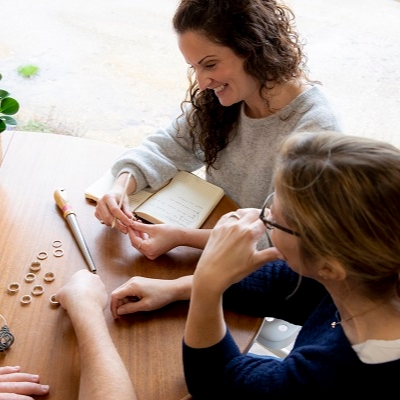 Ring-a-ding-ding
Q. We're looking for the perfect wedding rings; what advice can you share with us?
A. Olivia Brown says: To ensure you receive the perfect rings, have an expert jeweller make the pieces for you. That way, you'll receive something unique with the perfect design and fit.

Sometimes when couples come to see me about having their rings made, they know exactly what they want. But more often than not, they need help discovering the options available.

The fact that you'll wear these rings for the rest of your life can add a bit of pressure to the process. That's why we're here to share advice regarding the metal, purity, shape, width, size and finish.

When creating the perfect rings, consider the metal and design of your engagement ring as well as your personal taste. A good jeweller can advise on practical aspects such as durability and comfort.

Commissioning bespoke rings means you're guided through your decisions by an expert who knows this field like the back of their hand. That means the process will be stress-free and utterly enjoyable. After all, there's no jewellery more meaningful than the rings you give to one another as a symbol of your life-long partnership.
Olivia Brown, Olivia Brown Jewellery
www.oliviabrownjewellery.co.uk