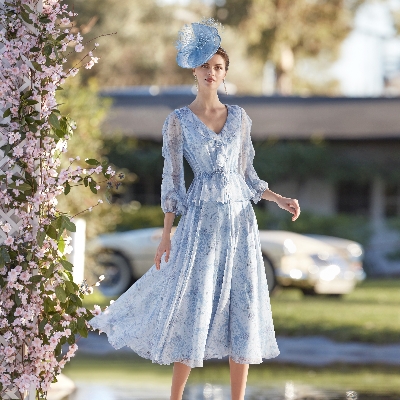 Modish mums
Q. We're hoping to get married this summer and my mum is stressing about what to wear. She has no idea where to start when it comes to choosing an outfit for such a special occasion, can you help?
A. Steve Taylor says: Steve says: We've certainly missed the busy flow of mothers-of-the-bride and -groom in the boutique, but that makes us even more excited about all the weddings to come in 2021 and we've got some great styles arriving for the season ahead!

- Front and centre of the mother-of-the-bride and -groom trends is the midi dress. The popularity of this style has grown over the last few years, but for 2021 it stands out as the star of the show. Harking back to the days of Audrey Hepburn, there's just something so elegant about this look. The fitted bust leads to a neat waistline to create a lovely shape as the skirt skims over the hips flaring down to the calves. While you do need some height, a pair of heels really complements the shape and gives you the stance to make the most of what's set to become one of the most popular choices this year.

- There are some great options you can wear not only to the wedding but afterwards too. Trends for next year include a less formal 50's look with below-the-knee flared skirt and sweeping neckline.

- Classic looks from the likes of Condici are always on trend; elegant and comfortable this kind of style will never go out of fashion.

- The key to looking fab at any wedding is getting the colours right and for 2021 pinks, blues and multi-colour florals are in. We love the floral prints for summer weddings and with so many varied and alternative venues available nowadays it gives the option of looking amazing without the formality.

- Choosing the accessories can take as long as finding the right dress and the hatinator is set to be one of the coming year's top picks. This style of disc on a headband is easier to wear than a hat and less likely to spoil your hairstyle. New designs include large fascinators on wide headbands adding striking detail to any look. Opt for something to either match your outfit or add contrast with a different colour.

- No matter what you choose the Rainbow Club shoe collection provides an easy option for any mother as they can be dyed in any colour to match your outfit.
Steve Taylor, Fab Frocks of Westbourne
www.fabfrocks.co.uk