New book launch helps couples speak from the heart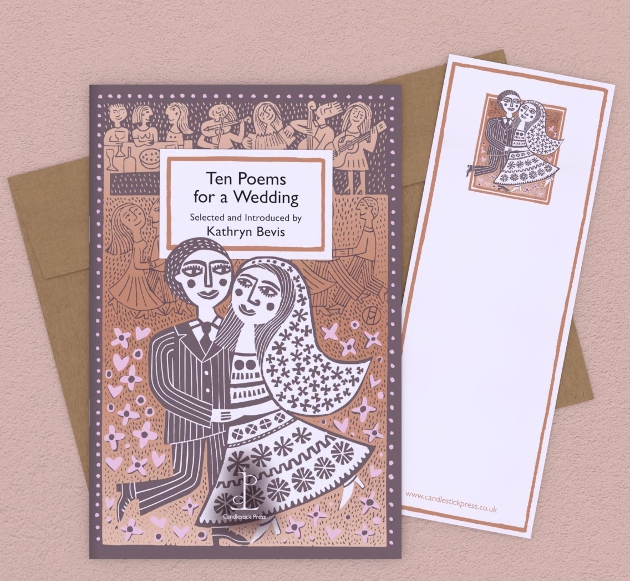 From the ceremony to the speeches, there are elements of a wedding day that require a few special words, whether that's from the couple themselves of perhaps a loved one. If you struggle with putting in to words exactly how you feel, then using an existing quote, reading or poem could help convey your sentiment; step forward 10 Poems for a Wedding, selected and introduced by Kathryn Bevis.

You'll be dazzled by the brilliance and beauty of this selection, which offers everything from heartfelt blessings to reflections on the rich rewards of married life. And of course there are also declarations of love: "But for now, we make our promises gently. This extraordinary day we have made. Listen – the birds in their ordinary heaven." from 'Vow' by Clare Shaw

Whether you're seeking a poem to read at a marriage ceremony or a gift for a soon-to-be-married friend, this anthology sparkles like a jewel, with something for every imaginable kind of wedding.

Cover illustration by Hilke MacIntyre. Published June 2023, priced £5.95 and supplied with new eco-envelope. Check out Candlestick Press.

Candlestick Press has publishing poetry pamphlets since 2008 not only for people who already love poetry, but also for those who will love it but perhaps don't know that yet. Its 'instead of a card' pamphlets make an ideal alternative to a mainstream greetings card and are a small gift in their own right. They have matching eco-envelopes and bookmarks left blank for your message, and are stocked by museums, galleries and gift shops as well as independent and larger book shops.