A personal touch: 5 tips for customising your wedding drinks
Amidst all the planning and organisation in the months beforehand, it's easy to forget that your wedding day should just be about eating, drinking, and dancing with the people you love most in the world.

If you want to bring a unique touch to your celebrations among all the trends and traditional menus, Ben Turnbull, Director and Head Wine Buyer at House of Malt — shares his top tips on personalising the drinks offering on your special day.

From welcome drinks at the reception to speeches toasting the happy couple, drinks tend to be at the centre of your wedding celebrations. So, to help make your special day even more unique to you and your partner, the cocktails or bubbly you serve are a great place to start. To help give you a shot of inspiration, here's five ways to add a personal touch to your wedding drinks.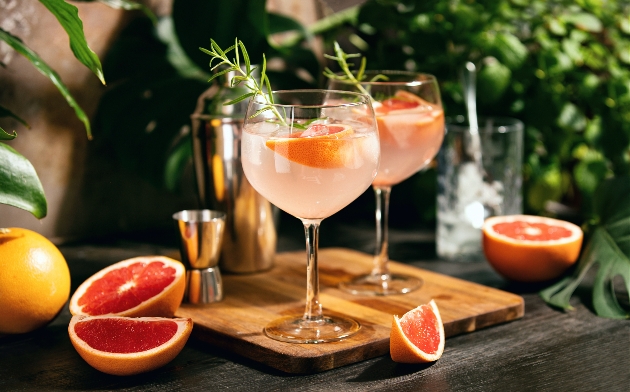 Signature cocktail
One of the best ways to create something truly unique for your wedding is a by making a signature cocktail. Incorporating you and your partner's favourite flavours, spirits, and garnishes into one delicious drink is a brilliant way to celebrate two different personalities complementing each other perfectly. Even if you consider yourself a bit of a mixologist, it's best to consult a professional bartender to help bring your ideas to life. Set up a tasting session and make sure you both love the final result — after all, marriage is all about compromise!

When coming up with your signature cocktail, why not take inspiration from the seasons around you? For example, if you're getting hitched on a balmy summer afternoon or are lucky enough to be throwing a destination wedding abroad, you'll want something refreshing like a cool margarita or a cocktail bursting with fruit like watermelon, strawberry, and lime. Alternatively, if your special day is taking place in autumn or winter, try incorporating seasonal classics like sloe gin, spiced rum, or mulled cranberry.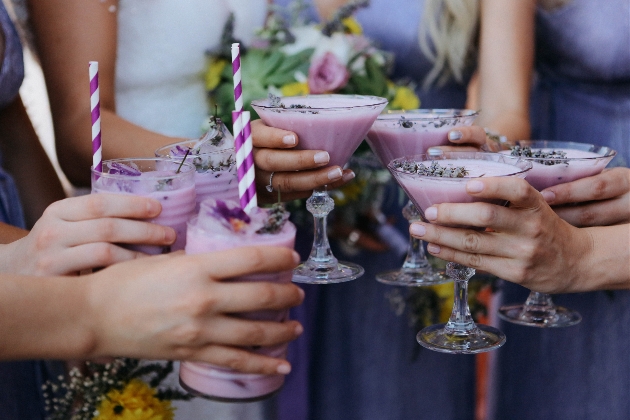 Creative names
Once you've decided on your drinks menu for the big day, the next opportunity to add a personal touch is by getting creative with names. You could try puns on wedding phrases like Bloody Marry Me, Apple-y Ever After Martini, or Something Old-Fashioned. Alternatively, try taking inspiration from the venue, favourite holiday destinations, special songs, or the happy couple's names. The only limit is your imagination!
If you, your fiancé, or a friend happens to be artsy, make the most of this talent and put out some hand-drawn signs listing each drink at the reception. Even if the names are cheesy, this will give your guests a laugh and remind them of special holidays in past years, or inside jokes shared between the bridal party.

Tipsy wedding favours
Another way of adding some personality to your drinks is by making tipsy party favours. You can either assemble these yourself or task your wedding team with making a favour for each guest. Simply fill a collection of small glass bottles with your signature cocktail, the wine served with dinner, or a shot of you and your partner's favourite spirit, attach a handwritten name tag to each one so they can double as place settings (and mementos to be taken home).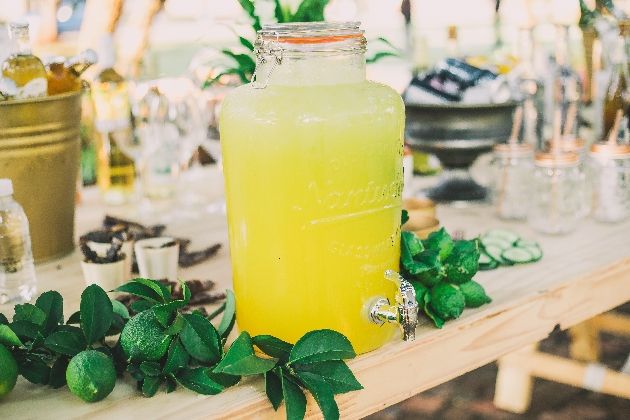 Toast with a twist
There's nothing more indicative of a special day than popping a bottle of bubbly. But if you want to bring something a little different to your wedding toast, you can always add your own twist to a classic bottle of champers. For example, serve up a round of Blushing Brides to your guests by mixing champagne with passion fruit purée and a splash of grenadine. Or, if champagne and prosecco aren't really your thing, why not toast with something completely different? For example, if you and your partner have amazing memories from a trip to Italy, you might lay out shot glasses of Limoncello for your guests and toast with this zesty liqueur after your meal. You could even engrave the glasses you use to toast with the date and your initials so they become mementos that your guests can take home to remember your special day.

Cocktail station
Rather than putting on an open bar, why not give your guests the freedom to make their own favourite drinks at a DIY cocktail station? This way, you don't just incorporate the bride and groom's personal touches, but your friends and families get to customise their own favourite tipples too. Just be sure to stock up on a wide range of spirits like vodka, gin, rum, tequila as well as fresh ingredients like fruit juice, mixers, and garnishes to last for the whole evening's festivities. To remind everyone of the exact ingredients, you could bring out the paintbrushes again and make homemade signs listing the recipes for some classic cocktails, or explaining how to make your special signature drink. This way your guests can stick to the right measurements and still make wonderful drinks without the need of a bartender.

Delicious food and drink are at the heart of any wedding party, so this is a great place to inject some personality and experiment with unique ideas. If you're in the process of planning your special day, be sure to check out our wedding inspiration and editor's picks here at County Wedding Magazines.