World Book Day Weddings - be inspired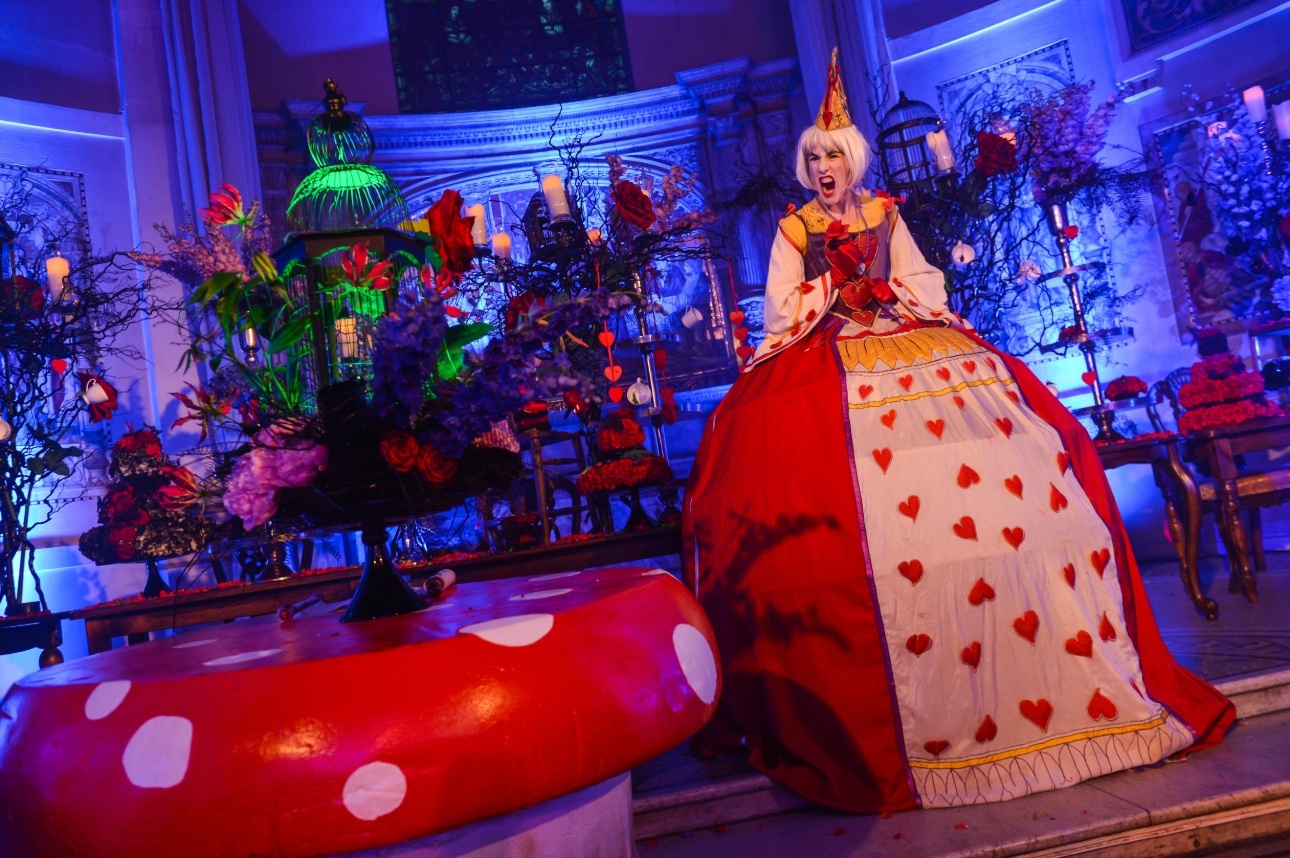 World book day on 8th March celebrates literature in all its forms, as well as all the creativity, imagination and that little spark of magic that makes a tale worth telling. All book worms know there's nothing better than getting lost in a good novel. If you and your future spouse both share a love of literature, then theming your wedding day around a favourite book could be a great way to celebrate your shared passion. Whether it's delving into the wonderful world of Alice in Wonderland or finding out what's through the wardrobe, Liz Taylor of event management company the Taylor Lynn Corporation (TLC) shares her ideas for World Book Day weddings, with a look inside some of her most famous literary creations.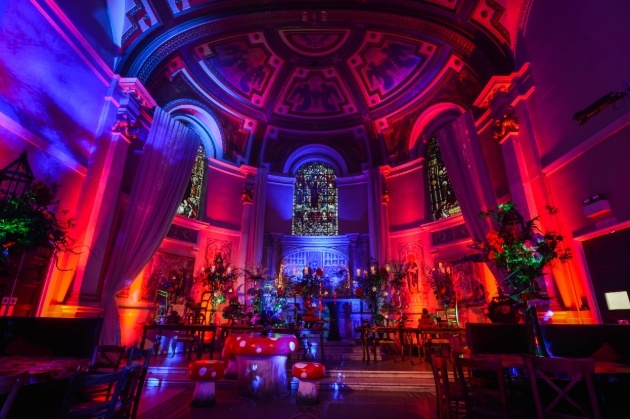 Go down the rabbit hole with Alice in Wonderland
When a client asked me for an Alice in Wonderland party, my imagination went into overdrive. So many possibilities and a chance to go completely crazy with every element. We started by having a maze built which we filled with real actors dressed as characters from the book. It took guests 15 minutes to walk through before they even entered the party. I absolutely love this theme for a wedding, with a variety of interpretations. From Jonny Depp to the polka dot, it's fantastical. With this particular event we went big and loud. Tables were dressed with towers of books, cups and saucers and fresh rose heads. Each table setting included a cocktail in a bottle with the label 'drink me', and guests were seated amongst giant toadstools, oversized candlesticks and birdcages. A tangle of brier set amongst tiny teacups brought the mad hatters tea party to life. The master of ceremonies – who else but the Queen of Hearts? And (of course) the Mad Hatter and the rabbit joined us for dinner. For a summer wedding I would take the party outside, with the Queen of Hearts bringing croquet and giant chess to life.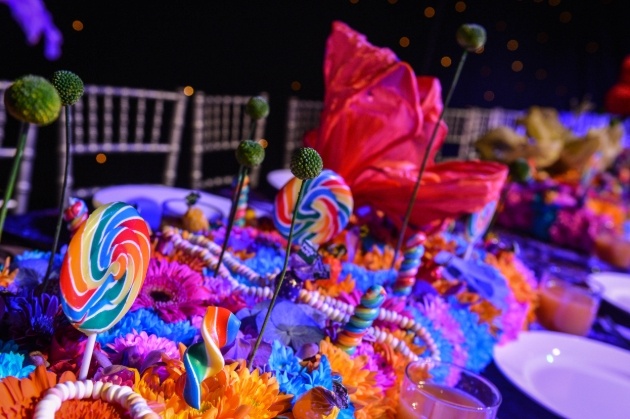 Give guests a golden ticket with Willy Wonka
Willy Wonka, man and boy, is an eclectic concept, where wedding planning gets carried away with the theatre of it all. What better than to give guests a flavour that starting with a chocolate bar invitation wrapped in a golden ticket. When we created a party around this theme, just like Dahl's Wonka factory, everything, as far as possible, was edible. That which was not bursting with flavour, was a riot of colour. So, choose chocolate trees, coconut grass, a raspberry river chocolate fountain, colourful candy canes and bright swirling lollipops. But don't be surprised if your guests turn into Augustus Gloop as they munch their way around the party.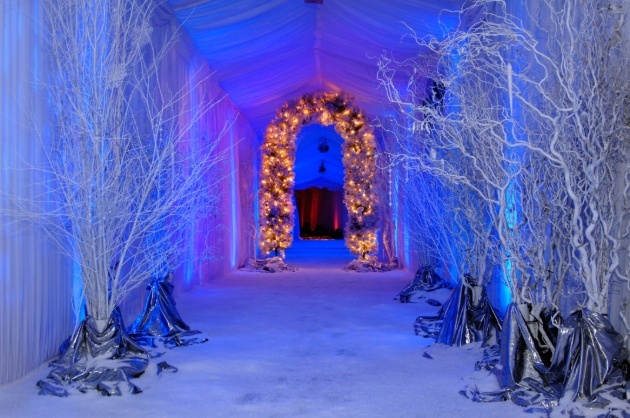 Find out what's at the back of the wardrobe with Naria
For a Narnia wedding party just like the book – it has to start with a wardrobe. In our event, the ingenious set designers descended and built a magnificent wardrobe door. Creatively lit this was the focus as guests arrived. While we had the budget to hire in a professional team, you could easily replicate this with an actual wardrobe and a touch of creativity. Our Narnia ice queen guided guests through a wardrobe of mink coats that touched the sides into a walkway of characters on stilts and a pathway of leaves. As they turned a corner, two huskies on a sleigh led them on their journey through the snow – with snowflakes falling from the ceiling, before eventually arriving at Narnia. We dressed this wedding as a winter wonderland. Perspex tables with magnificent white birch trees growing out of them, and a multitude of candles against crystal glassware and opaque crockery. Again, this is easy to replicate on any budget, just think white backdrop and an abundance of sparkling crystals. For brides wishing to star in their own Narnia adventure, we'd suggest a gown that shimmers from head to toe, trimmed with a cathedral length lace and crystal veil. Be your own ice queen.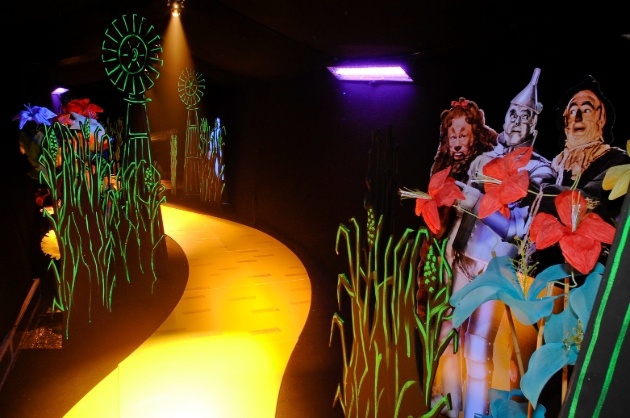 Embrace your wicked side with The Wizard of Oz
A 10-foot witch greeted guests at our Wizard of Oz inspired party. She was a custom-built animated statue that guided the guests toward a Wicked-inspired set. We had a surprise built into the room too, the entire wall dropped to reveal a yellow brick road for guests to skip down. The detail in the room and on the tables was amazing, with Perspex tables resting on large ruby red shoes. The entertainment ... Diana Ross and a serious DJ! Now that's wow.Again, this all scalable – a giant witch is not a statutory requirement for a Wicked-themed wedding. If you wanted a nod to The Wizard of Oz, then simply wearing some gorgeous ruby slippers under your wedding gown would suffice – and what a wonderful reveal. A yellow brick road is easy to recreate on different budgets. Remember the details are what people remember, so it could be a quote from the story beautifully italicised on the table centres or an emerald green colour scheme as a nod to the Emerald City.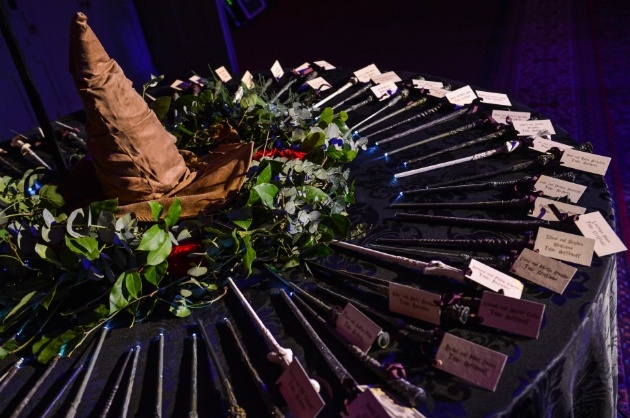 Make an unbreakable vow with Harry Potter
Filling the space with tall, flickering candles will make a magical setting ready for the muggles to attend. I'd opt for long banquet tables straight from the halls of Hogwart's. 'House' banners drape from the ceiling, tables adorned with an abundance of twigs, ivy and lush green foliage, and a bespoke magical wand for each guest will create the ultimate table plan.
Behind the top table write your commitment to one another up in lights 'The unbreakable vow' and 'Always and forever' are two key Harry Potter-themed phrases that would be ideal.

Liz Taylor is founder and CEO of the Taylor Lynn Corporation (TLC) and has been at the forefront of the UK wedding and event scene for over thirty years. During this time, she has planned a wealth of private and celebrity weddings including that of Eamonn Holmes and Ruth Langsford, Michelle Keegan and Mark Wright, Take That's Howard Donald, Queen of the Jungle Jaqueline Jossa and football legend Gary Neville.
Check out www.tlc-ltd.co.uk | Twitter @taylorlynncorp | Instagram @taylorlynncorp | Facebook @taylorlynncorporation