Sean and Kirstie's adventure began more than 10 years ago after their friendship blossomed into something beautiful.
The pair became inseparable and created many amazing memories together over the years, which led Sean to ask a very important question.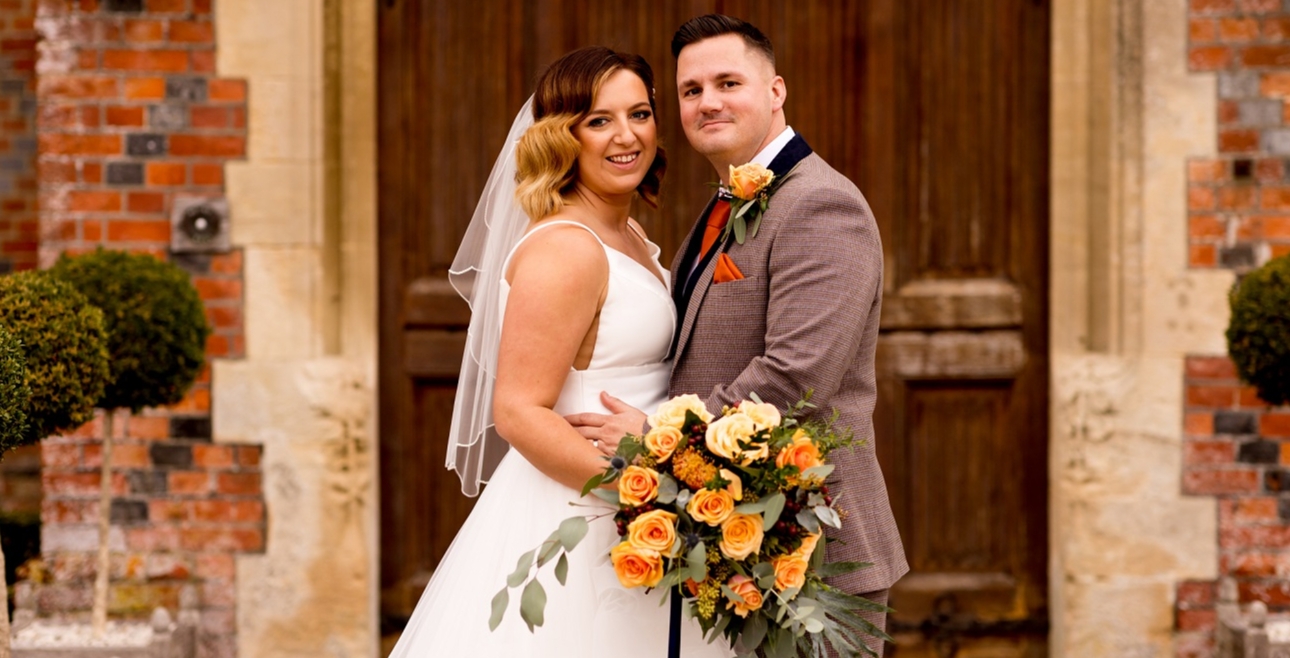 Back in 2019, Sean originally planned to take Kirstie for a picnic in Burley at sunset but the motorway was closed. Kirstie says, "He had told me we were going out and to get ready but didn't say where.

I was getting ready when he said we must go now as the motorway had opened much earlier than expected. He became quite irritable, which was unusual for him, but we arrived at Burley just in time to watch the sunset.

During the picnic he said to me, 'What would you say if I asked you to marry me' and I said, 'no if you haven't got a ring' in a jokey way as I thought there's no way he could hide a ring box. He then took his chain off, which held a beautiful tear-shaped engagement ring."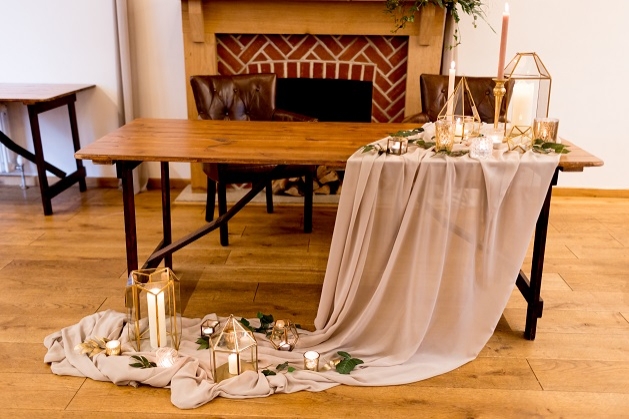 The couple set the wedding for November 20th 2021, and created the perfect day that represented them both. Kirstie says, "We had always wanted to get married in autumn and when we visited Burley Manor, we knew it was the perfect venue that fitted our vision – we especially loved the fire places."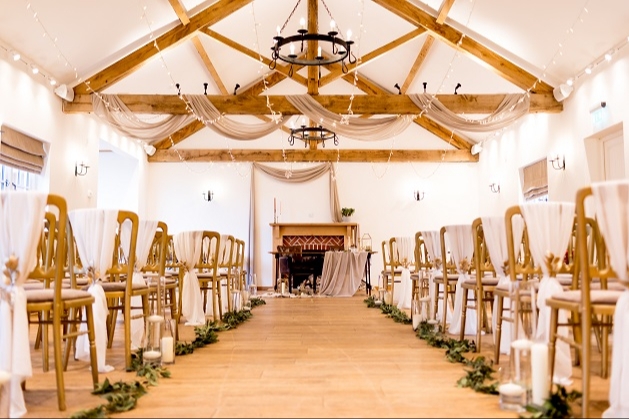 Nestled in Hampshire, the charming property features contemporary features and breathtaking surroundings. To showcase the stunning barn for the wedding breakfast, the couple's top table was in the middle of the room so they were surrounded by loved ones.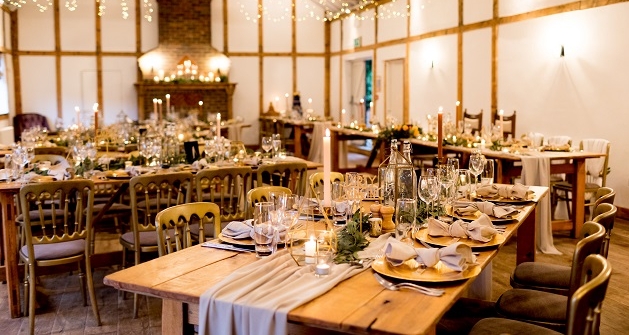 Sean is a movie buff, so the pair collectively choose their favourite romantic films for the table names except one, which was Star Wars-themed and picked by the groom.

The centrepieces were kept simple with beautiful table runners, various candles and some leaves for effect.

Each setting had charger plates with napkins and wooden place names, which doubled up as favours.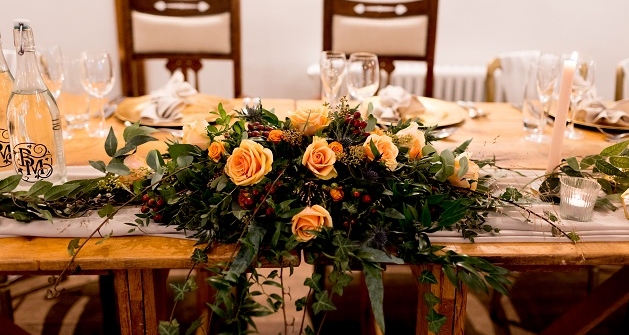 Around the venue, the couple also had a doughnut wall, fairylights and mantle pieces with various candles.

The venue provided all the catering, and guests tucked into a threecourse Mediterranean meal with salmon as the starter, lamb as the main and panna cotta for pudding.

The couple opted for seasonal flowers to match the time of year with orange and peach shades plus plenty of greenery.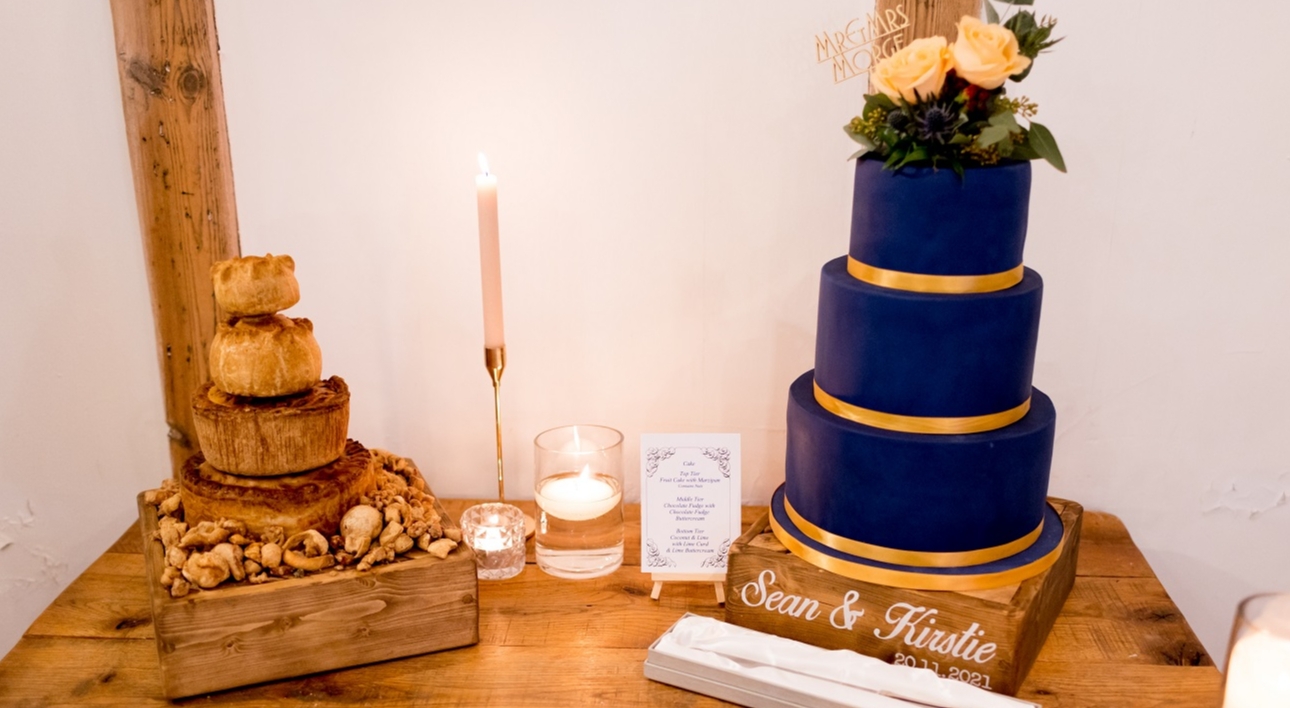 With this and the venue's neutral décor in mind, the pair picked a navy cake and their daughter picked the flavours. The bride's sister surprised the lovebirds on the day with a pork pie cake with four different flavours, chutney and pork scratching – it was a massive hit with guests.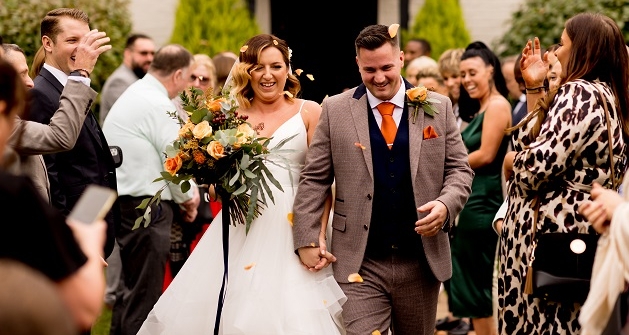 The bride visited Anya Bridal Couture to find her dream gown and tried on many stunning dresses. Kirstie always wanted a classic gown with no sequins or glitter.

As soon as she tried a Stella York gown called 6988, she knew it was the one. She says, "There's a lot of pressure around picking the perfect dress, but the team were very accommodating and patient."

She accessorised her look with a mid-length veil and two hair clips, which she swapped for a headband in the evening.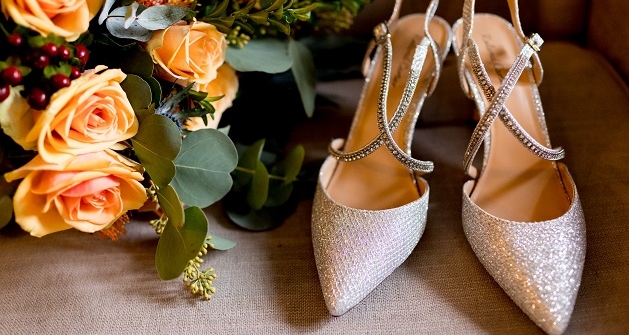 "I never pictured myself on my wedding day before, but I was really pleased with how well everything came together – it was so surreal," says the bride.

Sean opted for a tweed suit, a brown tie with touches of orange and navy to highlight the colour scheme and a navy tie to match the groomsmen.

The bridesmaids looked stunning in navy dresses, pearl hair pins to match the bride and converses for comfort.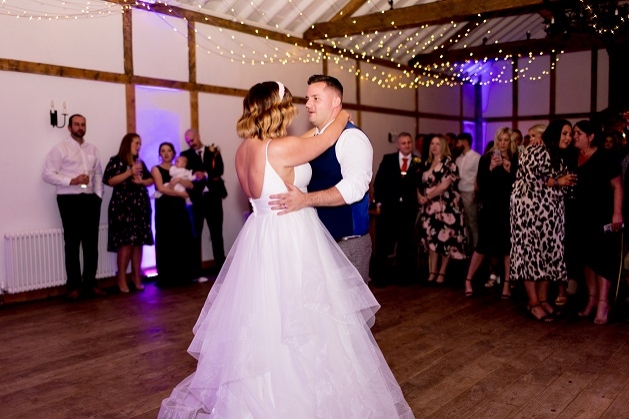 When it came to keeping guests entertained, the couple hired a DJ to play a mix of songs for all ages to enjoy – the dancefloor was packed all night!

To add a romantic atmosphere to the ceremony, a harpist played stunning arrangements that perfectly matched the wedding's vibe.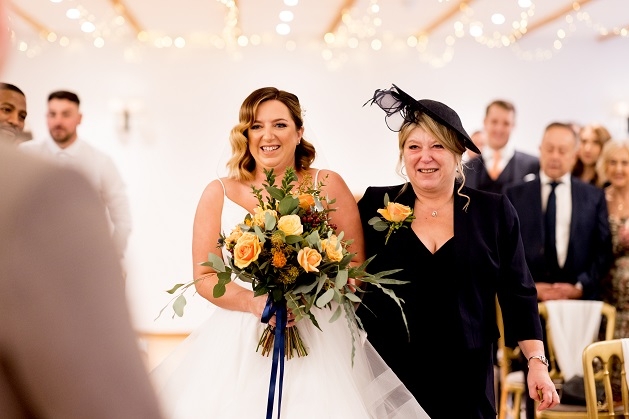 The pair are both laid-back people and the morning preparations reflected this. Sean started the day eating Doritos and watching The Simpsons.

However, they both felt the nerves before the ceremony.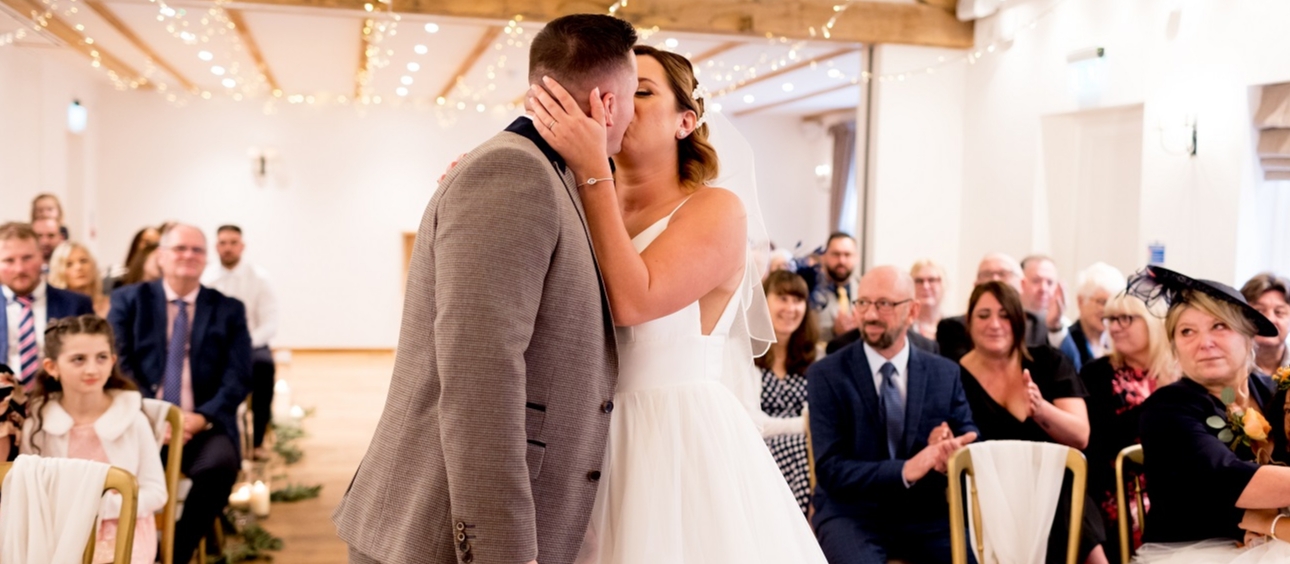 The whole day was full of emotion, and the pair felt so lucky to be surrounded by so many loved ones. The bride comments, "We will always remember how much fun we had; we smiled the whole day!

Sean never fails to make me laugh with his childish sense of humour – our wedding day was no different. Laughter is key, and we love that our wedding photos reflected how happy we were." She adds,

"All our amazing suppliers worked together to make the day incredible! Jessica, our photographer, was amazing at keeping us relaxed and we enjoyed our photos being taken – something we never thought would happen!"
Sean and Kirstie's contact book