Abbie and George first met online before going on a date in London, where they got to know each other better. There was a spark straight away and the pair headed for a romantic walk around Tower Bridge and the Tower of London.
Abbie loved how kind and friendly George was; he always managed to make her laugh. He says, "I first saw Abbie stood reading a book while she waited for me at the station as I was running late. It made me chuckle to see her innocently stood there reading amongst the chaos." He adds, "Once we got chatting, I knew she was someone that was going to be in my life forever."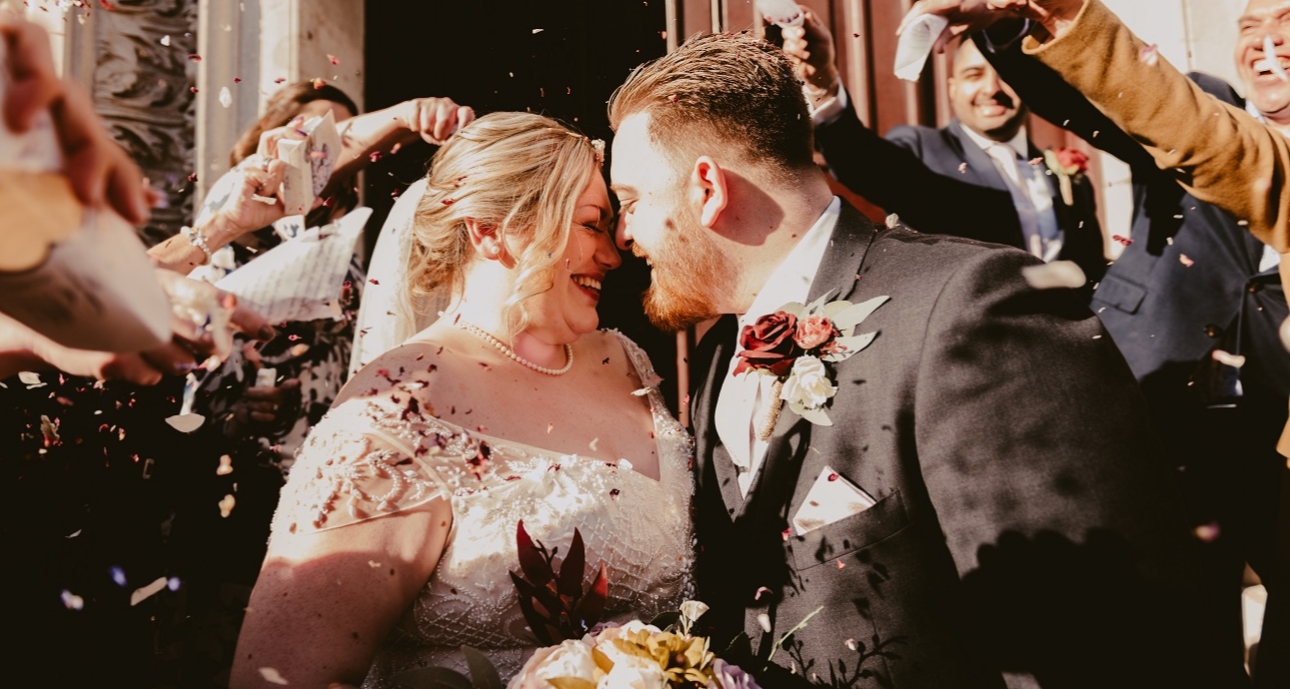 George proposed on 23rd March 2019 at Swanage Beach, a very special location for Abbie, who would visit the beach with her grandparents and dad. She says, "It was just the two of us and I was paddling in the sea when I turned around and saw George on one knee – it was a beautiful moment."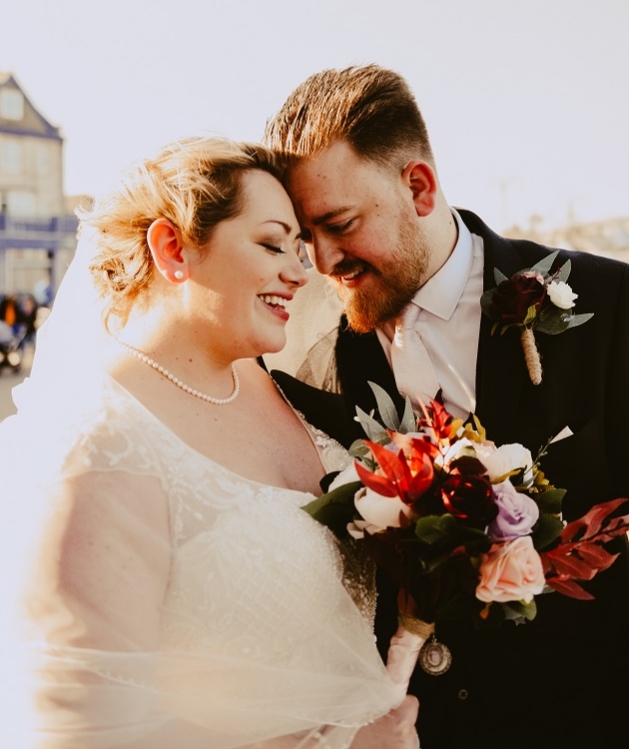 SETTING THE SCENE - The couple set the date for March 19th 2022, and created a wedding that represented them both rather than trying to please everyone else. Abbie says, "We had to delay our date three times because of Covid-19, and in that time we changed our venue after realising it didn't fit our vision. We decided to stop worrying about what everybody else would think and go for everything we wanted for our day."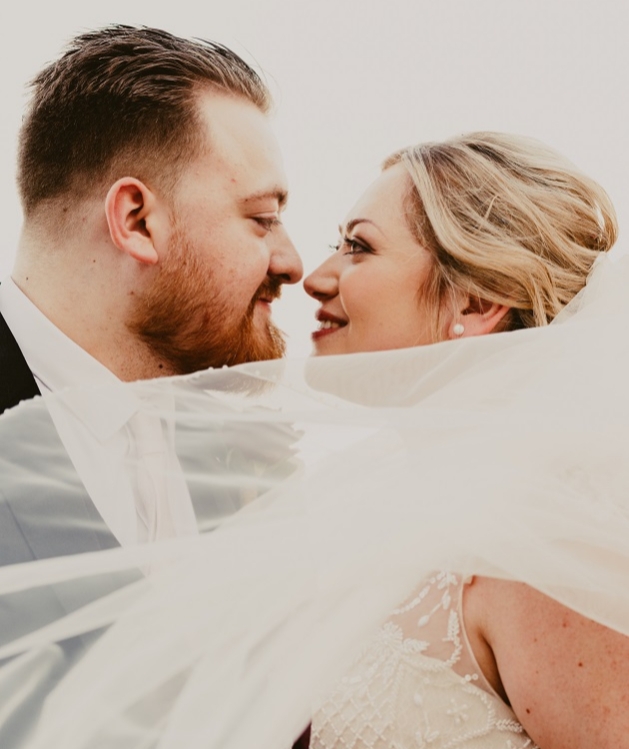 Swanage Town Hall was the perfect location for the pair's ceremony; the building is beautiful and created the perfect backdrop for memorable photographs. After the "I dos", the celebrations continued at Holmegate House and Wing where their nearest and dearest could stay after dancing the night away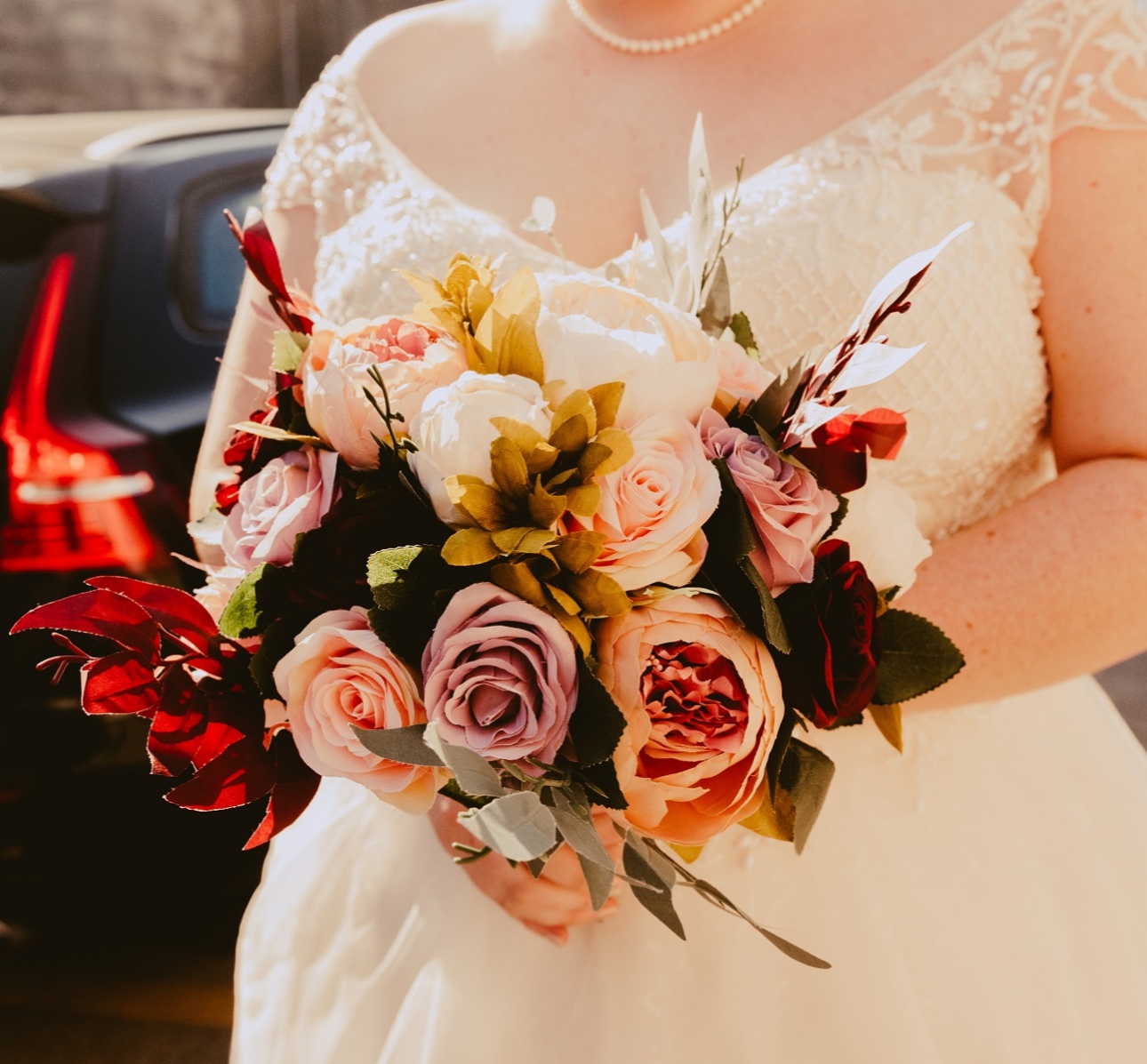 The pair used faux flowers for the buttonholes and bouquets with pink, lilac and burgundy shades. A neon sign saying 'The Gormans' became the reception's centrepiece and was made from wine corks. Dorset Pedaling Pizza Co was in charge of catering and created woodfired pizzas that everyone loved! Abbie says, "It was the best pizza we've ever tasted, even George,who's a fussy eater!" After the pizzas, guests could tuck into the cake, which was surrounded by cookies and cake bites.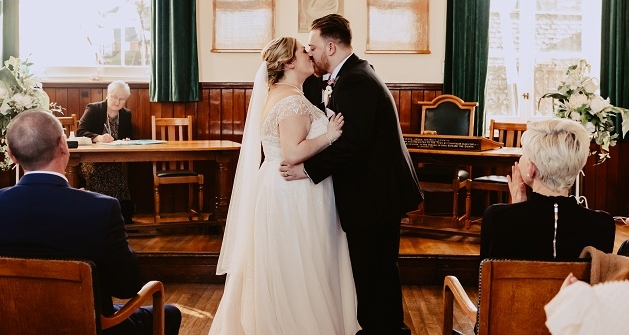 LOOKING THE PART - When it came to finding her dream gown, Abbie fell in love with the fourth dress she tried by Phoenix Gowns. She comments, "I was surprised I liked the dusky peach colour instead of white andI felt comfortable – it was still dreamy without being too much!" To finish off the look, the bride wore her nan's pearl necklace, a pair of earrings from George and her mum's bracelet to match the beading on the dress. Abbie's shoes were hand-painted converse with lots of the couple's favourite things, including buildings made from bike wheels, pizza and books. She says, "I was a bit surprised when I saw myself properly on the day as I'm not the most confident person, but Bex Elizabeth had done an amazing job with my hair and make-up – I was happy with how I looked."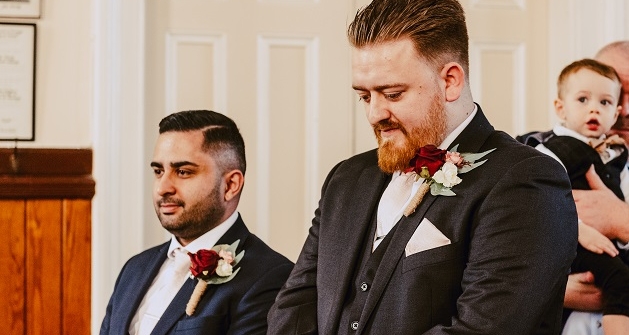 The groom wore a three-piece suit from Hawes & Curtis and looked dashing. Abbie comments, "He worried me before the day after telling me the suit was baggy, so I pictured a dodgy '80s get up, but he looked amazing and the only man there in charcoal.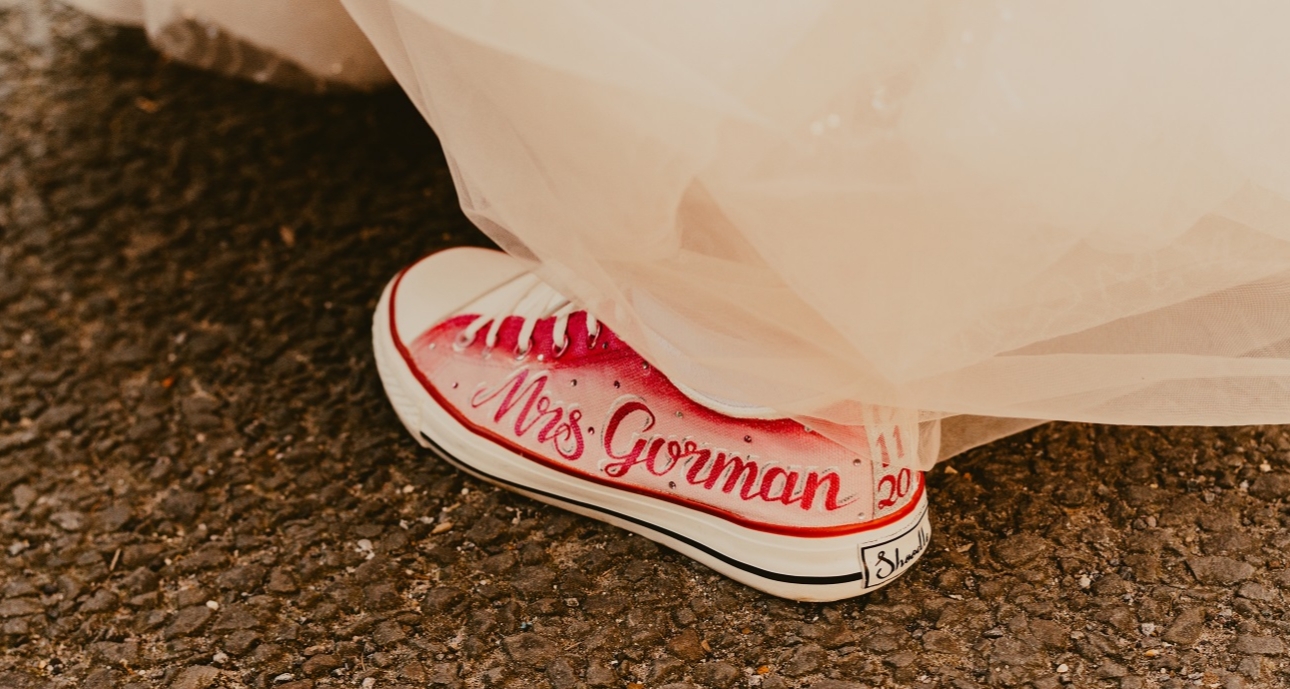 MEMORABLE MOMENTS - The couple both felt very relaxed in the morning. Abbie took some time alone to have a bath and then relaxed for 30 minutes away from the buzz of everyone getting ready to try and stay as calm as possible. She says, "I started feeling nervous once I had my dress 29 REAL WEDDINGS on and when we drove to the town hall, but I completely calmed down as soon as I saw George." The groom spent the morning with his best man in a cottage before heading to a local pub for a good luck whiskey, where he was congratulated and warned it's not too late, which didn't help with the nerves! He says, "I was amazed when I saw Abbie walk down the aisle, all my worries about speaking in front of everyone disappeared." The ceremony was beautiful and very personal. Abbie says, "It really did feel like it was just me, George and the registrar. After the vows, we all stood on the steps outside the hall for a photo and cars were honking their horns – it was amazing." She adds, "We went with our photographer to get photos by the sea, and we were congratulated and kissed by so many people walking past; it felt very special that they were happy we'd got married in their town."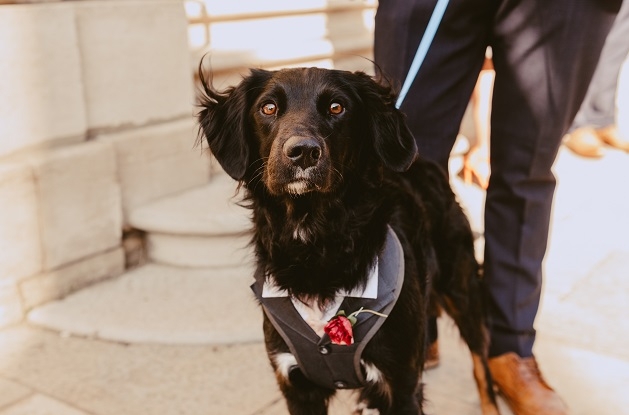 NEAREST AND DEAREST - A funny moment from the day was when the pair's dog Jeff, who was there during the ceremony, saw the bride and wanted to get to her – he was whimpering at the back of the ceremony. Once the pair walked out of the room, they were taken into a side room dead opposite him, and the couple's friend had no choice but to loosen the lead. Jeff came bounding over, wrapping Abbie up with the lead – everyone found it hilarious and very typical Jeff! The best man, Onur, got very drunk and was so funny. Abbie says, "He went from shy and quiet to Greek dancing in the middle of everyone dancing! He also turned our first dance off as he was playing the song on his phone and wanted to film us dancing, silly fool! Luckily we love him and found it all hilarious – he really added an element to our day.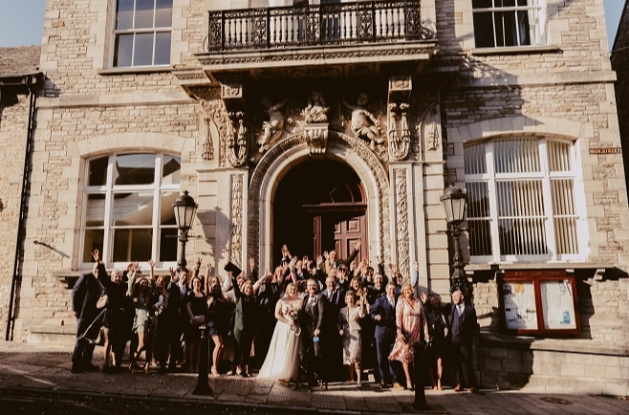 "Our best friends (husband and wife) Sarah and Andy were also amazing on the day. They had everything organised with the extra food and drinks we had prepared, making sure everything was going to plan and ensuring we were all having a good time – they're our best friends for a reason!" The couple's photographer, Holly Stead, went above and beyond on the day to make the pair felt at ease. The bride says, "We've never been around a photographer who was so bubbly and excited about their job. Some guests assumed she was a family friend because of how warm she was with us, which shows she did an amazing job."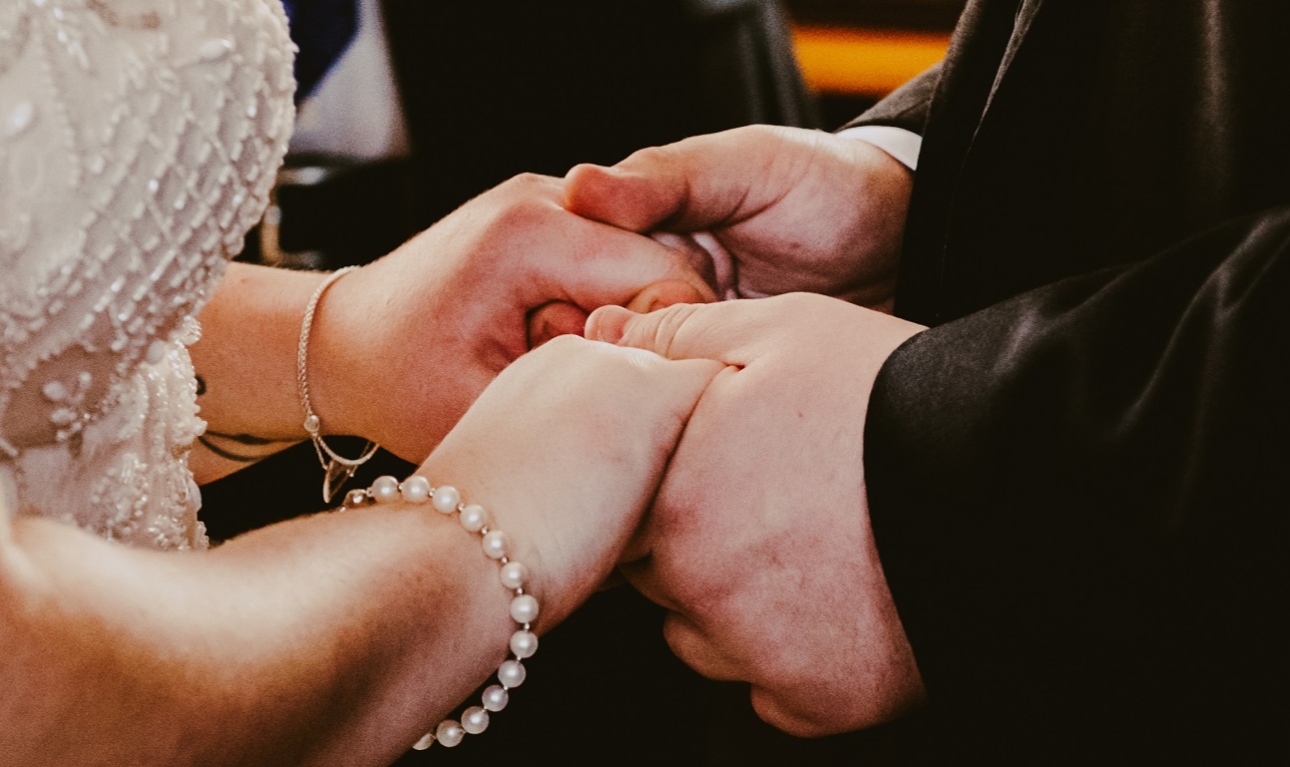 HONEYMOON After the big day, the pair stayed in Swanage for a week with Jeff and spent time relaxing and going for walks on the beach. Abbie says, "We stayed in a lovely little cottage in the town called The Nook with a log burner and low ceilings. We went to all of our favourite spots and stopped at The Greyhound Pub for lunch with the amazing views of Corfe Castle. The highlight was being on Shell Bay paddling in the sea and watching our dog running around very happily – he is a rescue, so it's always a joy to see him happy. We then had a week at home doing some DIY and relaxing!" The couple has a trip to New York booked for next year, where they'll have their main honeymoon.
Abbie and George's contact book