Online dating has become extremely popular over the last few years, and happened to be where Beth and Joe first met. On their first date, the pair headed to a gin bar to get to know each other more. Beth comments, "We both felt so relaxed in each other's company – we just clicked! We would do and say certain things simultaneously; we really are the male and female version of each other."
The lovebirds were on holiday in Dubai when Joe proposed. While enjoying cocktails at Burj Al Arab, which held many sentimental memories for Beth, she ordered a Genie in a Bottle cocktail which came with three wishes. She says, "The waitress brought over a treasure chest, which I thought was snacks, until she slowly opened it. Inside was the ring, and Joe dropped to one knee." The whole thing was captured on camera to show their friends and family back home.
Beth had been dreaming about her wedding for years and already had an idea of what she wanted, luckily Joe was on board with most of it. Canford School was the first venue the couple visited and, although they'd looked at others, the pair knew it was the one. Beth comments, "We fell in love with the grounds, dramatic staircase, high ceilings, beautiful chandeliers and a fairytale fell."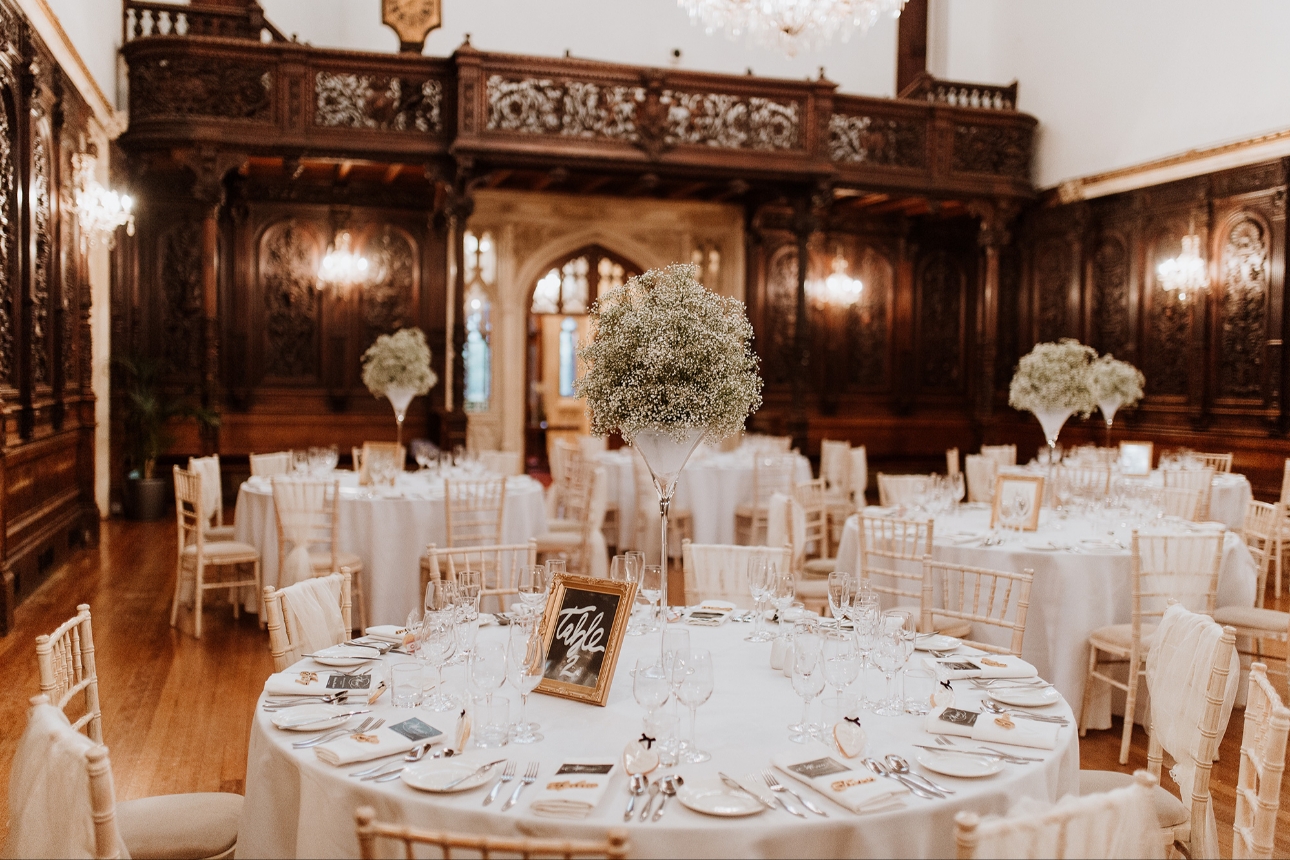 To match the grandness of the venue, the couple wanted a formal meal. After a tasting session, they settled on truffle parsnip soup to start, mignon of beef fillet or a mushroom shallot with leek and chestnut strudel for main and a trio of miniature desserts. They also had canapés with sausage and mash tarts, burgers and bruschetta. Wood-fired pizzas were served in the evening to keep guests from going hungry, which was a big hit with loved ones.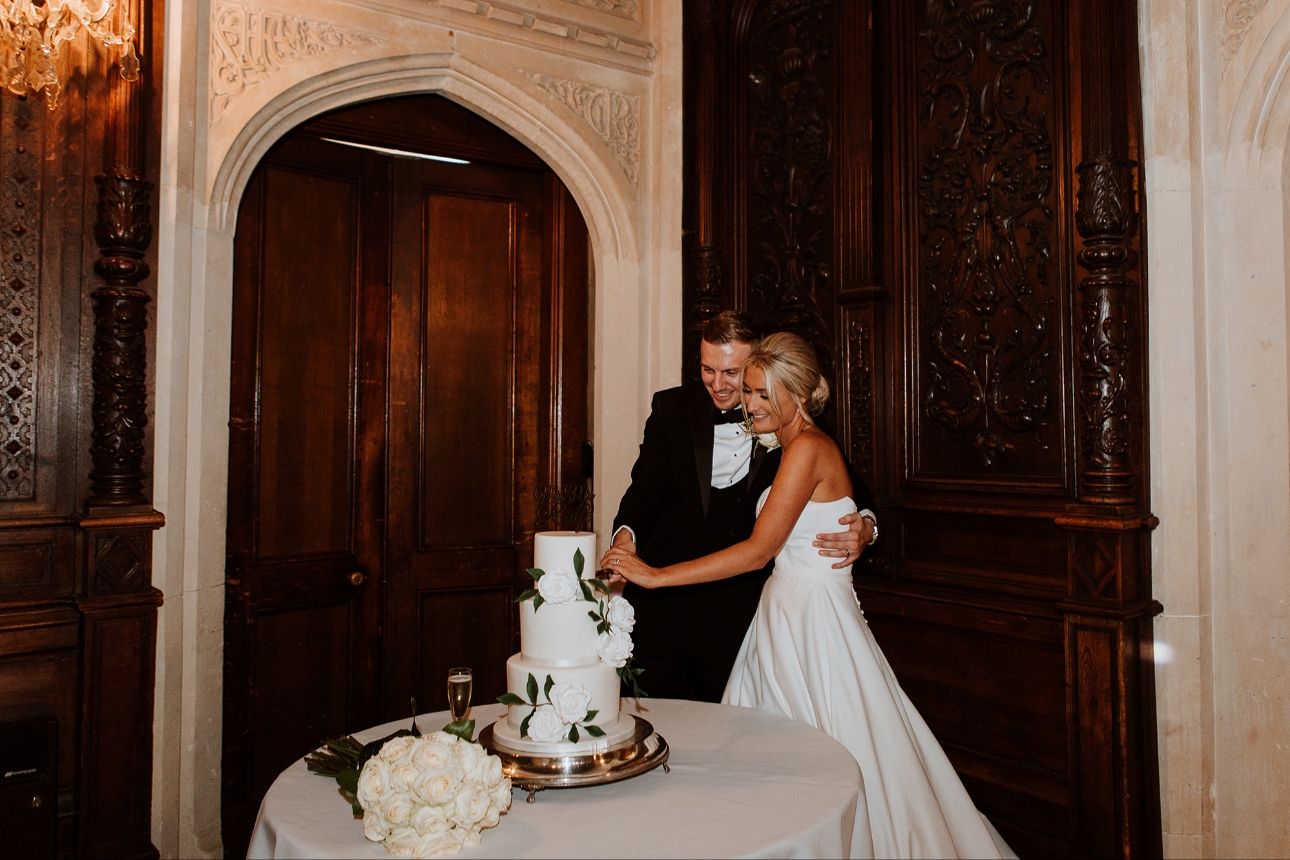 The couple had a three-tiered cake with pink champagne, lemon and elderflower and cookies and cream flavours. Beth says, "A company let us down last minute, and Victoria Carroll Custom Cakes really came to our rescue. The team created a classic design with white roses and green leaves to match my bouquet. We finished it off with our gold mirrored Mr & Mrs Rolfe cake topper.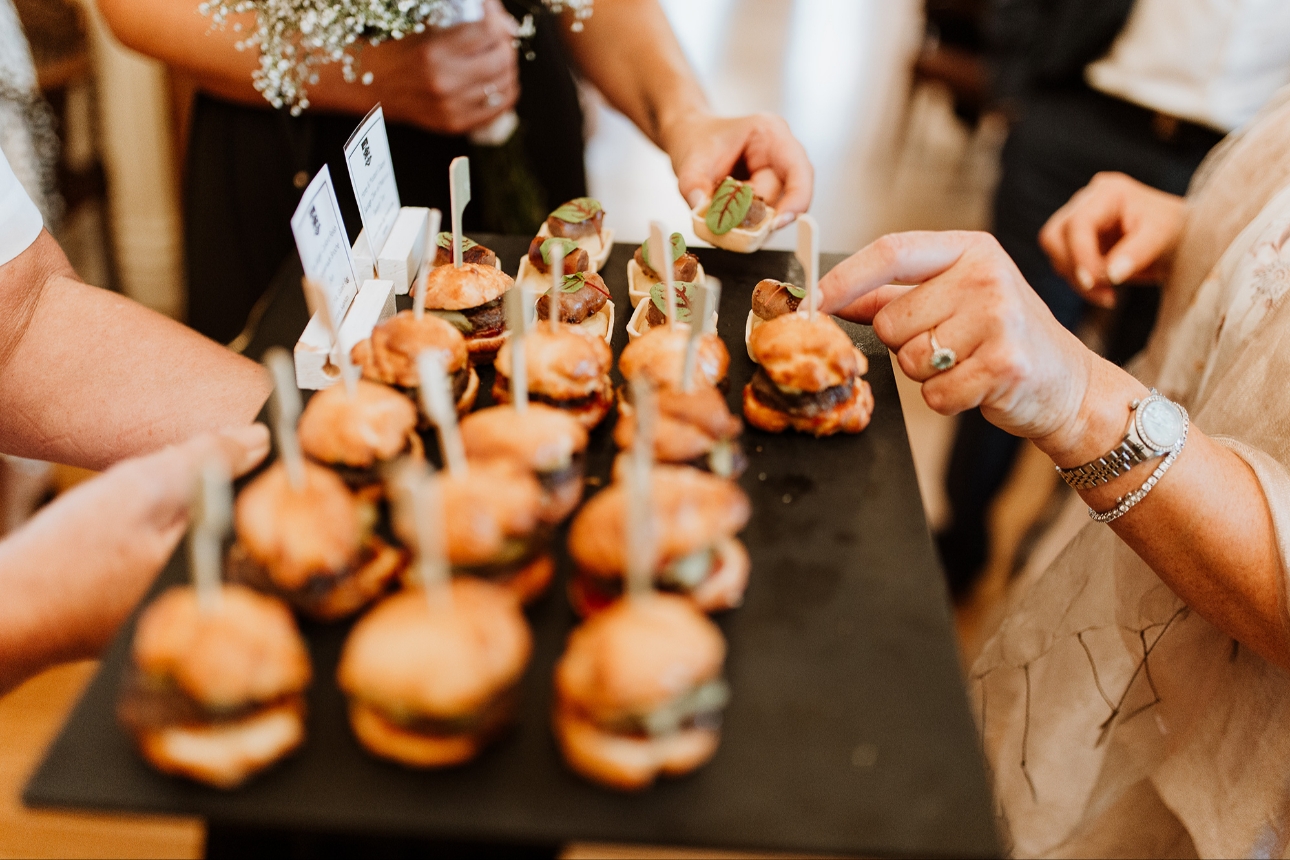 Favours on the day consisted of personalised cookies with a mini black ribbon to fit in with the black-tie theme. Each table had wooden place names to help guests find their seats. In the centre of each table was a large martini glass vase filled with gypsophila to match the bridesmaids' flowers. There was also ornate gold frames for the table numbers, which matched the table plan, order-of-the-day and welcome sign.

As the venue was full of character, the pair didn't want to take away from the beautiful spaces and kept the décor simple. There was a pretty flower wall with a neon sign, which provided the perfect backdrop for photos while keeping with the day's overall theme.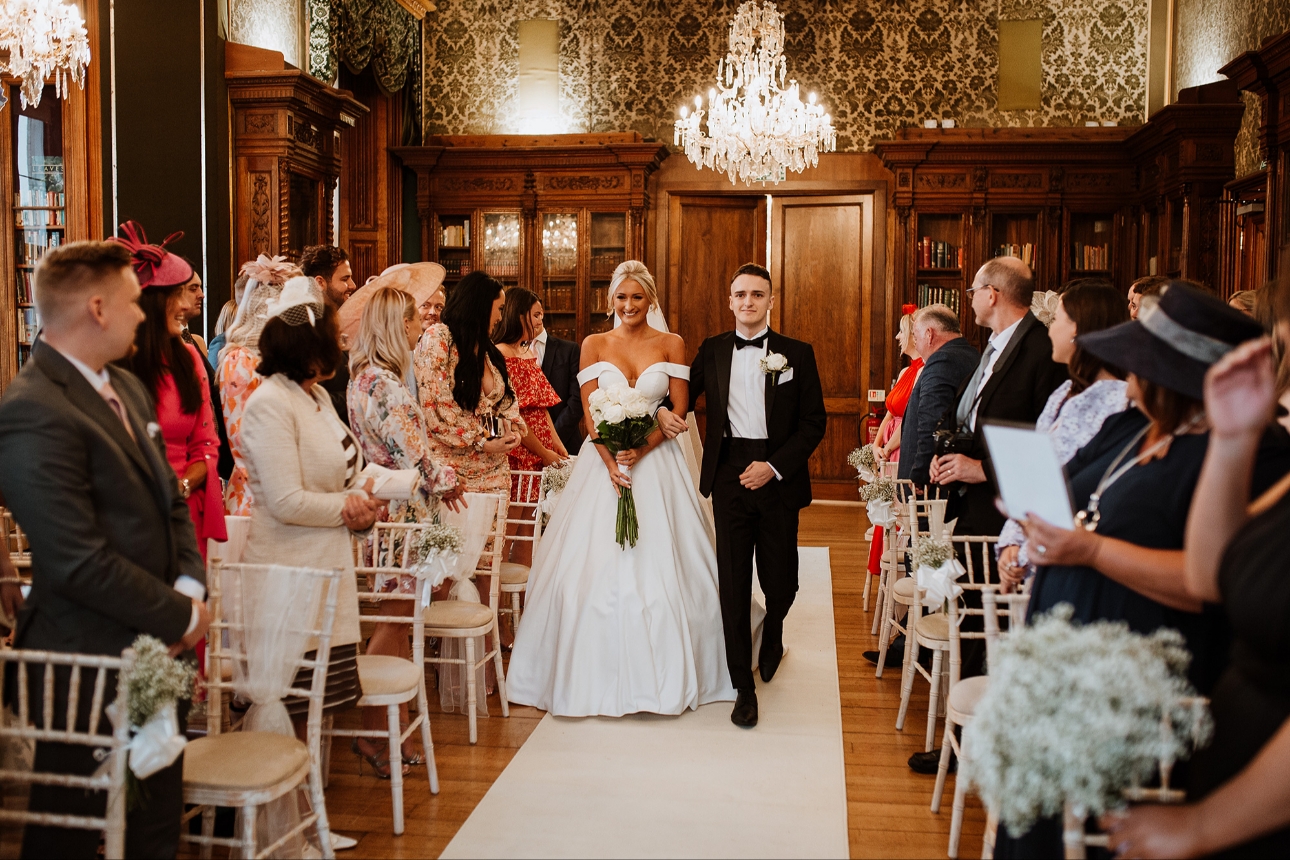 Every bride dreams about finding the perfect wedding dress, and Beth always knew she wanted a timeless gown. She picked an Essense of Australia classic satin ballgown with off-the-shoulder sleeves and a cathedral-length veil. She says, "I felt like a princess and knew I wouldn't get a chance to wear anything like it again. Plus, I don't think anyone expected me to wear something like it!"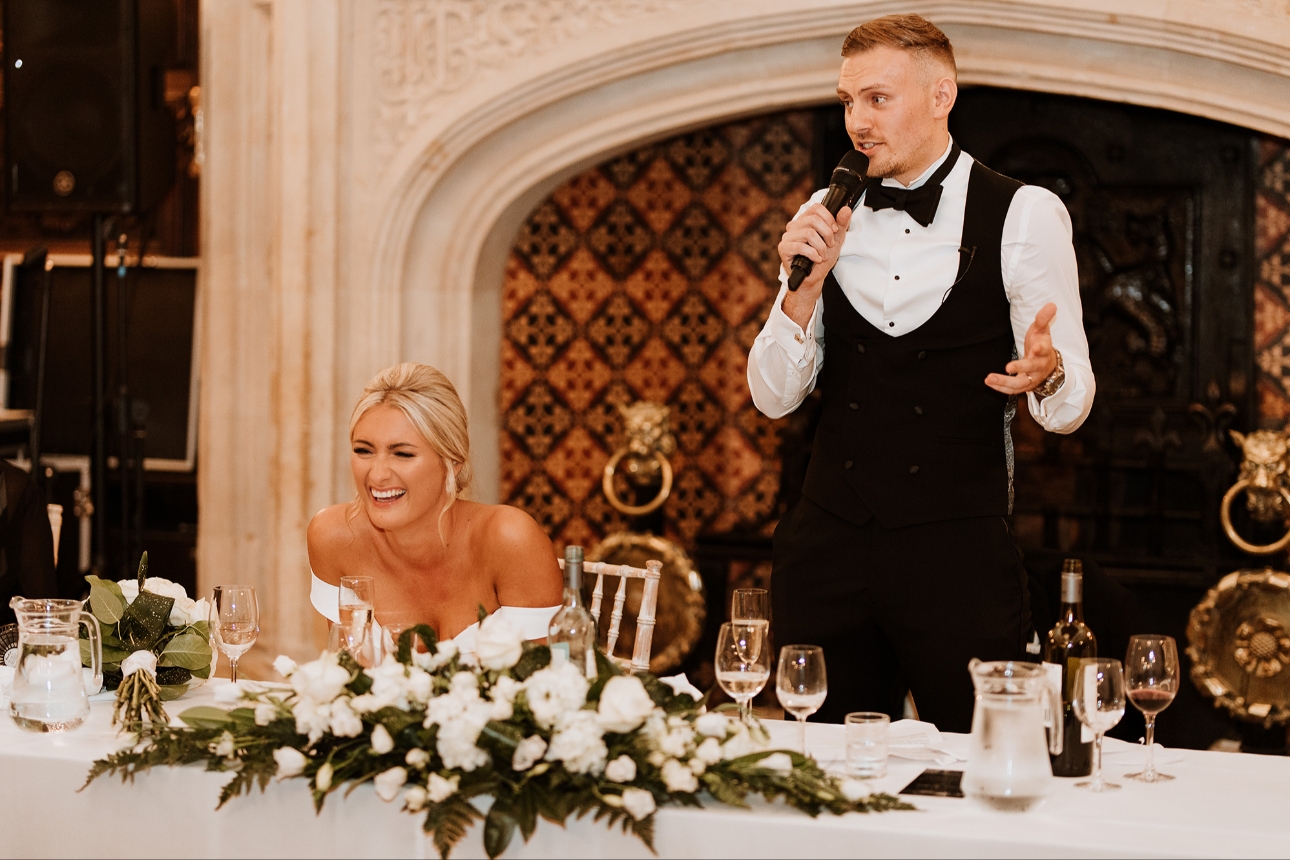 For her something old, Beth had a wedding bells charm that belonged to her nan sewn into a blue garter to add a special touch. Beth adds, "My mum helped me get into my dress as I wanted a first reveal photo with my bridesmaids, they hadn't seen the gown in person due to Covid-19 regulations. Seeing their reactions was really special and made me so excited for Joe's!"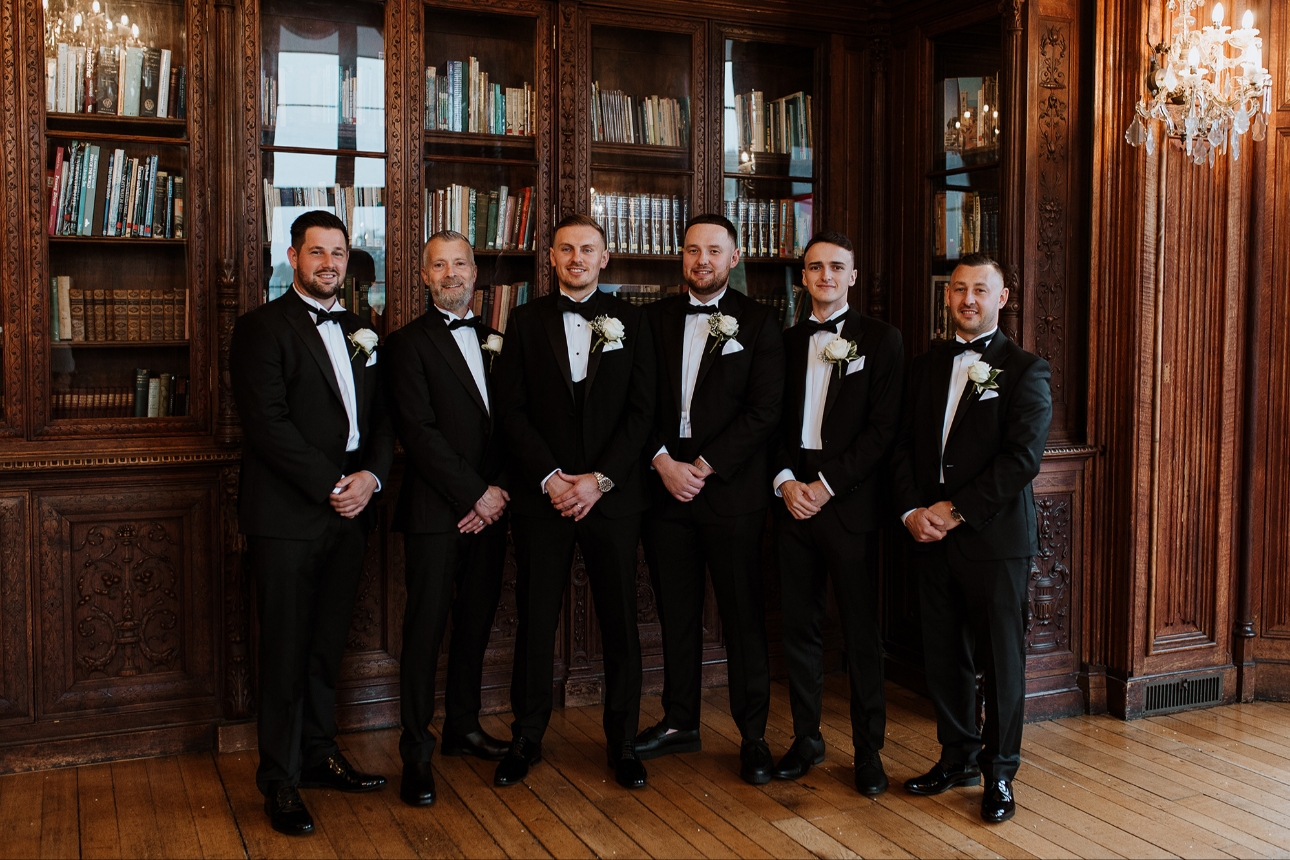 The groom and groomsmen all wore tuxedos, but Joe had a waistcoat while the others had cummerbunds to allow him to stand out.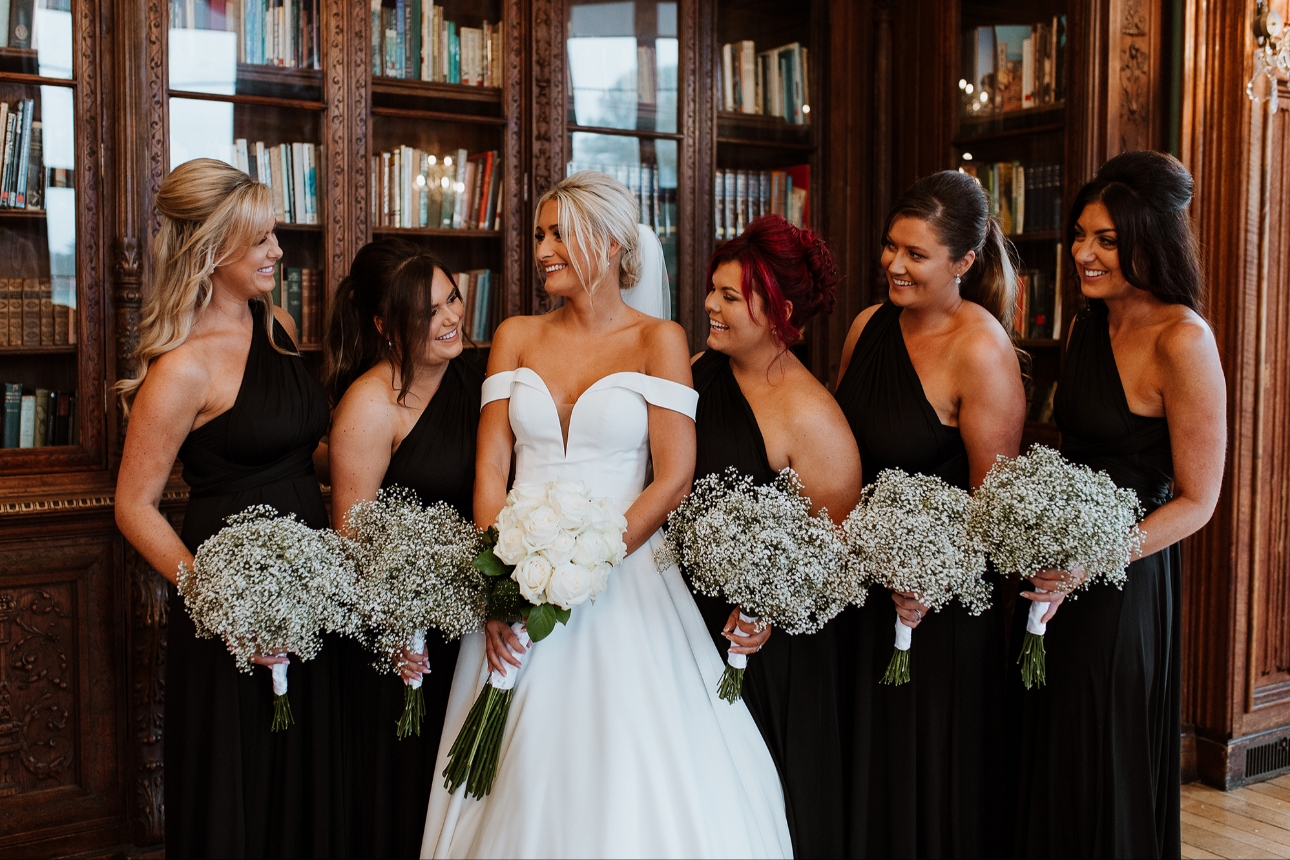 The bridesmaids looked beautiful in black multiway dresses to match the colour scheme. Beth comments, "We loved the contrast of the black with their white bouquets."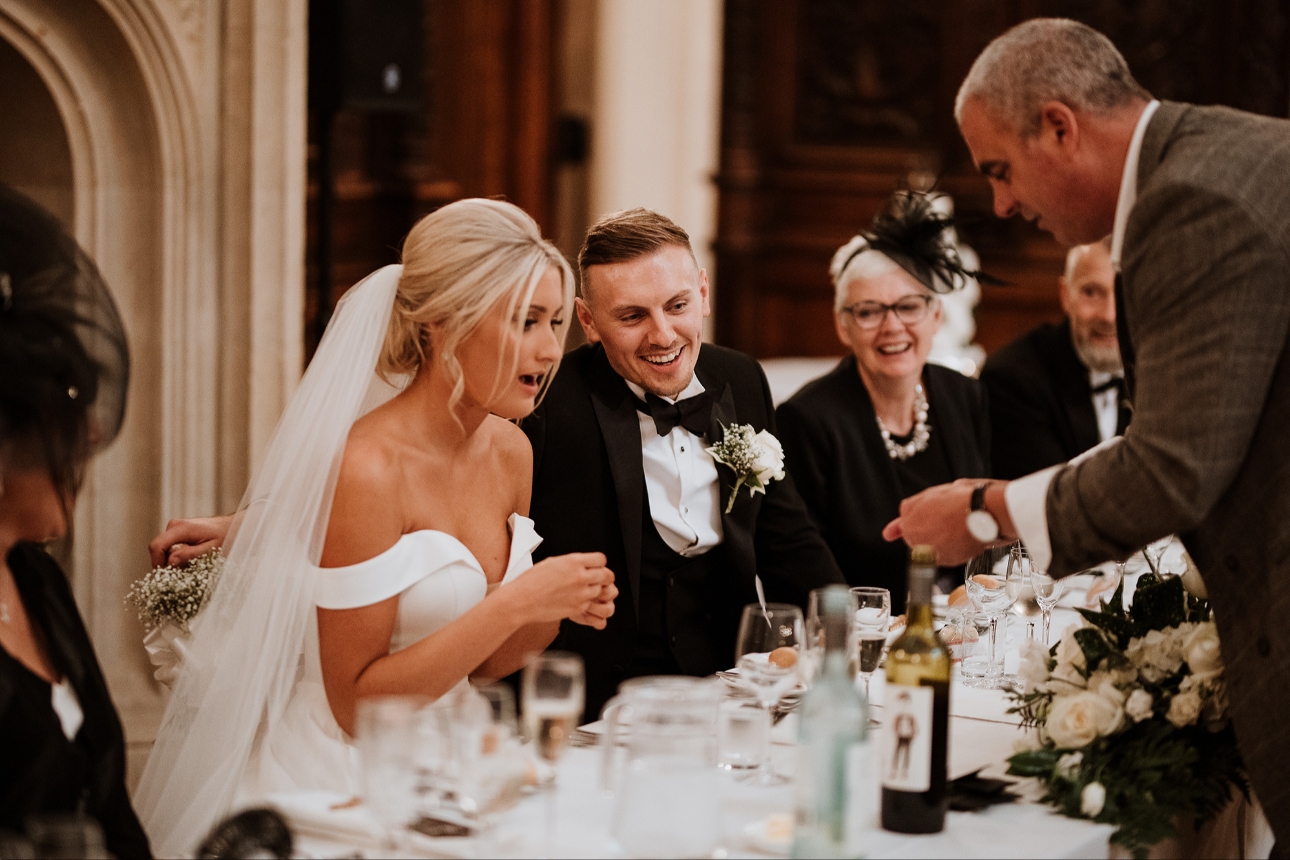 To keep guests entertained, the couple hired a string quartet to play during the day, including as guests arrived and throughout the ceremony. The couple received many comments about how incredible the company was. Beth says, "The songs were so romantic! I always find that live music is so powerful and makes events even more emotional."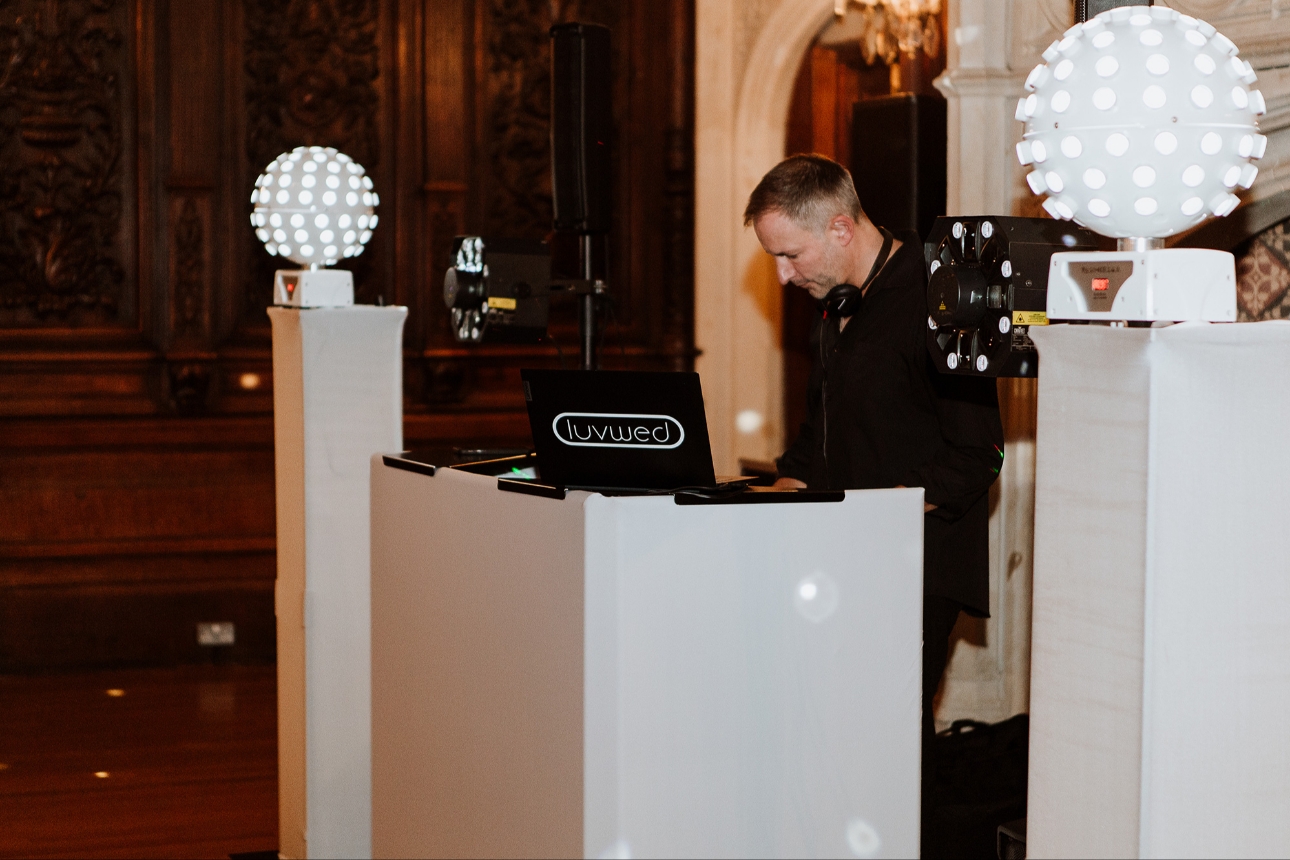 Throughout the drinks reception, a magician kept guests occupied and it was definitely a crowd pleaser.To get the party going in the evening, the couple had a DJ and a saxophonist to keep the atmosphere flowing and get guests on the dancefloor.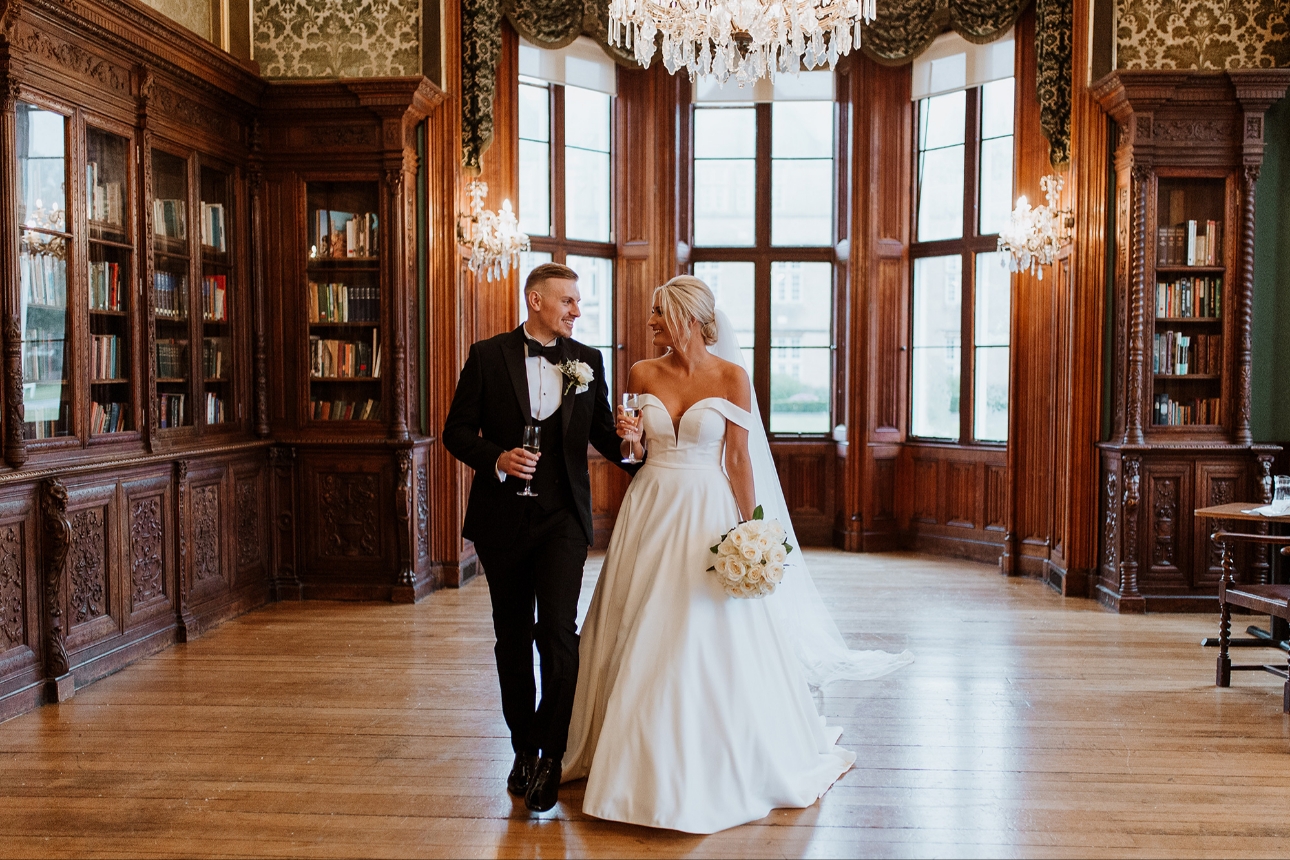 The whole day was full of many emotions for the couple, but seeing each other for the first time was a moment that will always stand out to them both. The bride says, "I wasn't sure whether I would get emotional when I walked down the aisle. My brother, who was giving me away, almost made me lose it when I saw his chin going before the ceremony." She continues, "As soon as those doors opened, me and Joe were both beaming." Joe he had a lump in his throat when the music started, but he physically relaxed as soon as he saw his bride and couldn't stop smiling.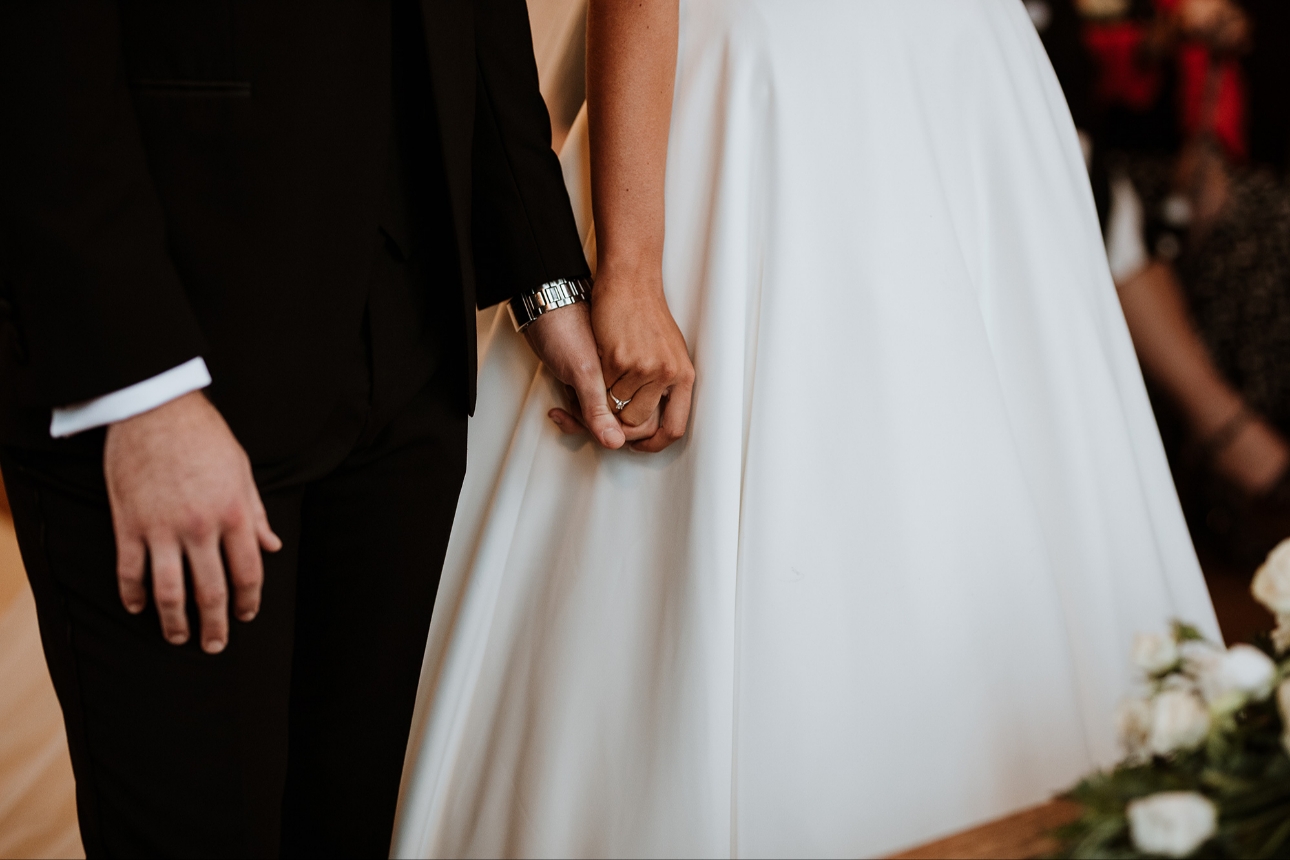 Another memorable moment on the day was the speeches. The mother-of-the-bride, best man and the groom all did fantastic jobs and had everyone laughing and crying. The weather on the day had gone from blue skies to heavy wind and rain, but that didn't stop the pair's photographer from capturing stunning photos. Beth adds, "The images turned out so stunning; it's a beautiful venue and one of the reasons we chose it was because it would work for both sun and rain."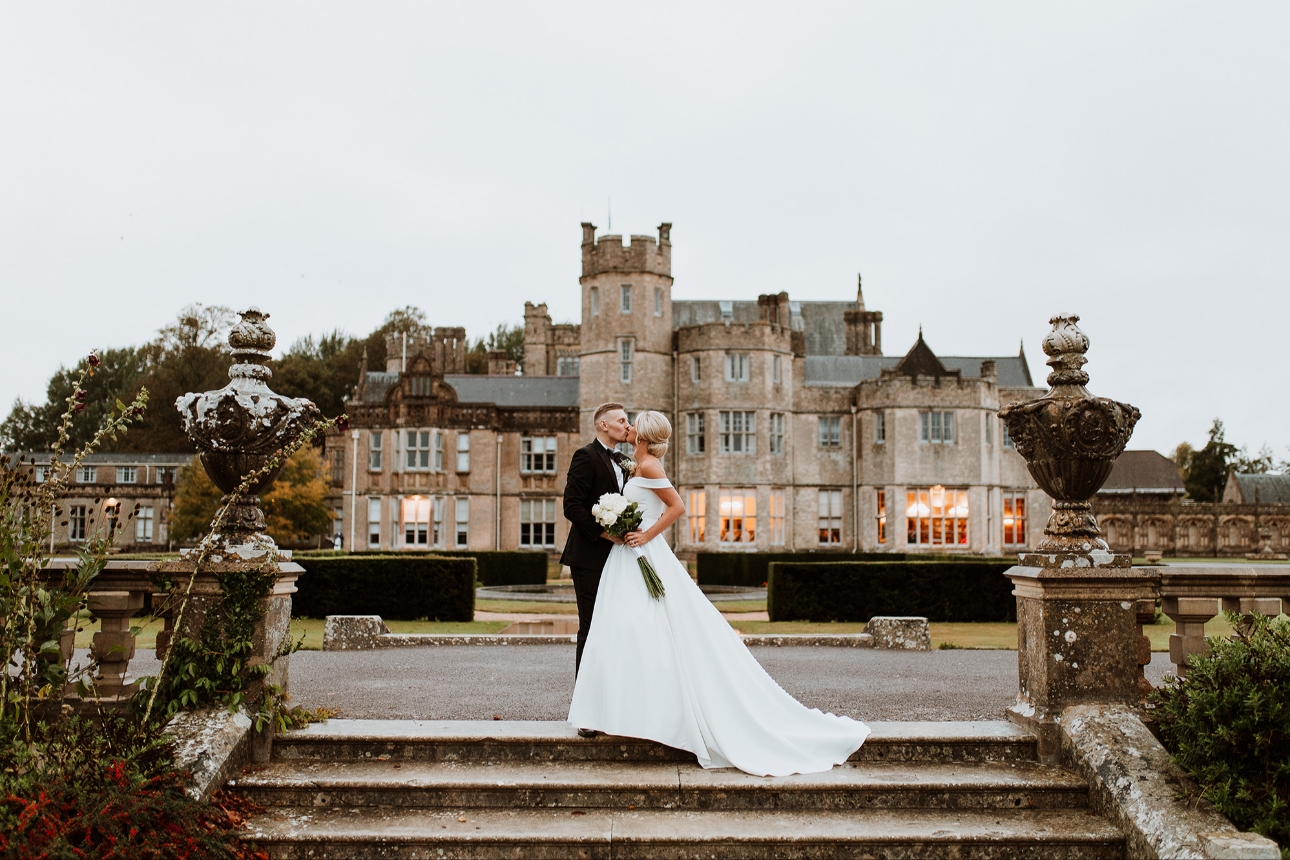 The couple's wedding coordinator at Canford School, was amazing. Beth says, "We couldn't have done it without Olivia; she went above and beyond on the day and make sure everything went as smoothly as possible." She continues, "I must say that all of our suppliers were fantastic, and we're so grateful for their expertise and guidance in the whole wedding process. Credit to our photographer and videographers for doing everything they could to get the best shots in the worst weather conditions!"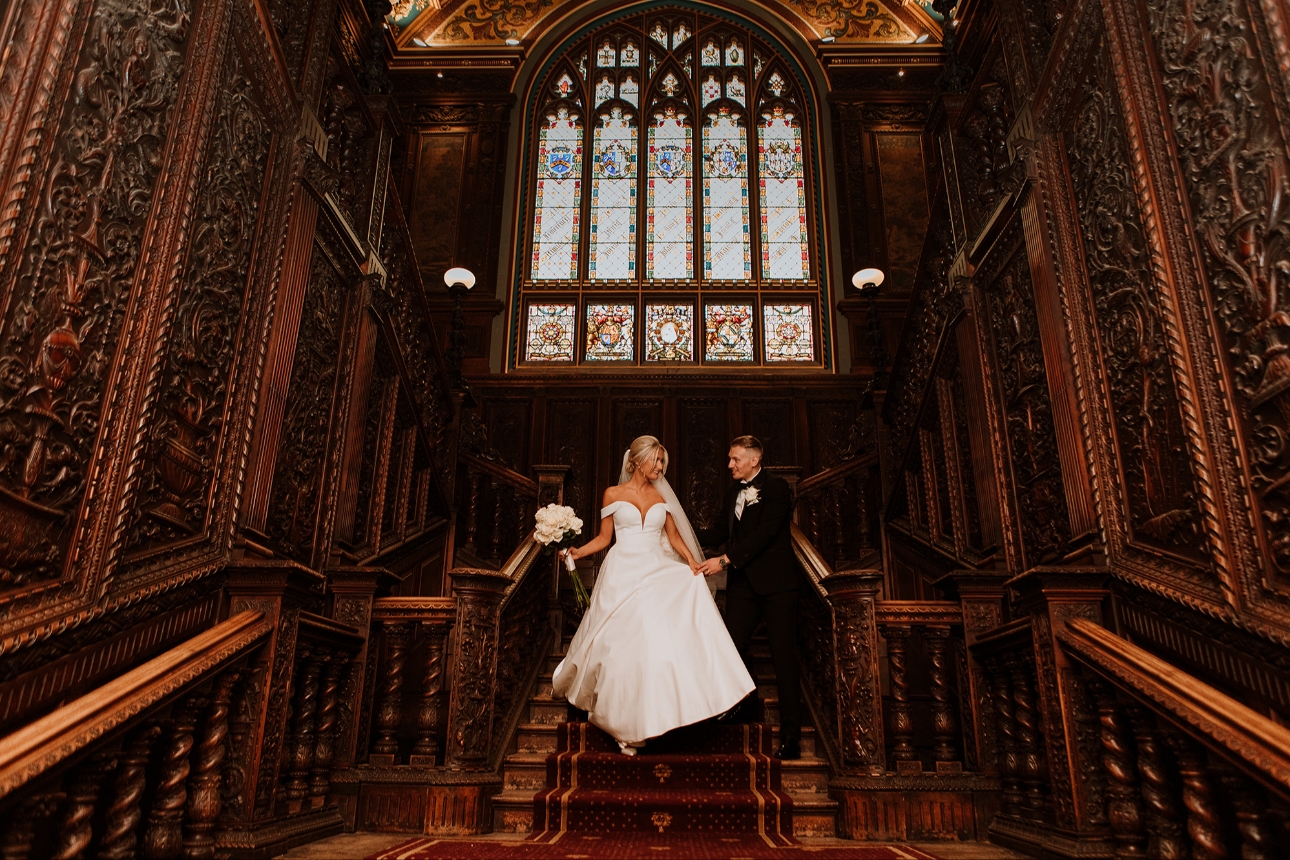 Unfortunately, a day before the pair were due to go on their dream honeymoon to the Maldives, Beth tested positive for Covid-19. She says, "That was a tough pill to swallow, but just a few weeks later we got the shock of our lives when we found out we were pregnant and had baby on the way!"
Beth and Joe's contact book