Maddie and James first met when she moved to London for her first job as a junior doctor. "A mutual friend cunningly arranged for us to attend the same party knowing we were both newly single and had a shared love of art, nature and general goofiness," Maddie recalls. The matchmaking worked and they got together as a couple. However, when the time came for James to pop the question, things didn't quite go to plan. Three days into a two-week road trip in California he intended to surprise Maddie with a romantic proposal during a 5am hike in Joshua Tree National Park.
The idea was to trek to the top of the highest rock and persuade her to pose for a photo looking out over the edge, to then find him down on one knee when she turned round. He hadn't counted on her being frozen to the spot with crippling vertigo though! "Poor James had to get back up to retrieve me. Luckily photo attempt two was more successful and we enjoyed a special moment together on top of the rock as the sun came up. I later had an image of the rock engraved on to a silver signet ring for James as a memento," adds Maddie.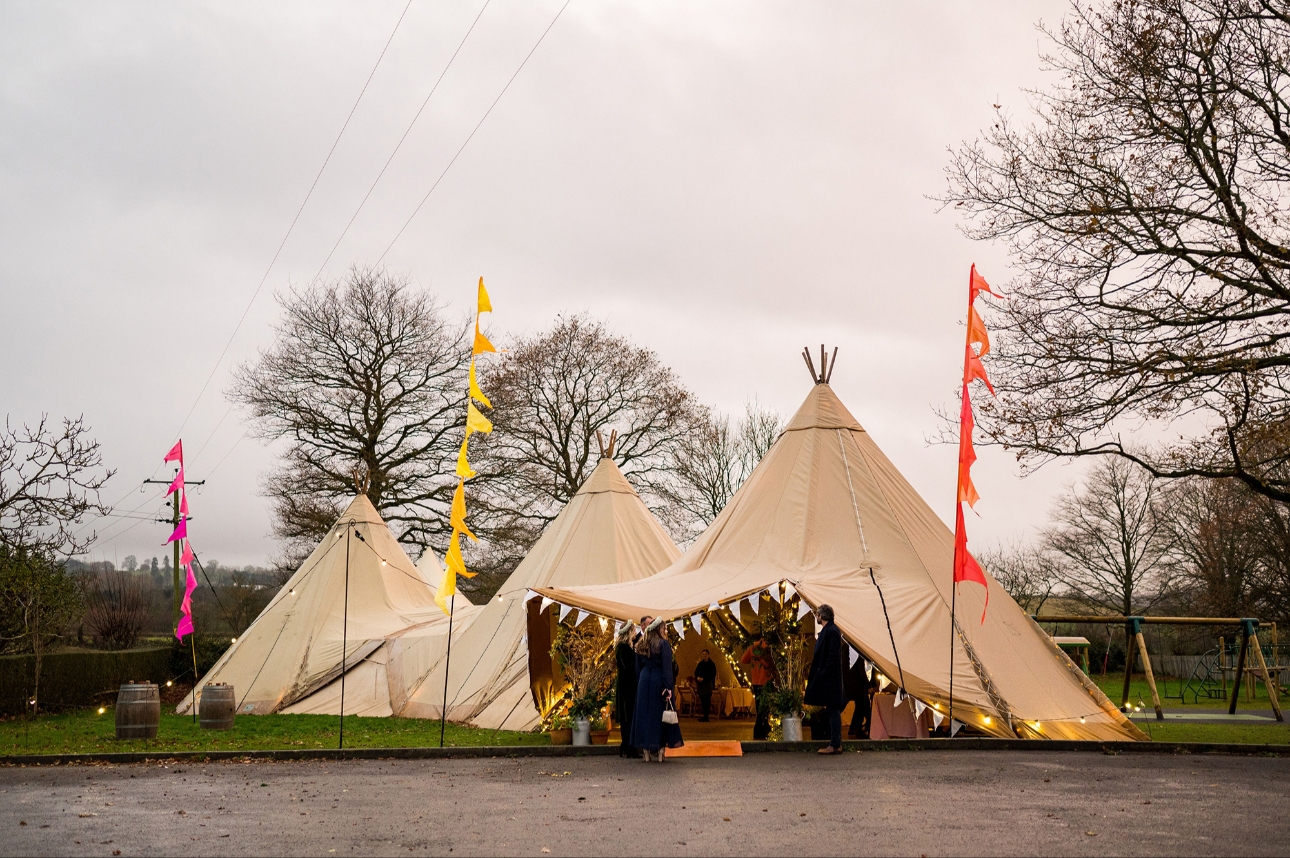 Due to Covid, tying the knot proved to quite a rocky road. However, despite restrictions, they stuck to their date and got married at Old Marylebone Town Hall on 3rd December 2020. As only eight of their immediate family members could be there, they decided to have a belated first-anniversary party the following year on 11th December 2021, with all their family and friends and their original suppliers.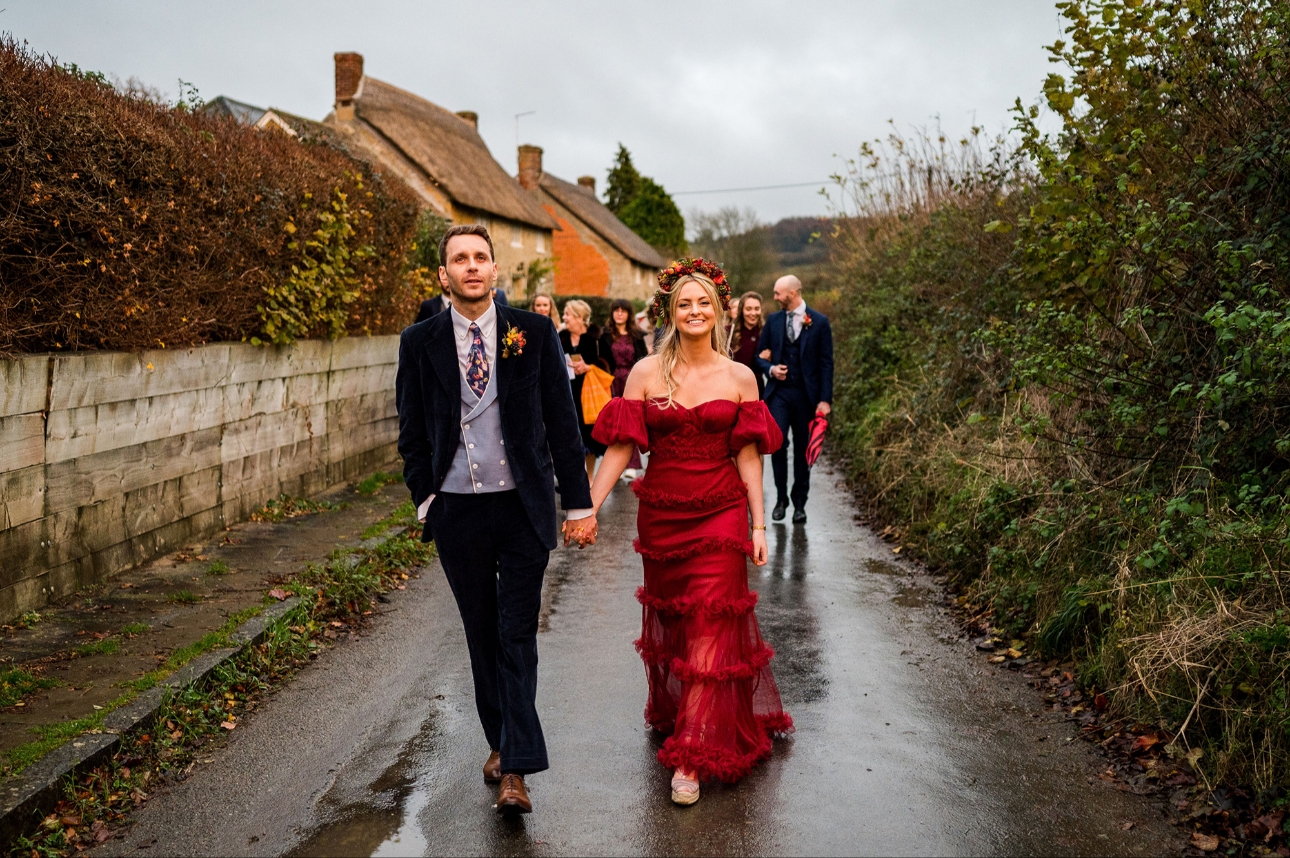 As the official micro wedding had already taken place, both Maddie and James felt able to buck tradition a little and have fun with both their colour scheme and outfits. Maddie enlisted the help of her school friend and dressmaker Isabella Stewart to create and design her dream gown. She wanted something equal parts fun and sexy and the more classical neckline contrasted beautifully with the layered tulle sleeves and skirt. To complete the look she wore a bespoke matching red plume flower crown, gold star earrings and high, lace-up Castaner wedge heels. James recycled his original wedding suit, but dressed things up with one of his many eccentric ties for him and each of his ushers along with waistcoats in a variety of colours. The flower crown and buttonholes were made by florist Jessie Cooper in keeping with their earthy winter colour scheme, with lots of blood red and burnt amber plumes.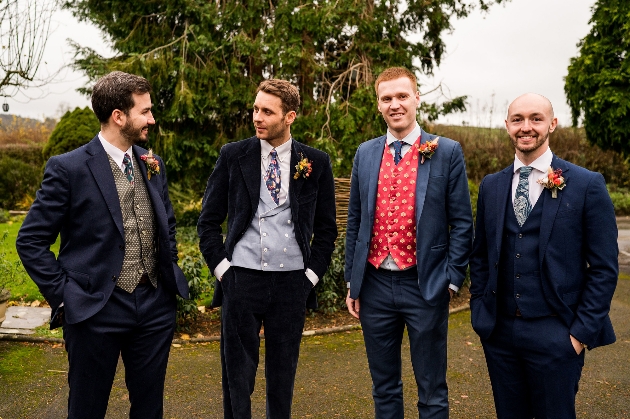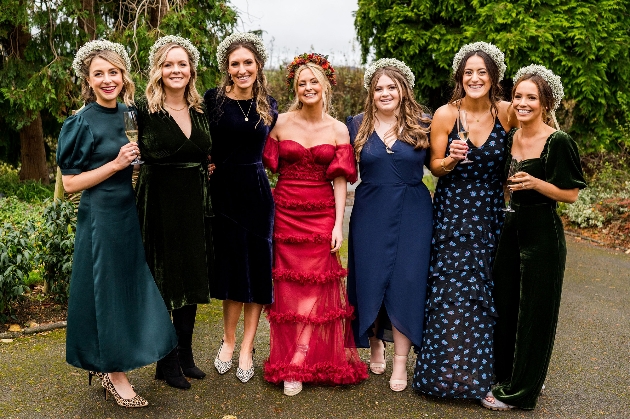 "The bridesmaids or 'wifesmaids' as we called them, were given relatively free rein to choose their own dresses, as we wanted everyone to feel their very best on the day. They were given a seasonal vampy brief including colours such as navy, plum, mustard, bottle green, burnt orange, either knee-length or below, and the matching white gypsophila flower crowns bought all the outfits together beautifully," adds Maddie.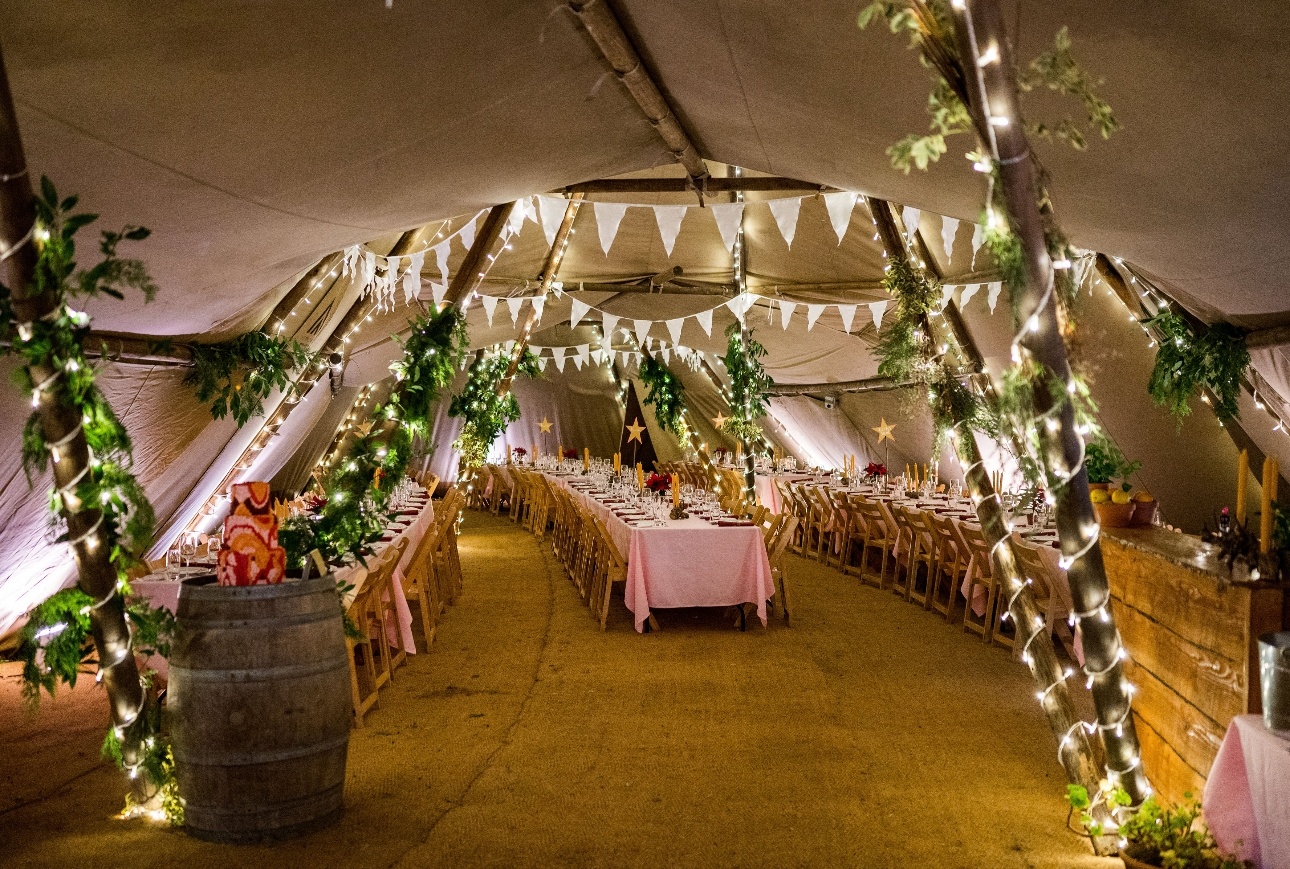 Maddie was born and raised in Dorset and had her heart set on celebrating with her loved ones in her home village of Trent where she had lived since she was five. "Prior to Covid, our initial plan was to marry in Trent Church," she explains. "However, with the legal wedding formalities already finalised the year before, our anniversary party became all about the reception and celebration." They decided to use the village hall for the welcome drinks, string quartet, canapés and speeches and have a boho-style tipi setup for the party afterwards on the village green nearby.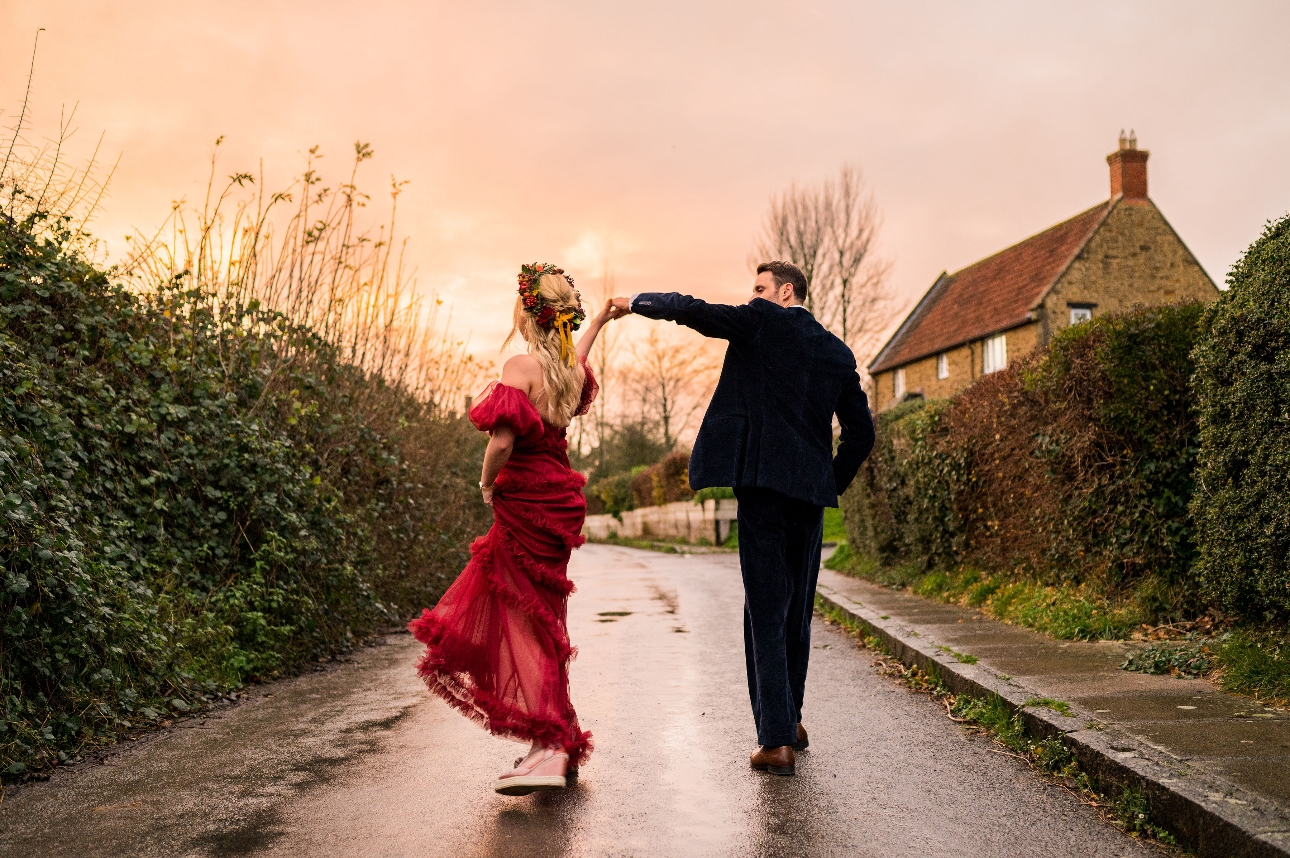 "The joy of the reception being at the village hall was that we could walk there from my parents' house," explains Maddie. "Not only did this relieve pressure on the day, but we were also able to get some really gorgeous sunset photos of us walking along the country lanes with our family and friends."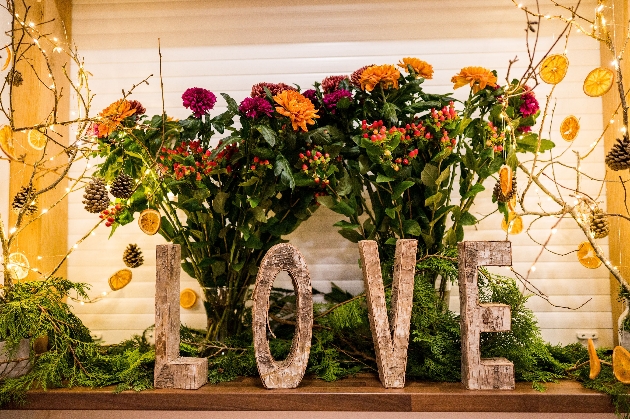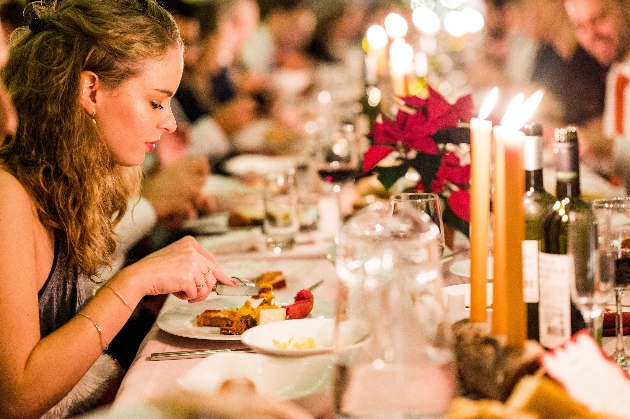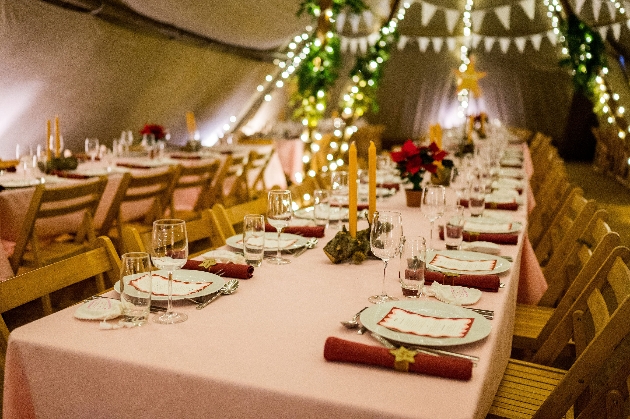 They opted for three large tipis with rows of joined-up trestle tables for the 'anniversary breakfast' followedby dancing afterwards. "We wanted the whole event to feel relaxed, like attending an informal dinner party with 130 friends! The long tables worked fantastically so we felt right in the middle of everything, with all our guests around us." As great food lovers and long-standing vegetarians they chose a fully vegetarian menu provided by The Plume of Feathers in Sherborne."We both love their food and wanted to ensure that our 'anniversary breakfast' was a memorable experience for everyone," explains Maddie.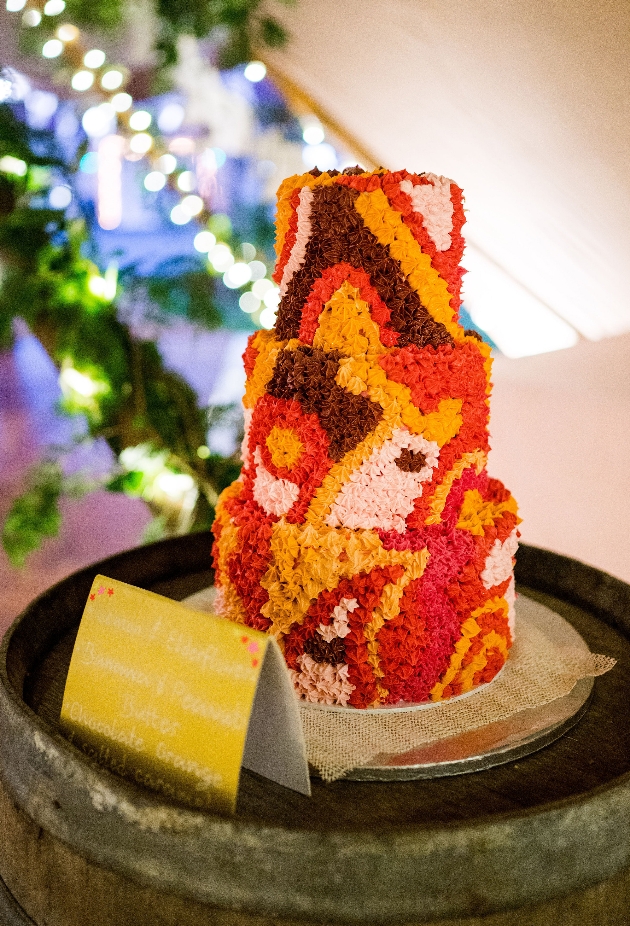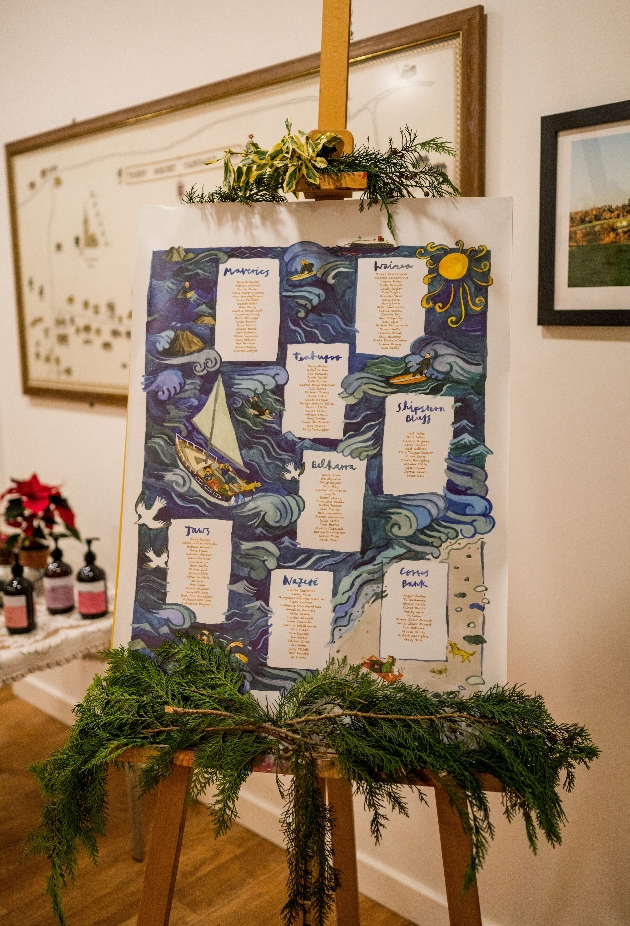 Nick from the Plume helped to design a mouth-watering menu starting with sharing platters, followed by traditional Italian dish ricotta gnudi and a sharing dessert of classic tiramisu as well as warm panetonne. "The sharing theme worked so well, not only in reducing unnecessary food waste, but also helping guests to chat and get to know each other," adds Maddie. In keeping with the boho vibe, they also had tall brightly coloured festival flags outside the tipis. "They really were gorgeous and some of our favourite photos included the tipi festoon and fairylights illuminating the flags, giving it that real Glastonbury feel," recalls Maddie.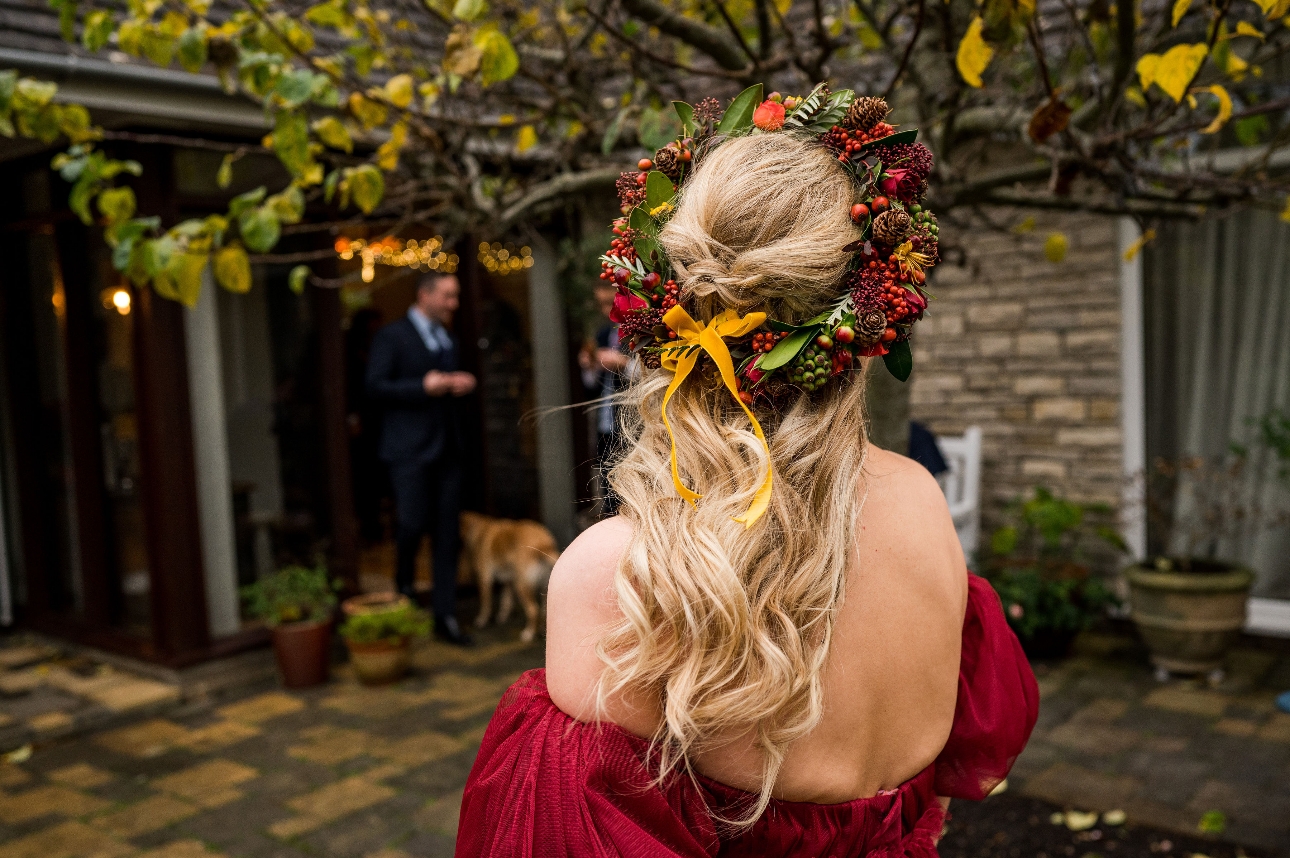 The decorative details echoed the season with small red poinsettia flowers for the centrepieces, which complemented the gold star table names perfectly. Maddie's dad made rustic candlesticks out of gnarly old logs from the family log pile and foliage from their garden was used to trim the tipis. Her mum took on the mega task of creating the place names, which were all handwritten on spray-painted gold stars attached to lengths of burnt amber velvet to wrap around the napkins. "Some of our guests loved them so much they took them home as Christmas tree decorations!" adds Maddie.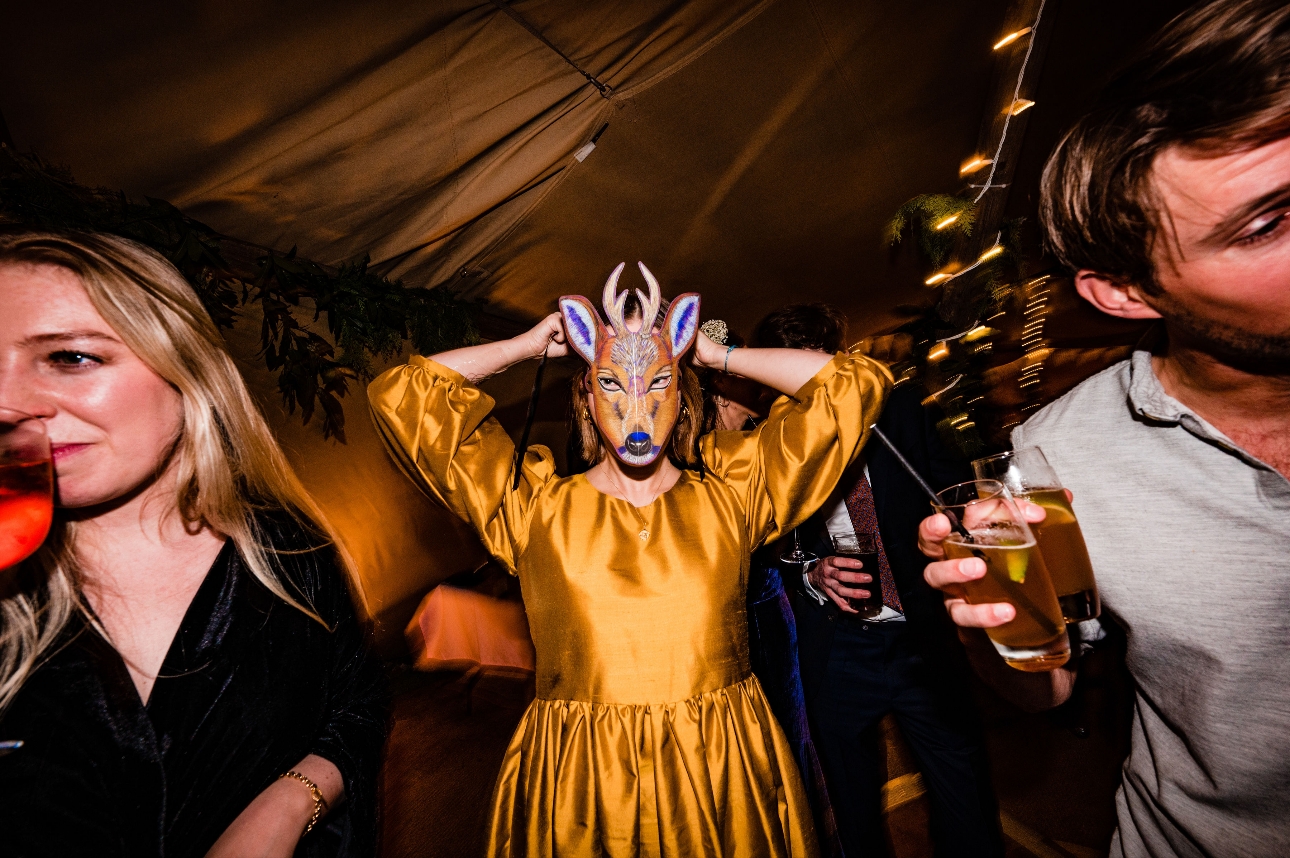 As James and his dad Giles love to surf and sail, and Maddie's father works as a cruise ship captain, they had a nautical theme for the tables and named them after big waves including 'Jaws' and 'Shipstern Bluff'. James' cousin Joanna Lillie painted their amazing table plan featuring waves, surfers, boats and eight of their immediate family members.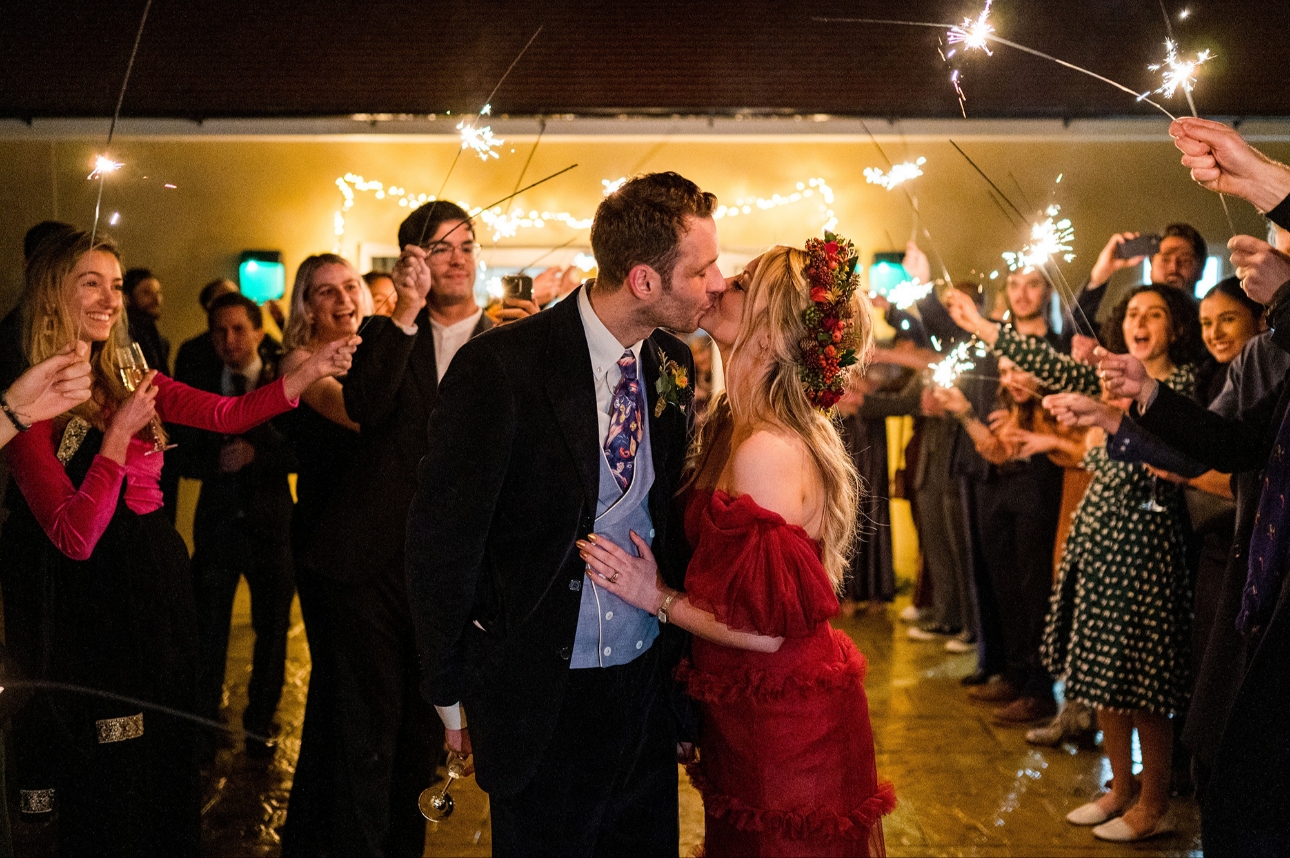 The cake was another wow-factor feature, designed in a retro '70s style in bright pink, red and orange with a range of flavours including Maddie's favourite, banana and peanut butter, and James' top pick, lemon and elderflower.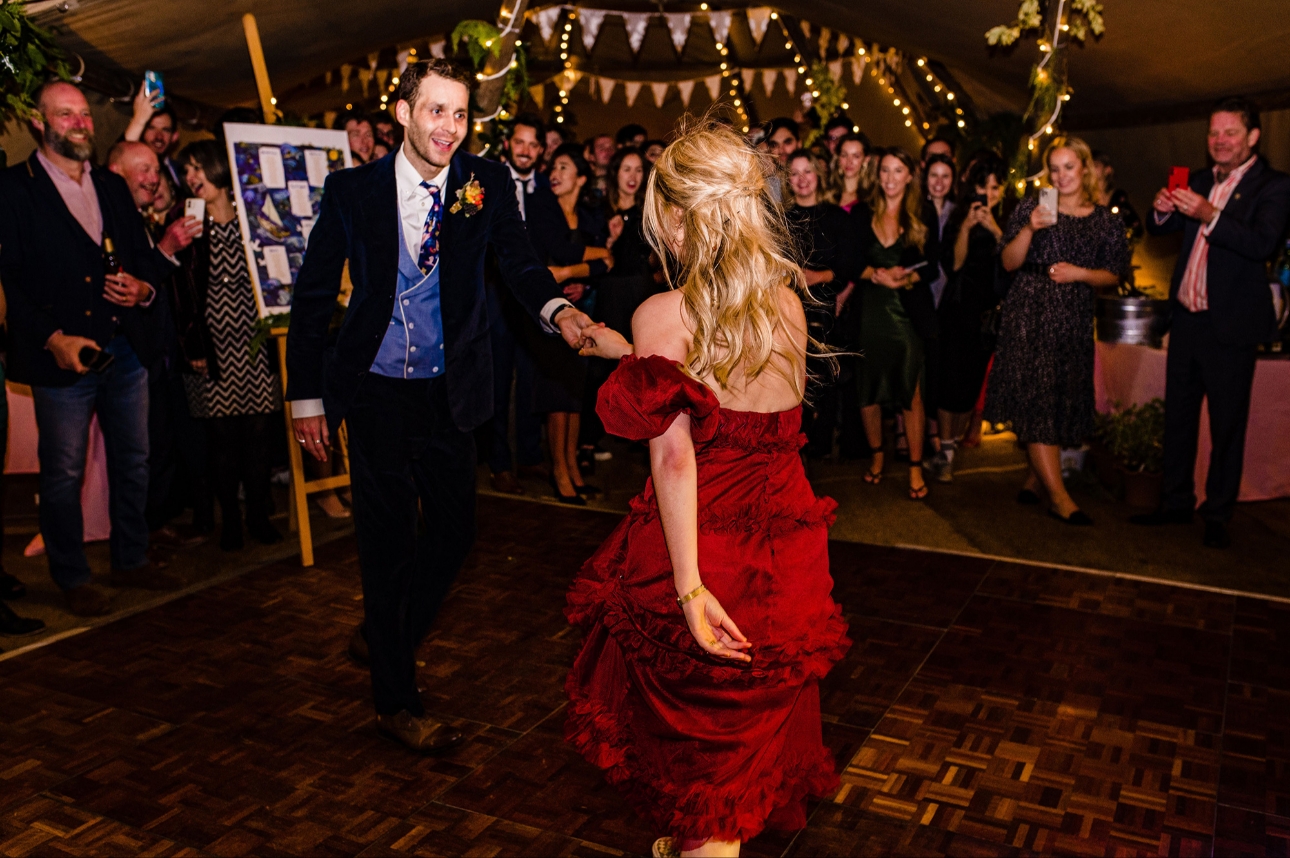 As an extra special detail, they had a sparkler walkway outside the village hall on the way to the tipis. "We did a few test runs prior to the big day, and would recommend buying extra long, long-burn sparklers otherwise your photographer won't have time to get many snaps!" advises Maddie. She and James also surprised their guests with a choreographed American jive routine to Elvis Presley's All Shook Up and later in the evening live indie rock band 8-Ball got everyone up on the dancefloor. "We also had fun animal masks and limbo dancing, which got everyone involved," adds Maddie. "It was honestly the most special feeling, particularly after the past two years, to be surrounded by all our family and friends wishing us well and rooting for us to have the best evening!"
Maddie and James' contact book