When Carli met Alex she knew instantly that he was the one. "I fell head over heels for his blue eyes. It maybe a very cliché thing to say, but as an American his British accent was like kryptonite to me," recalls Carli. "I then became entirely smitten as I discovered how caring, considerate and fun-loving he was.
I was also terribly forward and told him the day after our first meeting that I'd fallen for him and he was very British and said, 'Oh, thank you," she laughs. Despite his natural reserve, he was feeling the love too and romance blossomed.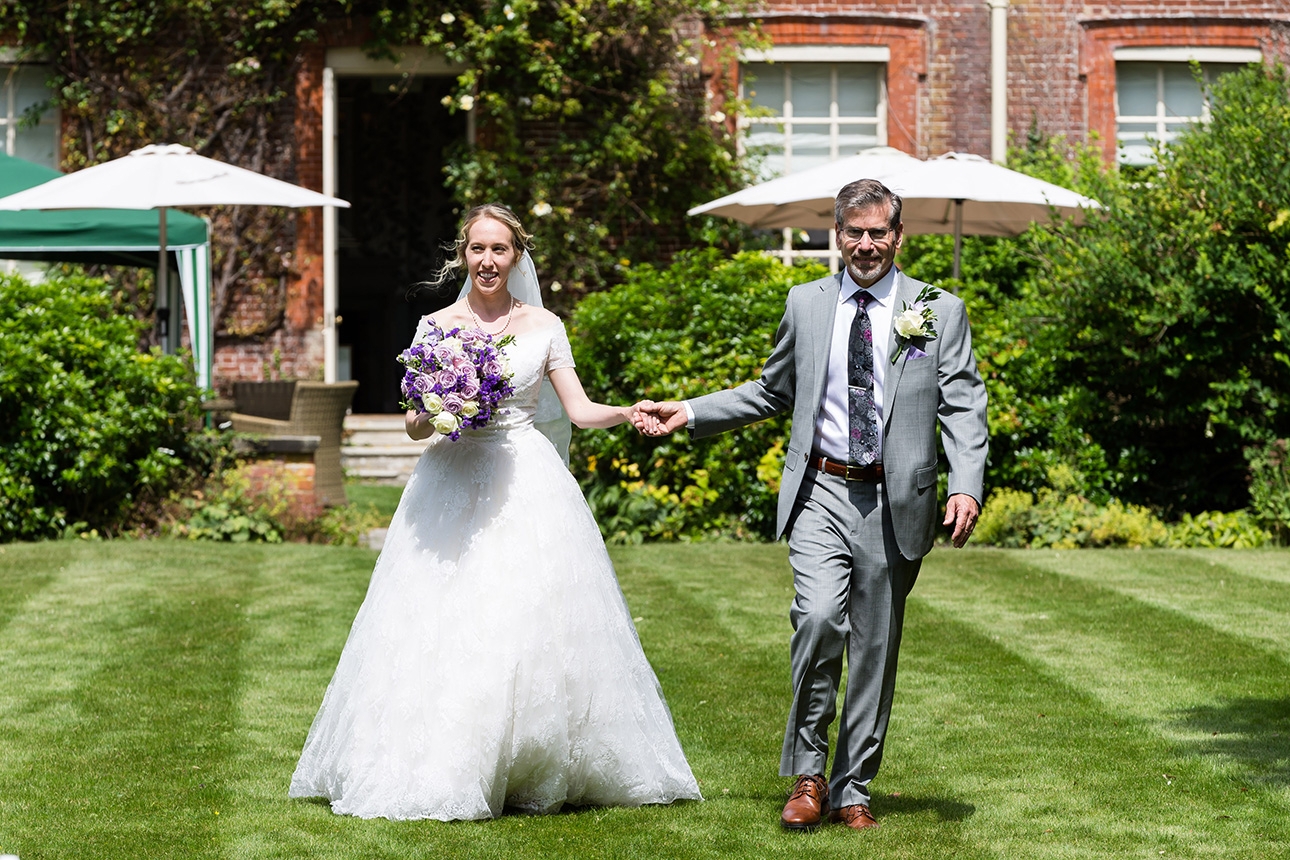 Alex proposed in the autumn of 2020, after postponing his initial plans due to the pandemic. After the first lockdown, they were fortunate to get away on a trip to the Scottish Highlands, where Alex had booked a log cabin for a few nights. Little did Carli know, but he had planned for them to hike around Glen Affric where, surrounded by the ruggedly beautiful Scottish wilderness, Alex went down on one knee under an ancient pine tree overlooking the valley and lake and asked her to marry him. A stunned Carli burst into tears and immediately said 'yes'. "We spent many minutes in each other's arms, just smiling and taking in the view, cherishing every moment," remembers Carli. The celebration extended well into the evening, with bubbles, haggis and Scottish salmon at a restaurant on Lock Ness.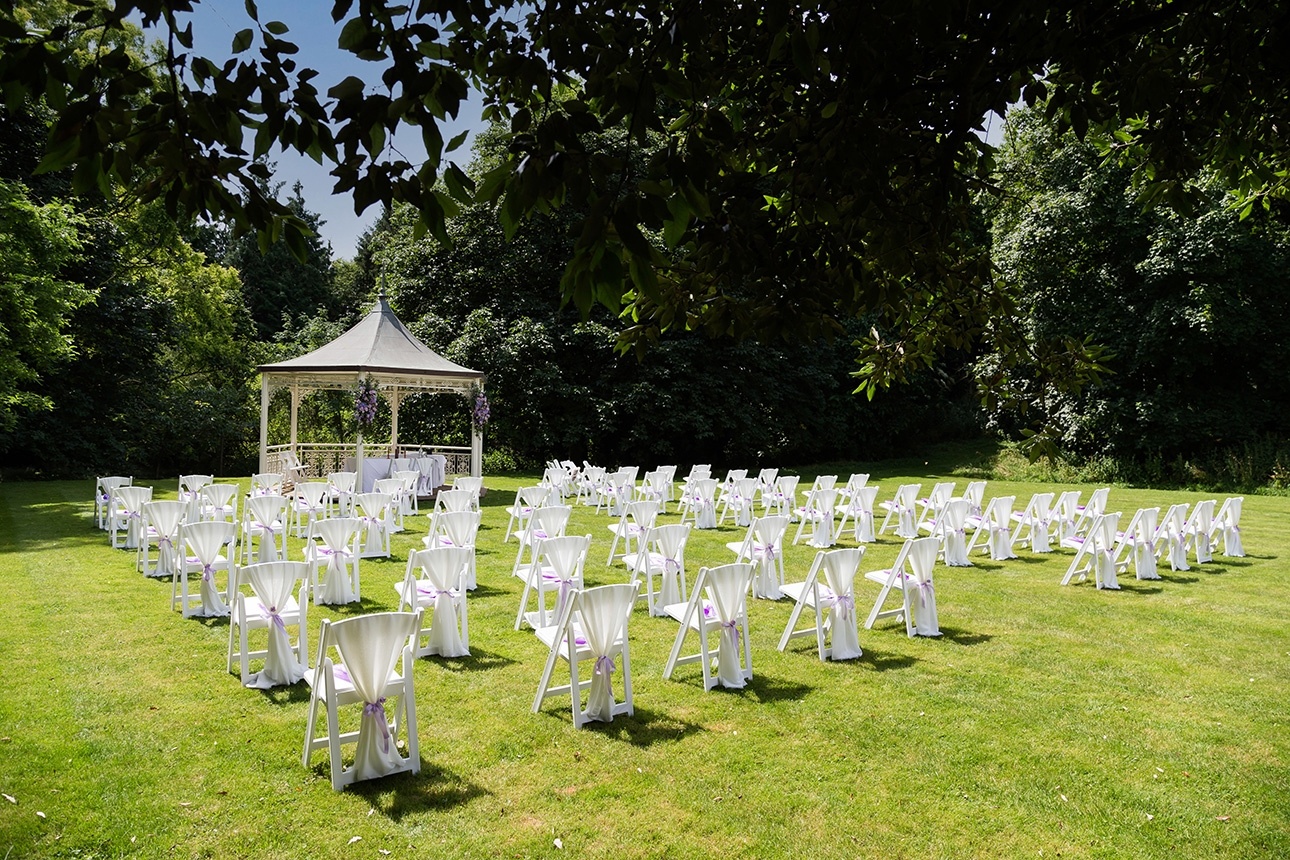 They opted for a romantic theme set in Hampshire's beautiful Lainston House in Sparsholt near Winchester. "It was such a beautiful setting, right out of a fairytale, complete with a ruined Medieval stone chapel in the grounds where we had some gorgeous wedding photos taken. The stately manor house is so elegant, and made the day feel extra special. We also loved that our guests could stay on site at the hotel and walk directly from the ceremony to the reception," enthuses Carli.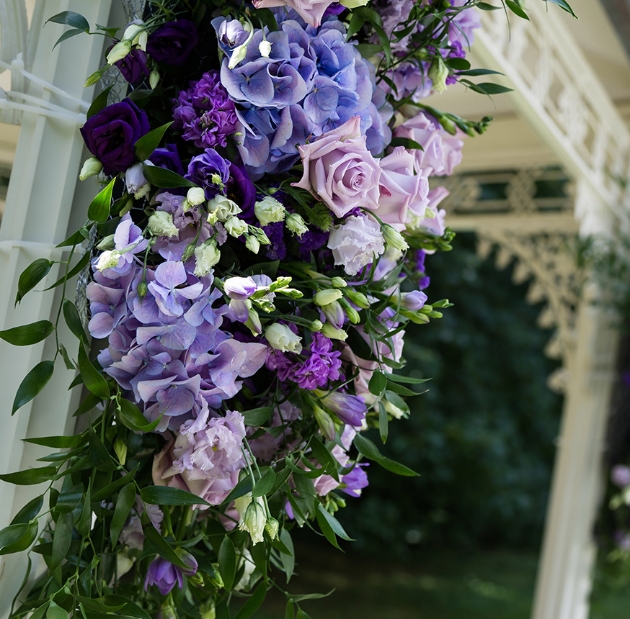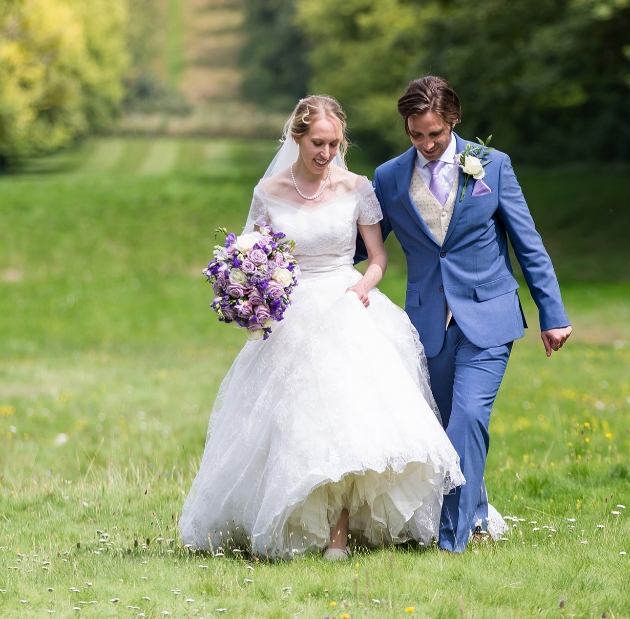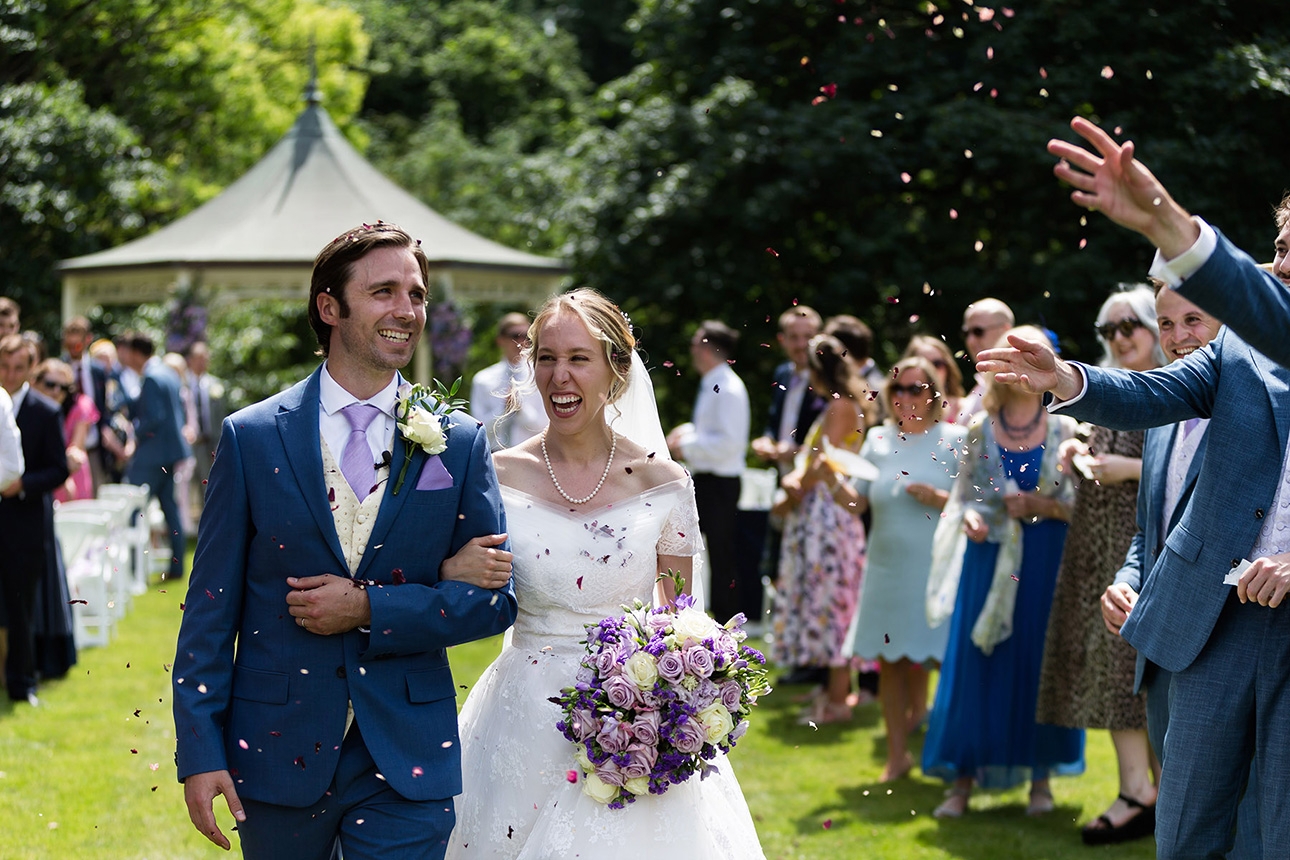 "The details were all impeccable and we wanted our wedding day to be special for everyone, especially as we had all been in lockdown for ages and this was the first real chance to get together and celebrate with our friends and family." They tied the knot on 23rd July this year and to echo the romantic feel, went for a lavender rose colour scheme chosen by Alex to signify love at first sight.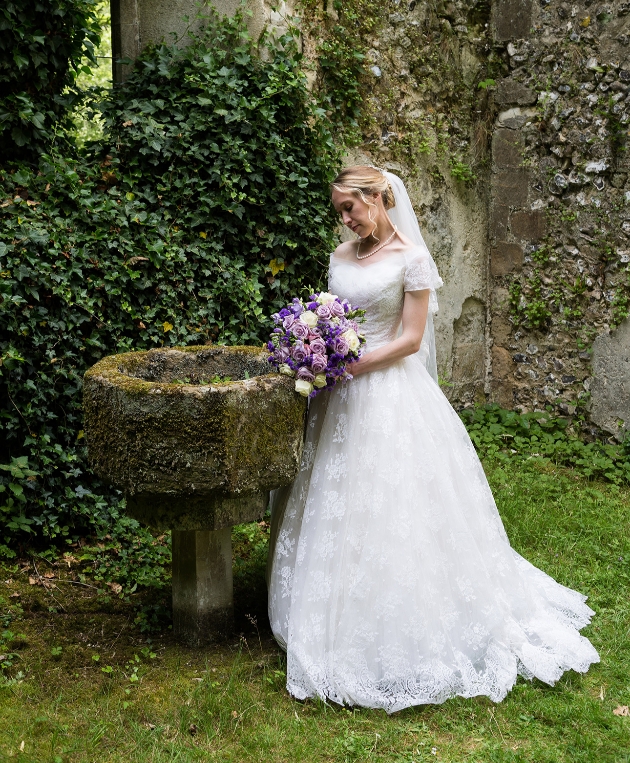 Carli stayed at Lainston House the night before the wedding in order to get ready there in the morning with her two maids-of-honour, best friend Jesse and sister Kirstin. Putting on her 1960's Chantilly lace, ancestral wedding gown was a truly memorable moment as both her mother and grandmother had worn it for their weddings. "It meant so much to me and I know it did for my mum too. I never met my grandma as she passed away before I was born, but wearing her dress on my big day was really special because it felt like she was with us. I also wore my mother's pearls and diamonds to go with it."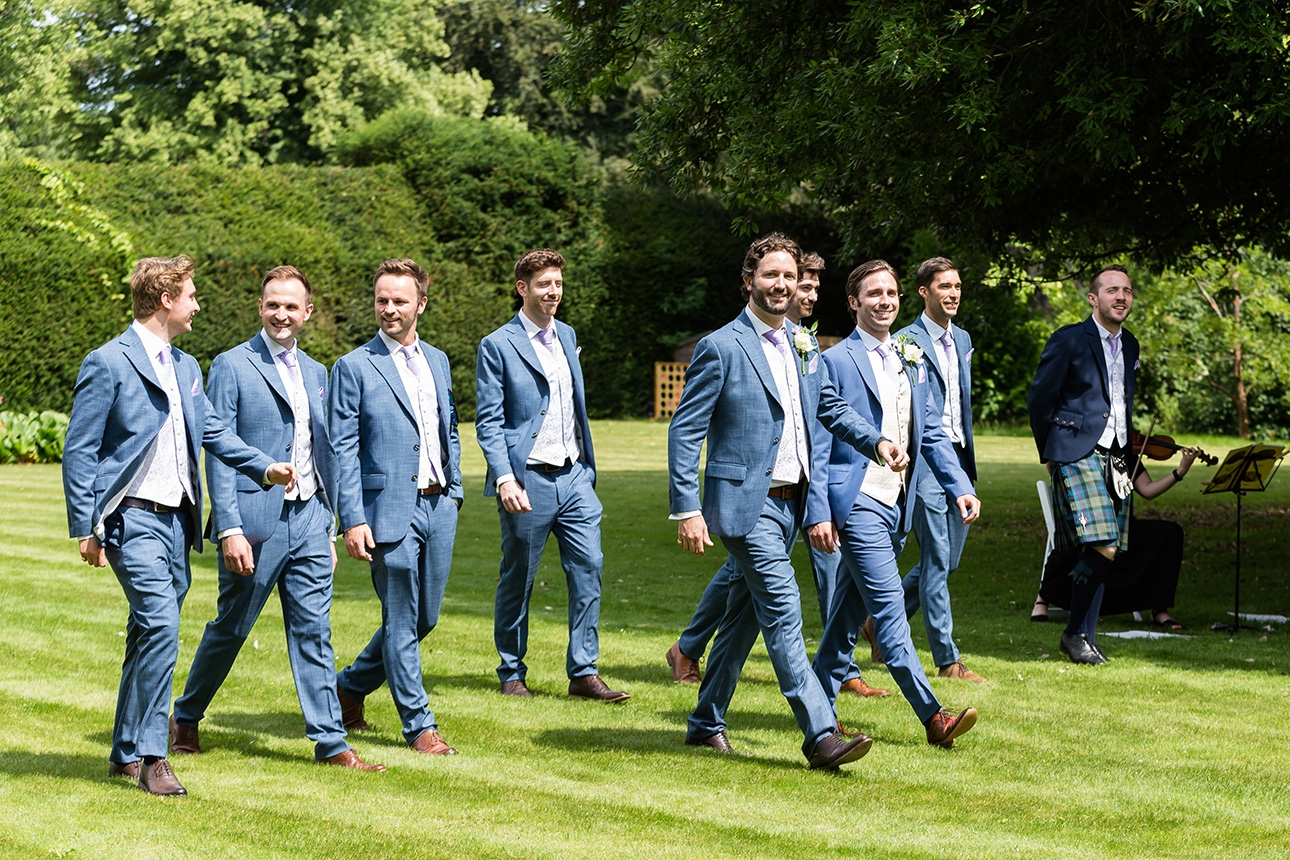 Alex looked smart in a fitted Ted Baker suit alongside his eight groomsmen who wore blue tailored suits with matching lavender ties and pocket squares, apart from one who sported his traditional Scottish attire.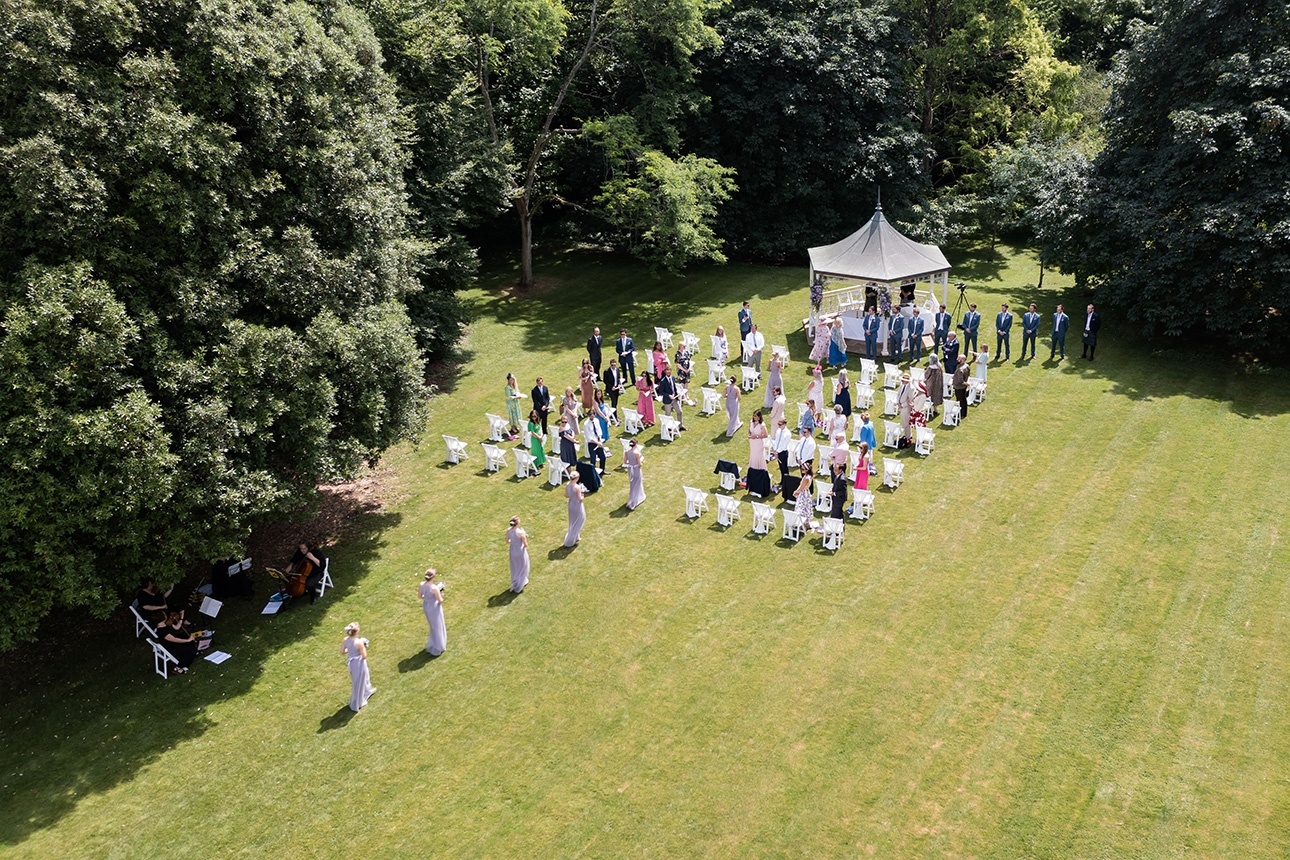 The bridesmaids completed the picture in floor-length pleated lavender dresses from Coast with fitted tops and flowing skirts. "They made the bouquets from faux flowers tied with lace as a fun activity at the hen do and they were a great wedding keepsake too," adds Carli.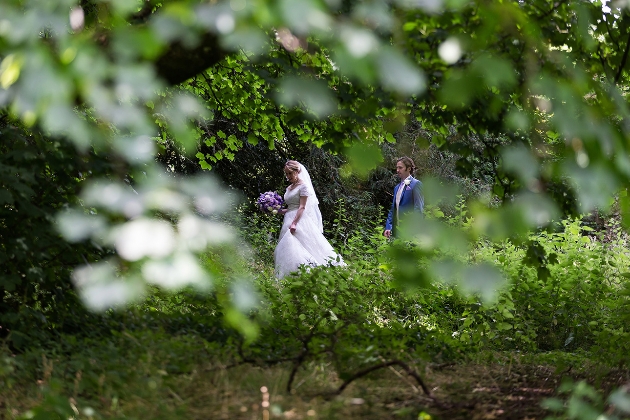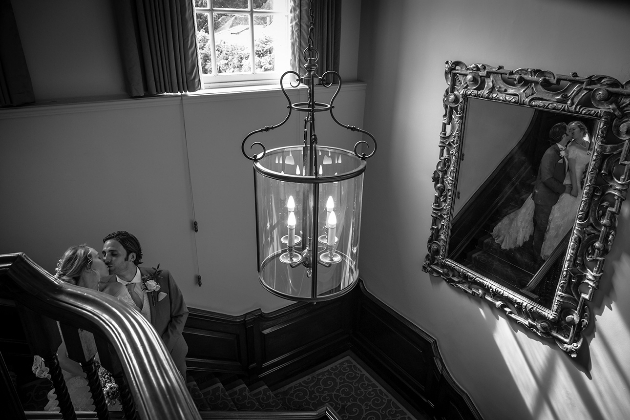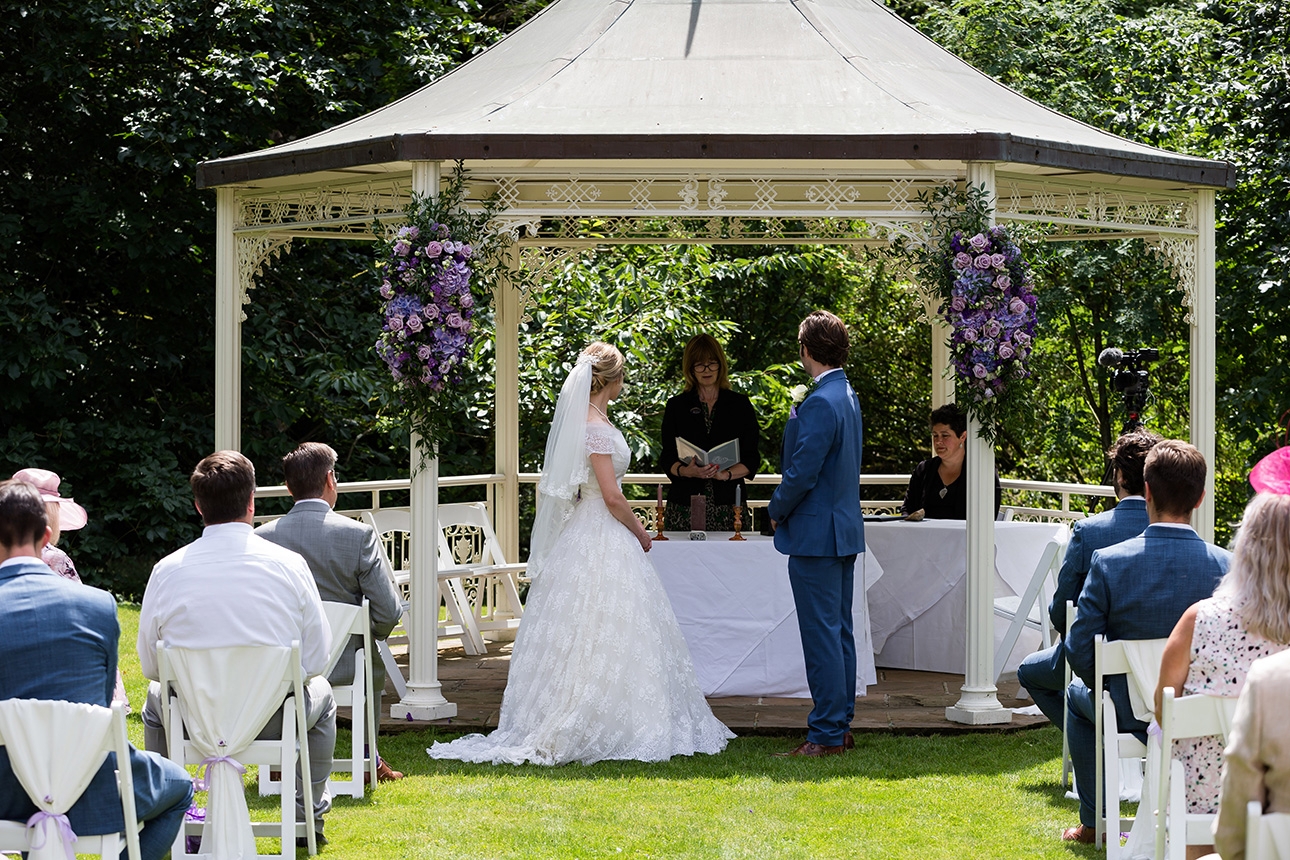 The ceremony was held outside in the spacious garden flanked by magnificent old trees. Two big floral arrangements filled with lavender roses and other blooms decorated either side of the pavilion and they put organza lavender bags on each guest's chair along with white, handheld fans. "We wanted to be prepared for sunshine and we were very lucky as it turned out to be a glorious day," says Carli.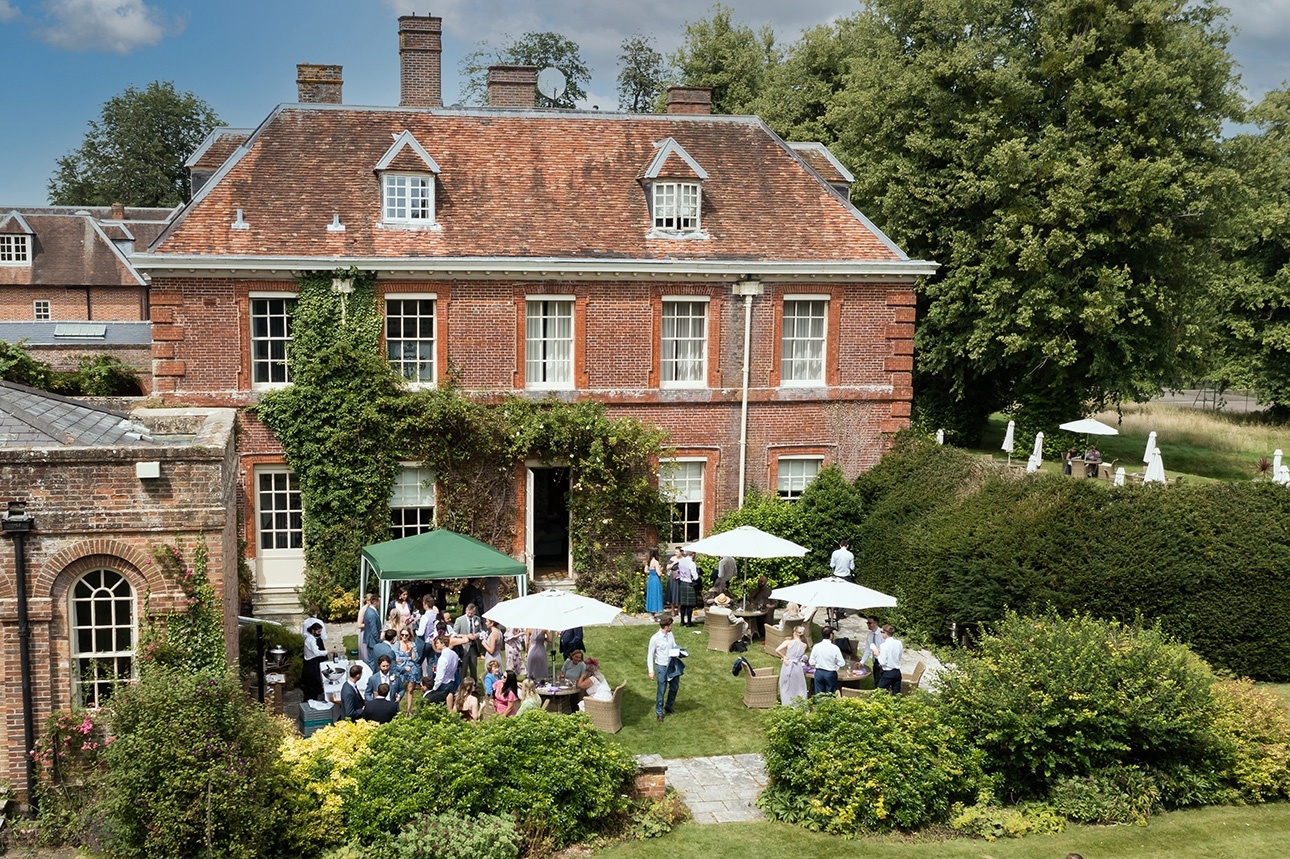 As part of the service, they included a unity candle lighting ceremony to illustrate the bond of marriage, which nearly didn't happen when the lighter went missing. "In a lovely tension-breaking moment, we looked from each other to the registrar and back to our guests, before bursting into laughter realising we had nothing to light the candles with!" recalls Carli. Luckily though, a cousin delivered a lighter on cue and the moment was saved! A string quartet played before, during and after the ceremony, followed by a classical Spanish guitarist during the drinks reception. The venue also had a giant Connect Four game in the garden for guests to enjoy.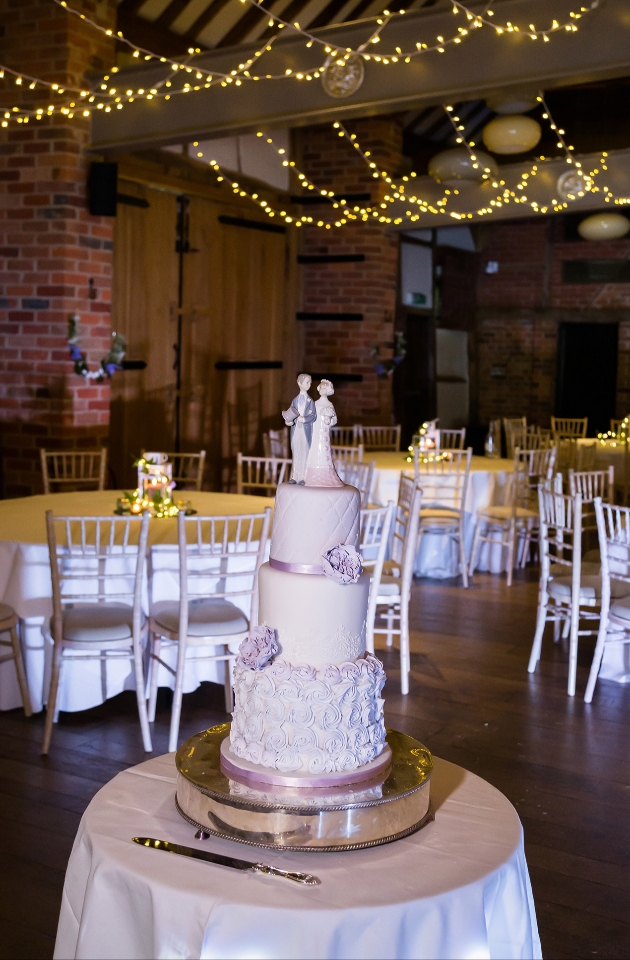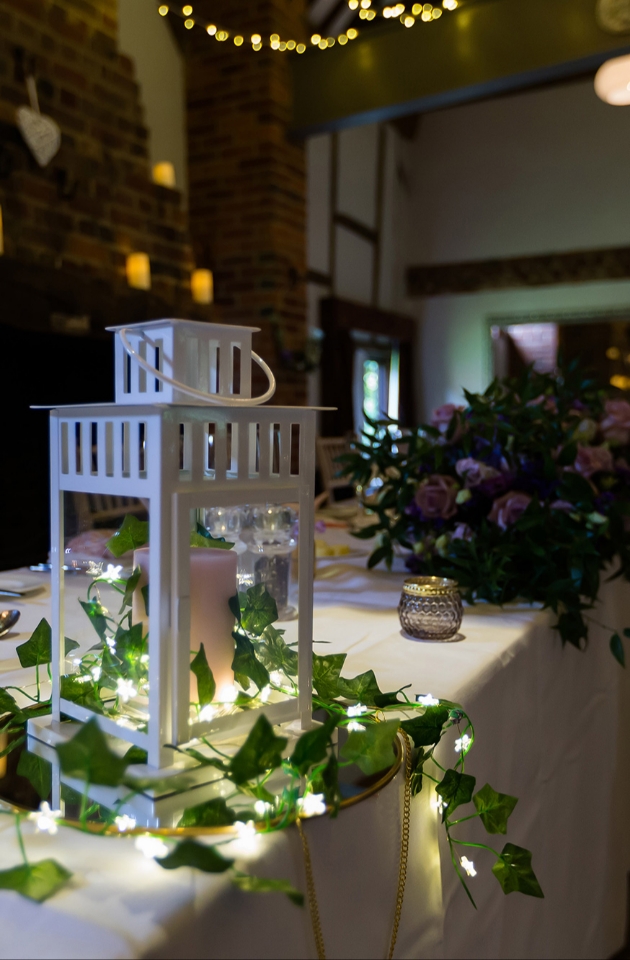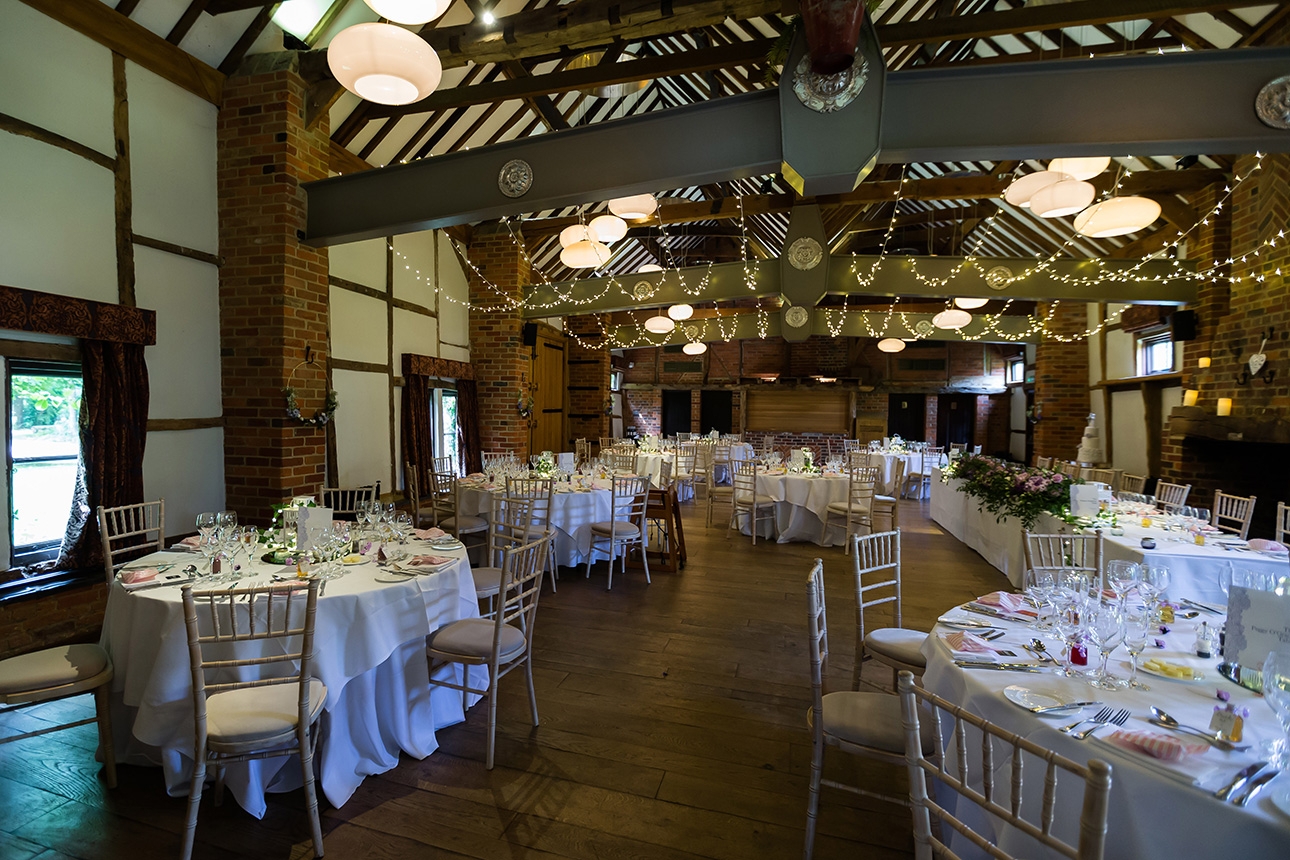 The reception took place in the venue's Dawley Barn, a stunning rustic backdrop complete with wooden beams and a feature fireplace. The tables were named after their grandparents who couldn't be with them and Alex's sister Emma used her design skills to help create the table plan using a mirror and chalk pen. "She drew lavender around the edges and it was displayed at the entrance to the barn," explains Carli. She also designed a romantic candlelit centrepiece for the top table. The favours were mini glass bottles of bramble gin and Irish whiskey, in a nod to Alex's family roots, with pink striped American candy bags to represent Carli's side. "My parents, sister and her boyfriend travelled from the US and had to quarantine at our house for five days before the wedding, so they helped us loads. They put together the table arrangements, filled all the favour bottles and made the white chiffon chair sashes."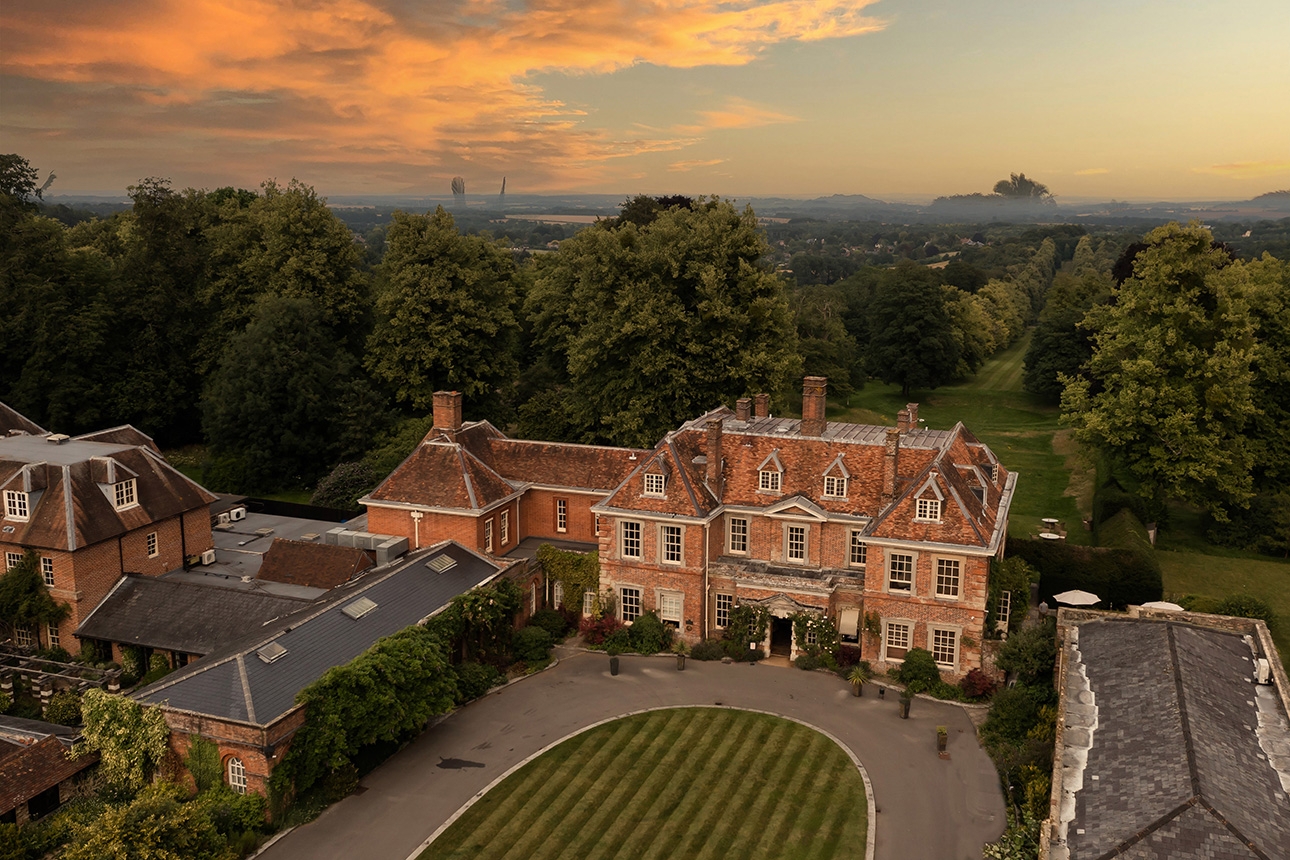 The couple worked with Penelope from Cocoa & Whey to design the lavender and white cake of their dreams including decorative details, patterns and the porcelain topper from Carli's parents' wedding cake. "The flavours were malt vanilla, lemon elderflower and the top tier was an orange and morello cherry fruitcake which we've kept in the freezer to celebrate our first anniversary," adds Carli. The catering was all in-house through Lainston House including wines hand-selected by their sommelier. "The food was phenomenal," raves Carli.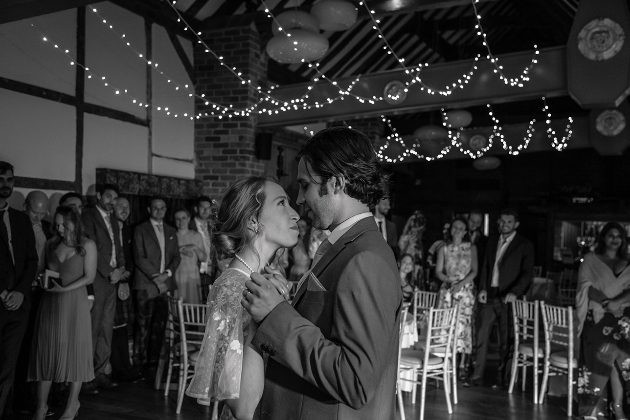 As part of the entertainment during the day a silhouette artist drew likenesses of the wedding guests. "She managed to do one for every person there, which was incredible and it was fascinating to watch her work," says Carli. During the evening, the DJ kept the dancefloor busy. "He did a fabulous job with the playlist and our guests were dancing the whole night. Alex also pulled off a hilariously funny, yet family-friendly, Magic-Mike/Full-Monty type dance in great style to the tune of You Sexy Thing by Hot Chocolate!"
Carli and Alex's contact book