A two-week road trip around France in June 2019 turned into a happy ever after for Erin and Pete. During a stopover in Bergerac on the second night, while on a romantic pre-dinner walk down to the Dordogne River as the sun was setting, Pete popped the question. The proposal was a complete surprise to Erin who first met Pete in 2017 while they were both working for Hampshire and Isle of Wight Air Ambulance. "I had no idea," she exclaims. "It turned out to be a very happy evening and an amazing holiday, taking in Toulon, Cannes, Nice and the Alps."
They tied the knot on Saturday 10th October, 2020 at Blacknest Golf and Country Club in Hampshire. "It was the first venue we visited that we both absolutely loved. There was a beautiful tipi outside that caught our eye and had it not been for COVID we would have used it for our reception," says Erin. However, despite having to move their wedding from March to October due to the pandemic, they were still able to have the al fresco service they'd dreamed of. "The venue has a beautiful outdoor area and we were so lucky that, even with the change of date, we were still able to get married outside," says Erin. "The ceremony was at midday and we were really fortunate with the weather; it was just perfect. My sister Rosie, who was my maid of honour, set up a Zoom call for the ceremony, so my grandparents and other relatives who were shielding or unable to come could still watch us."
Erin bought her Wtoo by Watters wedding dress and her veil from Hannah Elizabeth Bridal in Botley. "The ladies in there are just amazing, it was a great experience from start to finish and I felt like a princess in my gown all day," she recalls. Pete looked smart in a tailored three-piece suit from Moss Bros. and the groomsmen hired navy blue suits to match. "Pete also wore his great grandfather's pocket watch and chain which was a great honour for him," adds Erin. To complement the colour scheme, the bridesmaids had midi-length navy Ted Baker dresses.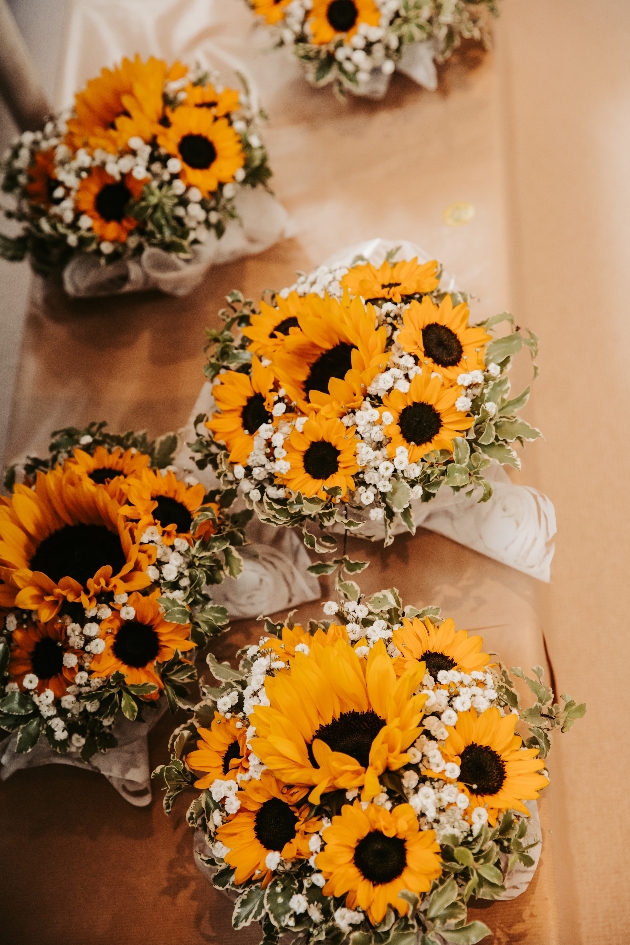 Shades of blue and bursts of bright sunflowers were key features of their day. After numbers had to be reduced to just 15 people they decided on an intimate reception, all sat together around a single table. "It was decorated with the most beautiful garland made by our amazing florist Karen at Village Blooms. She was fantastic and created exactly what we wanted, only even better than we could ever have imagined," raves Erin. "We chose sunflowers because when we were working together we had a sunflower growing competition which meant Pete and I got to know each other while watering them outside each day, so they're really special to us."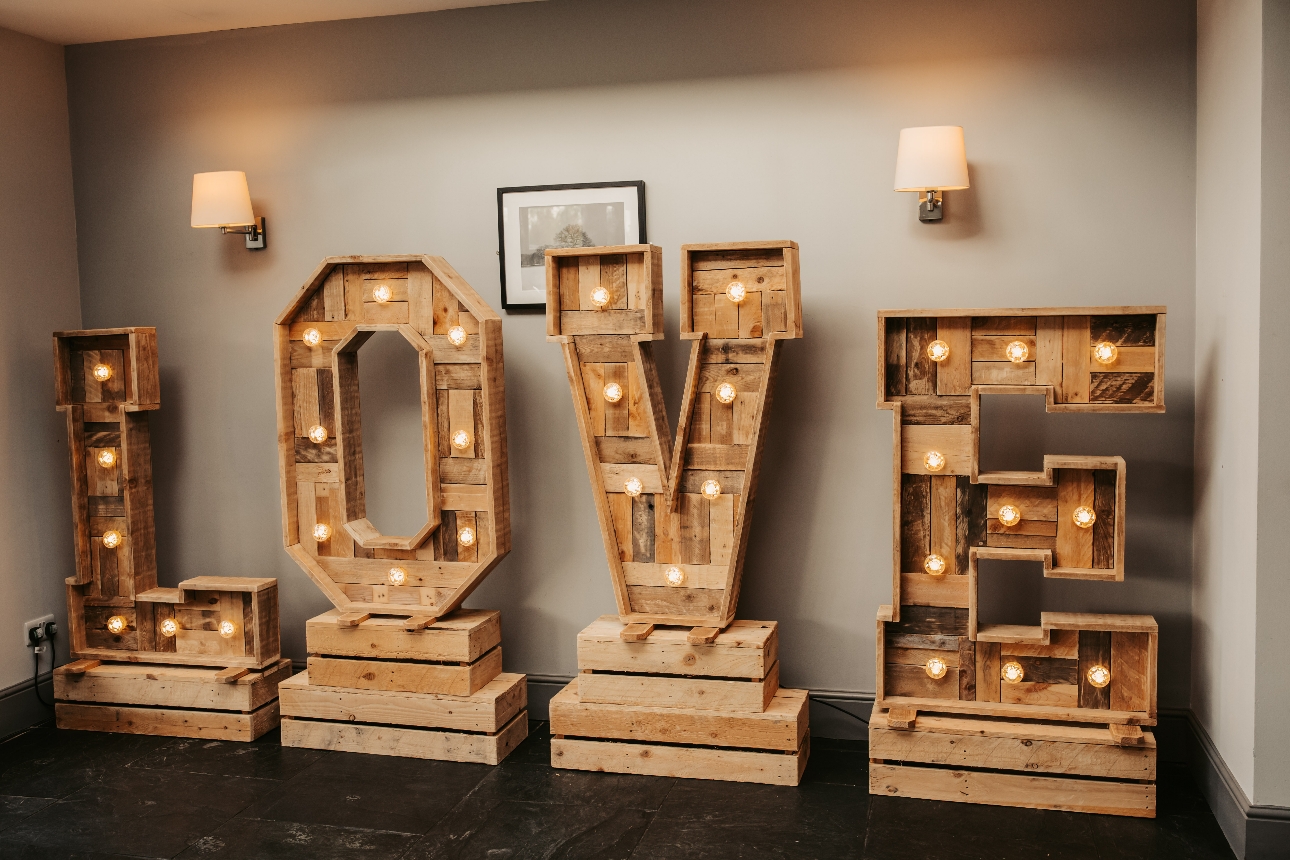 The agate place names were chosen to reflect the blue colour scheme and also doubled up as favours for guests to take home with them as a keepsake of their day. Black lanterns with candles were arranged at one end of the table and in the reception by the welcome sign while giant LOVE letters created the perfect backdrop for the meal, speeches and first dance.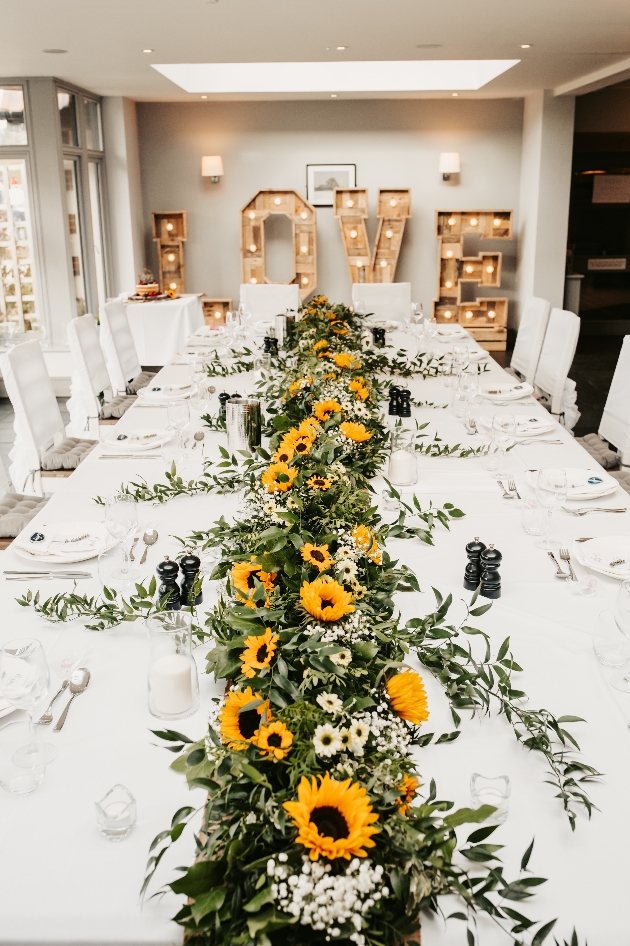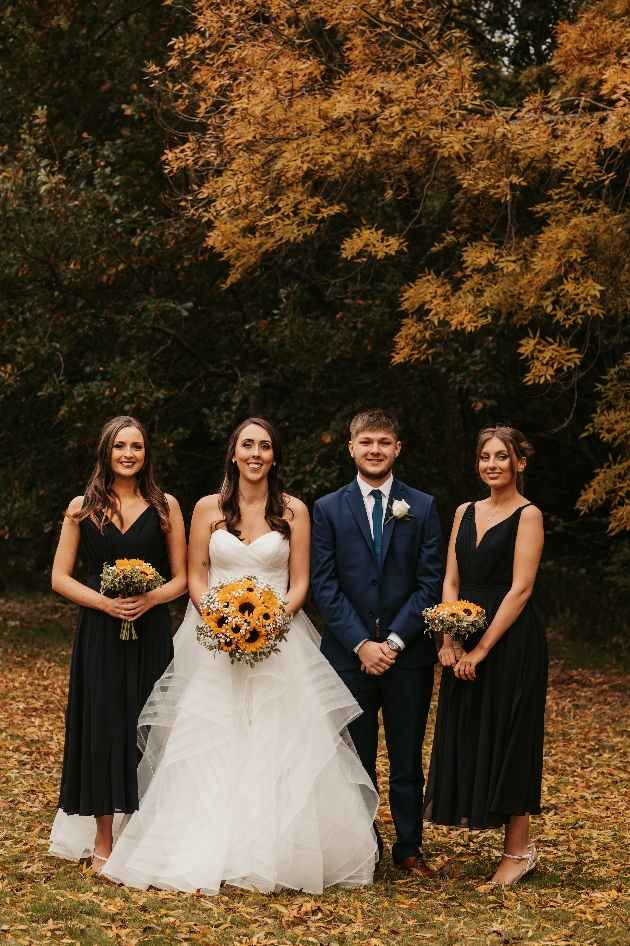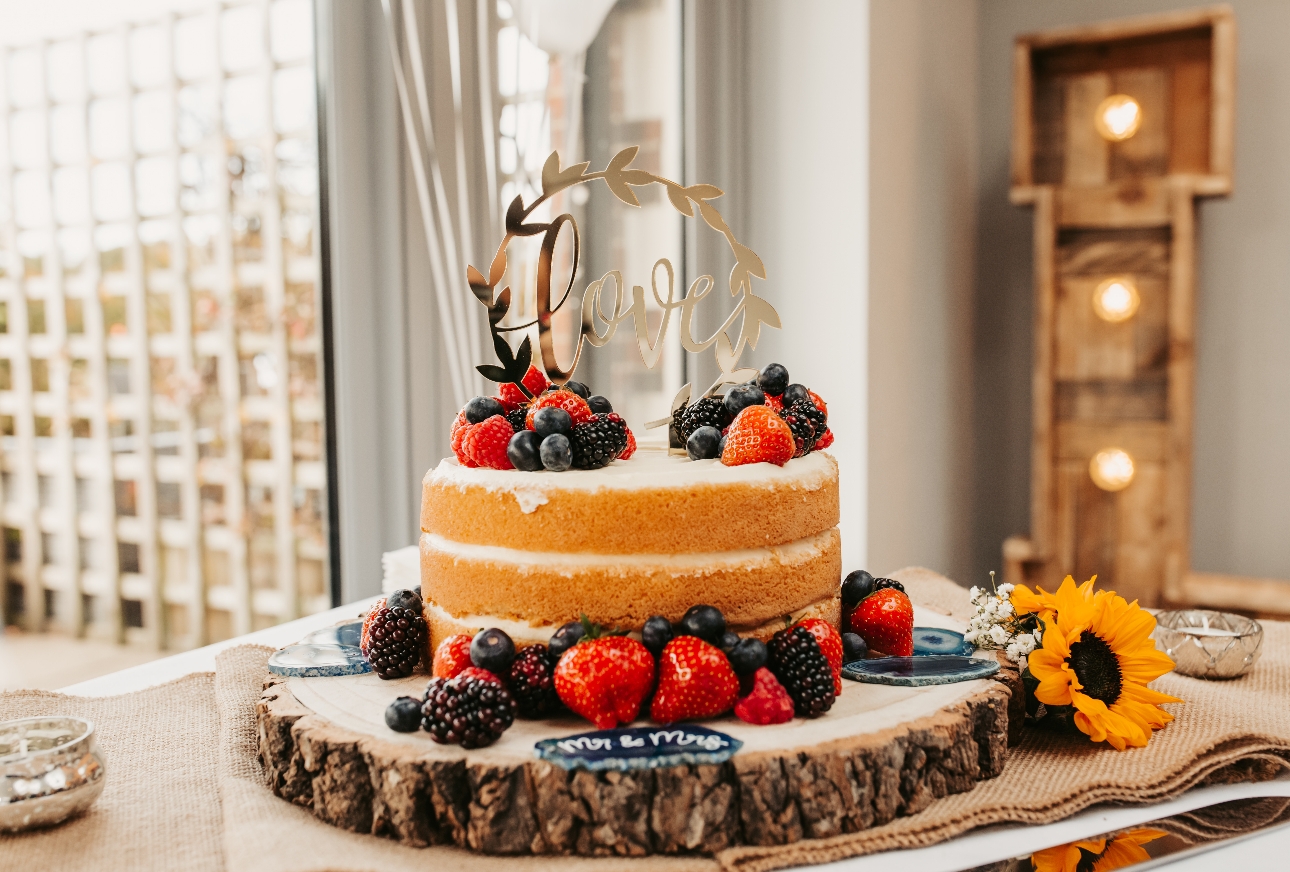 The food was another highlight with plenty of choice for everyone. "As it was a small party, our guests were able to pick their own three-course meal from across all the menus, which was amazing," explains Erin. They chose a cake from Marks and Spencer, which they decorated with fruit. "In the evening we also served cake baked by Pete's mum Viv, which was delicious," adds Erin.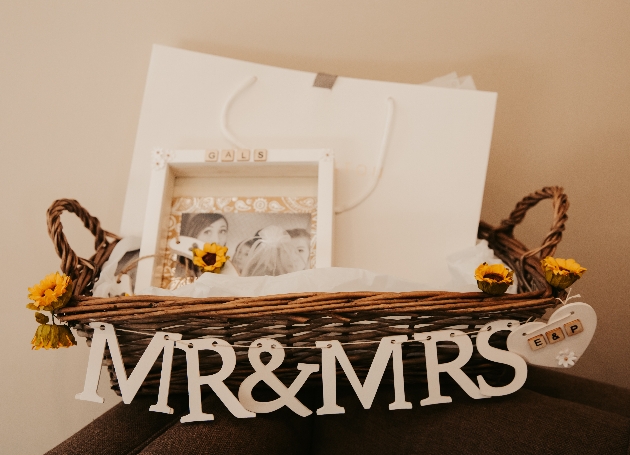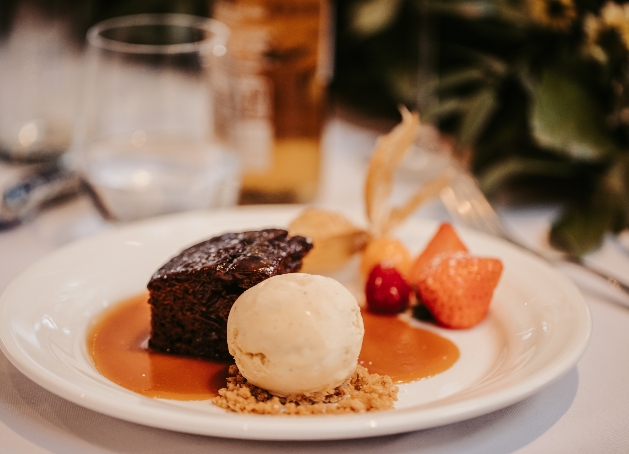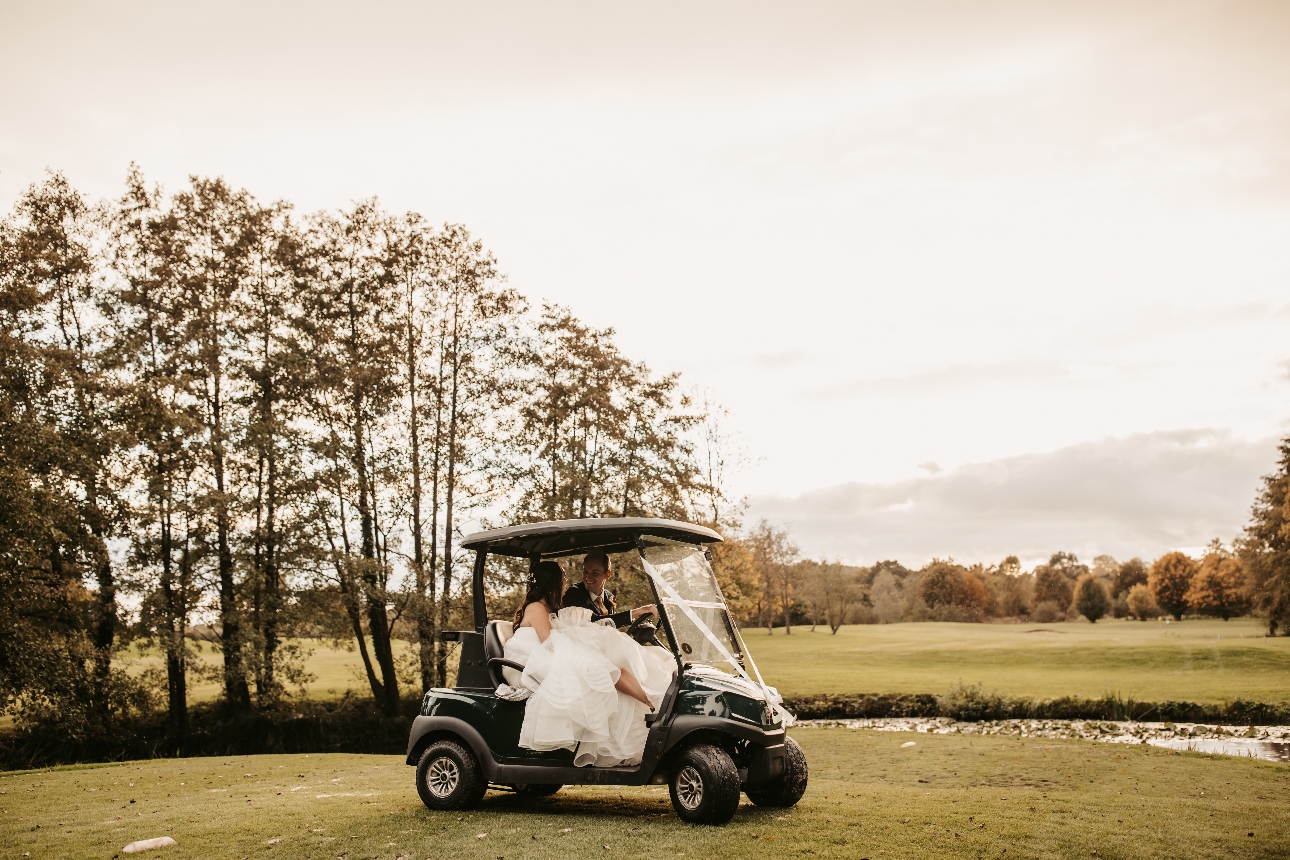 After tying the knot, they were able to enjoy a lovely long drinks reception before the wedding breakfast at 4pm. They included Corona beers in a nod to the current times, as well as their favourite tipple Aperol Spritz and bubbly. "We were all able to mingle and catch up with each other, which was wonderful after not being together for so long," recalls Erin.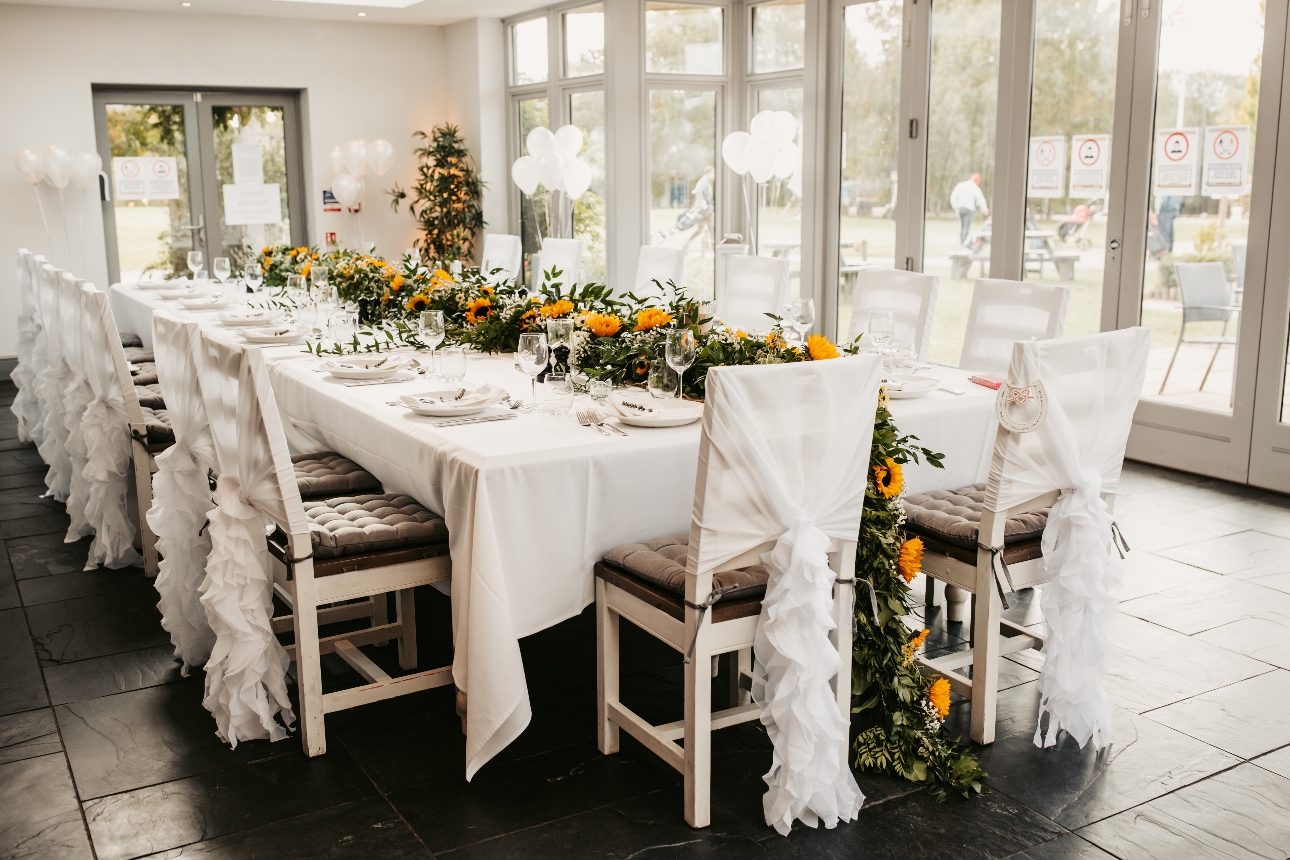 They created a playlist on Spotify which played throughout the wedding breakfast followed by more favourites during the evening. "The lights went out and the glow from the LOVE sign lit up the room perfectly. We cut our cake, had our first dance and afterwards it was amazing to have everyone up dancing all together! Before the 10pm curfew kicked in, we all grabbed our last drinks to finish in our hotel rooms," adds Erin. "We both had the best day ever and felt so grateful to have our closest friends and family with us on our special day. After everything we'd all been through to get to the wedding it just felt so worth it to say that we were husband and wife."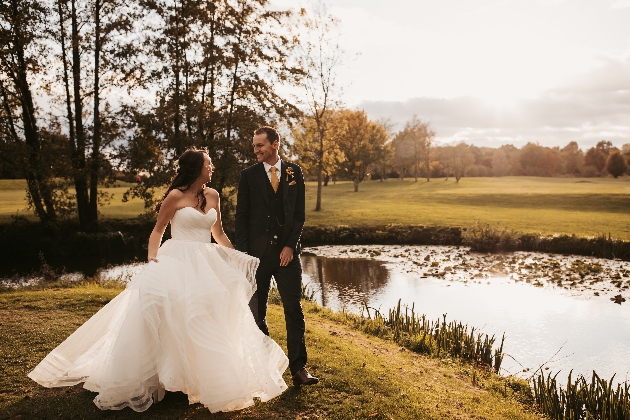 "The staff at Blacknest, especially Hayley the wedding coordinator, were fantastic and so flexible with regards to our food and drink choices. They made every step of the planning easy, which was amazing pre-COVID but even more so once all the restrictions started coming into force." – Erin
Erin and Pete's contact book