Kelly and Andrew planned to have a spring wedding but when COVID struck they switched it to the autumn instead. They tweaked their original dusky pink colour scheme by including warm burgundy shades instead of white, slashed the guest list by 100 to just 15 family and friends and enjoyed an intimate wedding full of magical moments.
The couple first met in 2009 at Newcastle University, where they were both members of the athletics and cross country club, but didn't get together until three years later when Kelly returned from a year in France. Andrew popped the question in December 2018 while they were out walking in the New Forest. "He got down on one knee in a beautiful woodland spot and it was such a complete surprise, it took me a couple of minutes to actually say 'yes'," Kelly recalls.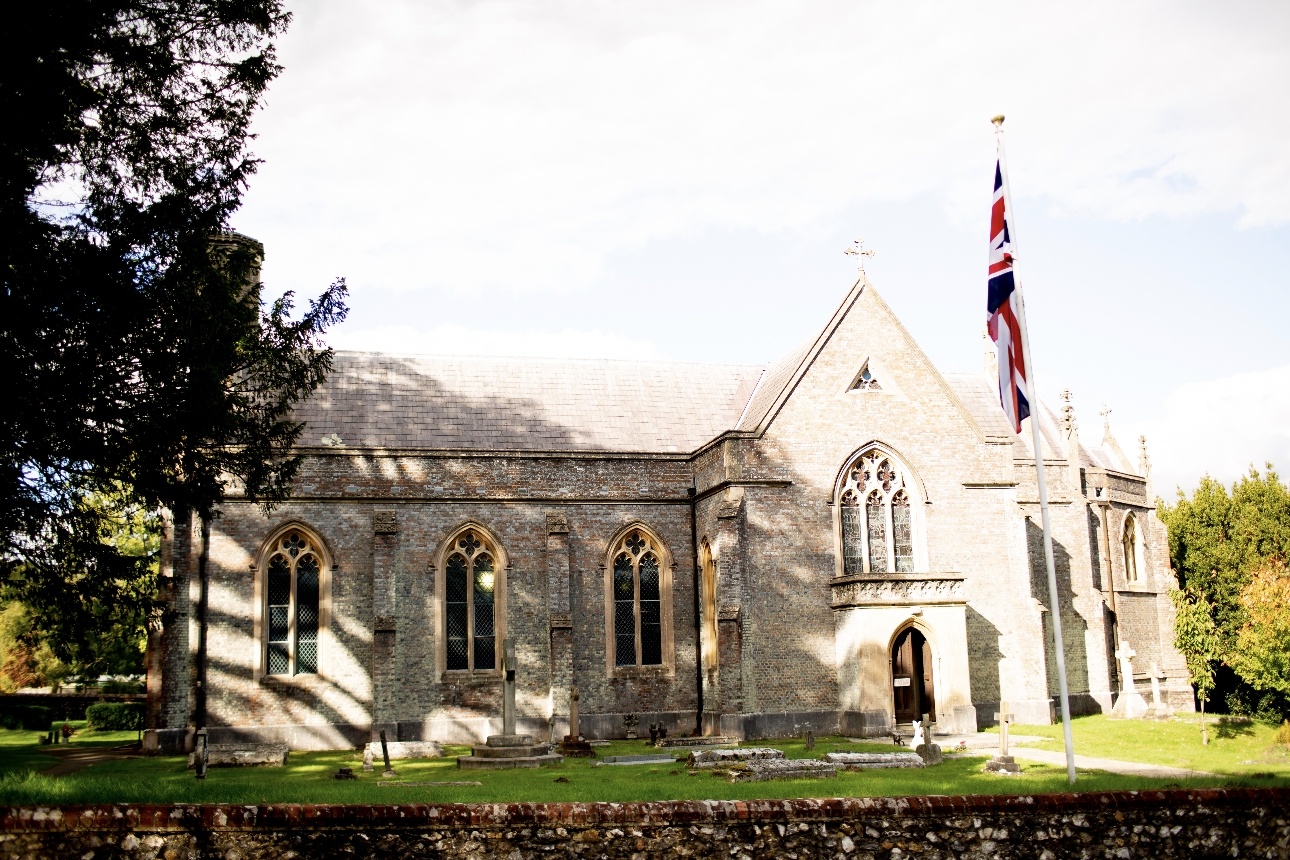 They tied the knot on 16th October, 2020 at St Mathew's Church in the village of Otterbourne. Kelly and her dad arrived in a head-turning Rolls-Royce limousine. "It looked absolutely amazing when it pulled up to take us to the church and attracted a lot of attention on the drive to the reception venue too," she remembers. "Arriving at the church and finally holding Andrew's hand was one of the happiest moments of the day. I felt so emotional throughout the whole ceremony having our family there to watch us say our vows. Also our friends who weren't able to join us on the day were all outside the church to see us, which really meant a lot to us both. We felt like royalty with all the photos being taken!"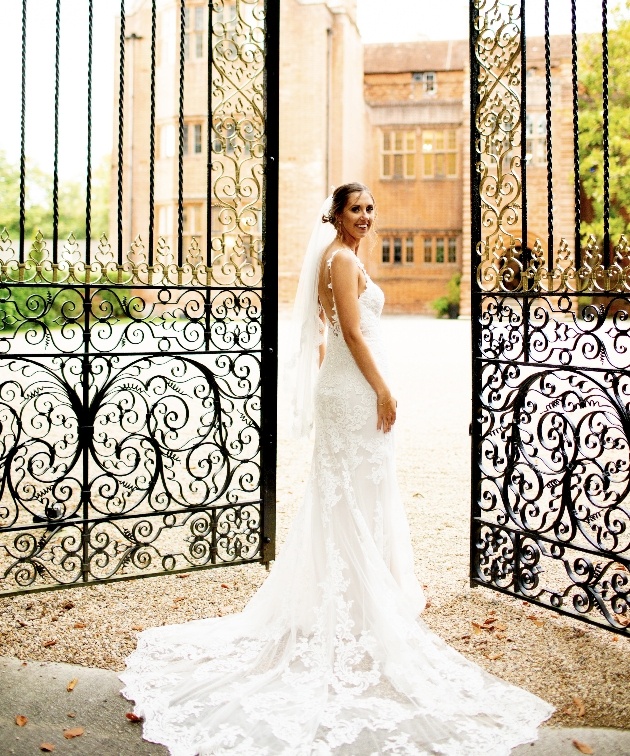 In keeping with their classic wedding theme Kelly wore Journey by Blue by Enzoani, a romantic figure-hugging lace dress with a heart-shape neckline and long lace train. "It was the second one I tried on and I fell in love with it straight away!" Her seamstress embellished the short veil with a small heart and both their names embroidered in blue thread as her something blue. To complete the look she had a pearl hairpiece to coordinate with the pearl combs she bought as gifts for her bridesmaids. The groom and groomsmen looked dapper in navy blue tails and pinstripe trousers with ties and pocket squares to match the bridesmaids' dusky pink, halterneck dresses. Their flowergirl Annie wore a pretty white dress with the addition of a pink sash to complement the others. As the wedding was moved from spring to autumn, instead of having peonies the bouquets were a mix of dahlias, roses, gypsophila and astilbe. Kelly had a shower bouquet while the bridesmaids carried hand-tied posies. "I also asked our seamstress to make everyone face masks to go with their outfits, which I placed in small confetti bags for them to take to the church."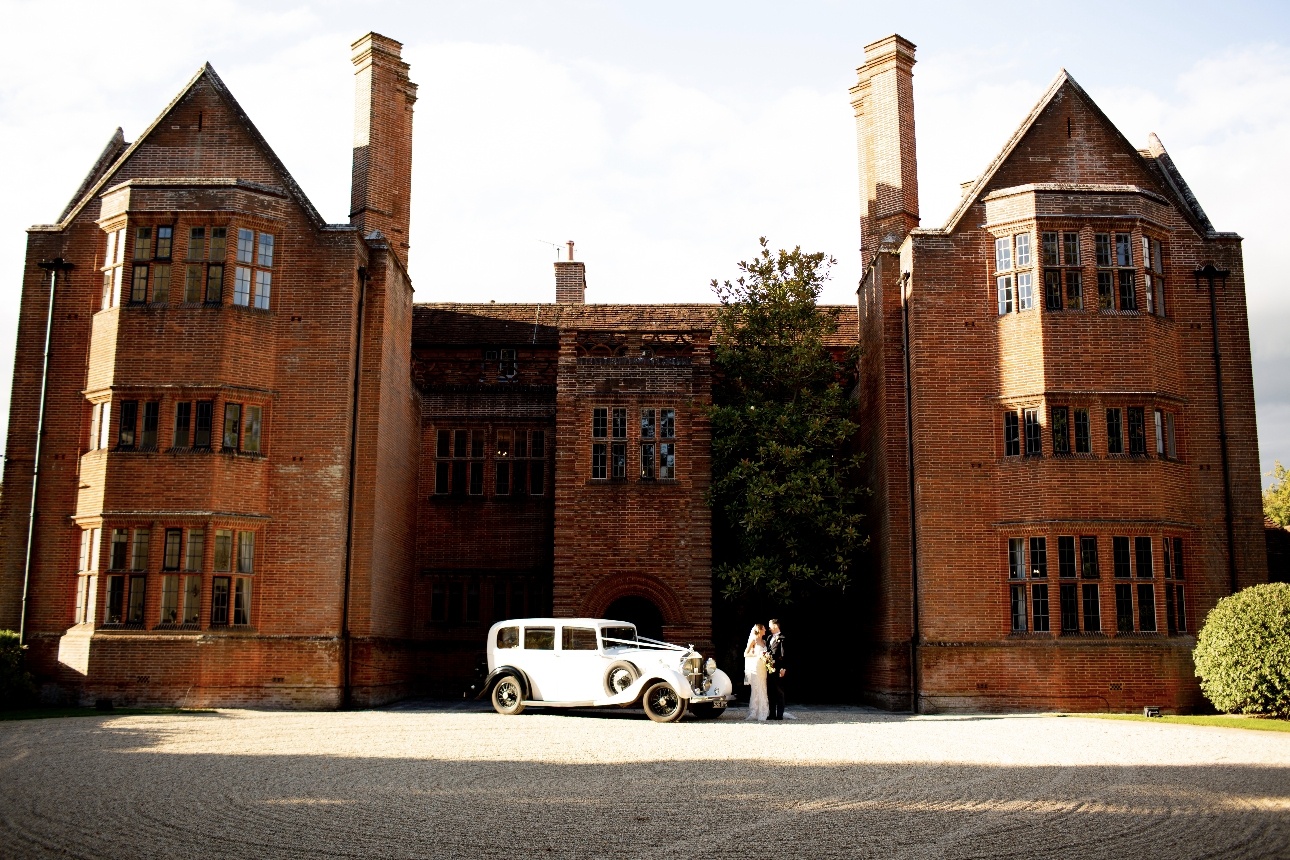 When it came to choosing the perfect place for the post-vows celebration one of the top priorities was finding somewhere with accommodation. "Most of our close family and friends live in the Yorkshire region, where we're both from originally, so it was important to have a venue where our guests could stay," explains Kelly. When they first visited New Place Hotel in Southampton, they were immediately blown away by the gorgeous manor house and grounds. "It ticked all our boxes and we couldn't have imagined anywhere better for our wedding day," says Kelly. When they later had to downsize their wedding plans, the team at New Place stepped in to help, offering them a smaller, more intimate room in the manor house, complete with an impressive fireplace as the stunning centrepiece.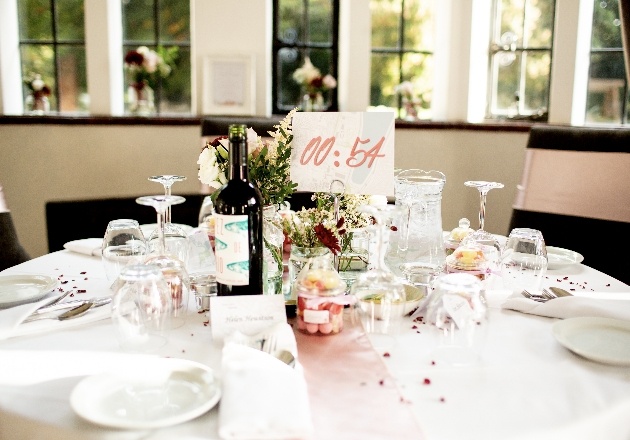 As the wedding evolved, the table plan had to be revised too. The final layout included three round tables for their guests with Kelly, Andrew and their parents on the top table. "We had satin dusky pink runners scattered with burgundy table confetti and small jars of flowers to match our colour scheme on mirror plates as centrepieces," explains Kelly.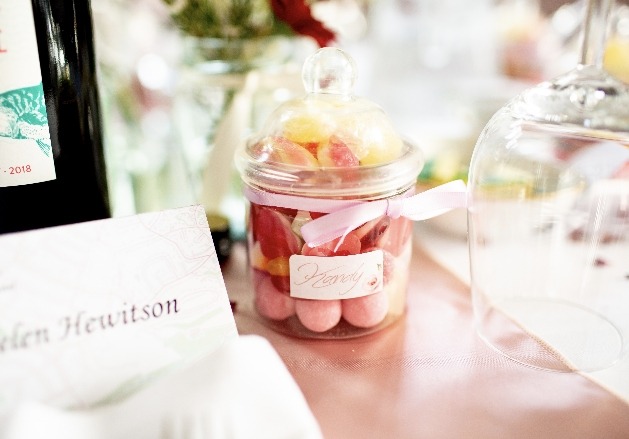 They gave small jars of sweets as favours, labelled with their nickname 'Kandy' and Kelly made a special activity bag for their flowergirl. They opted for canapés on arrival and a traditional wedding breakfast and after having to cut back on numbers, decided to upgrade parts of the menu to provide some extra special culinary treats.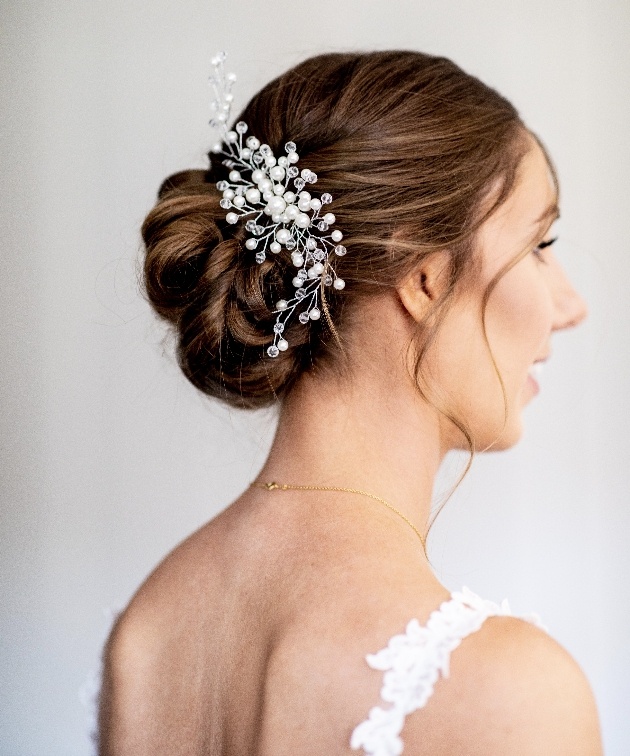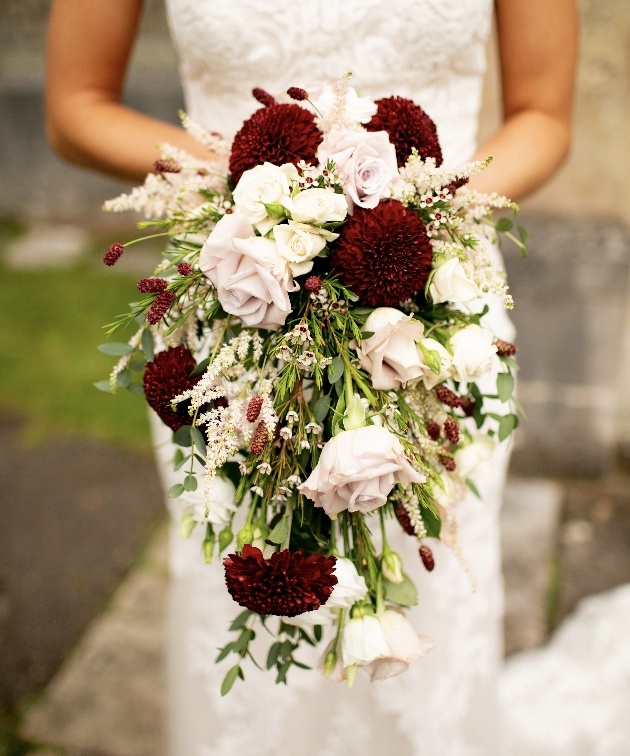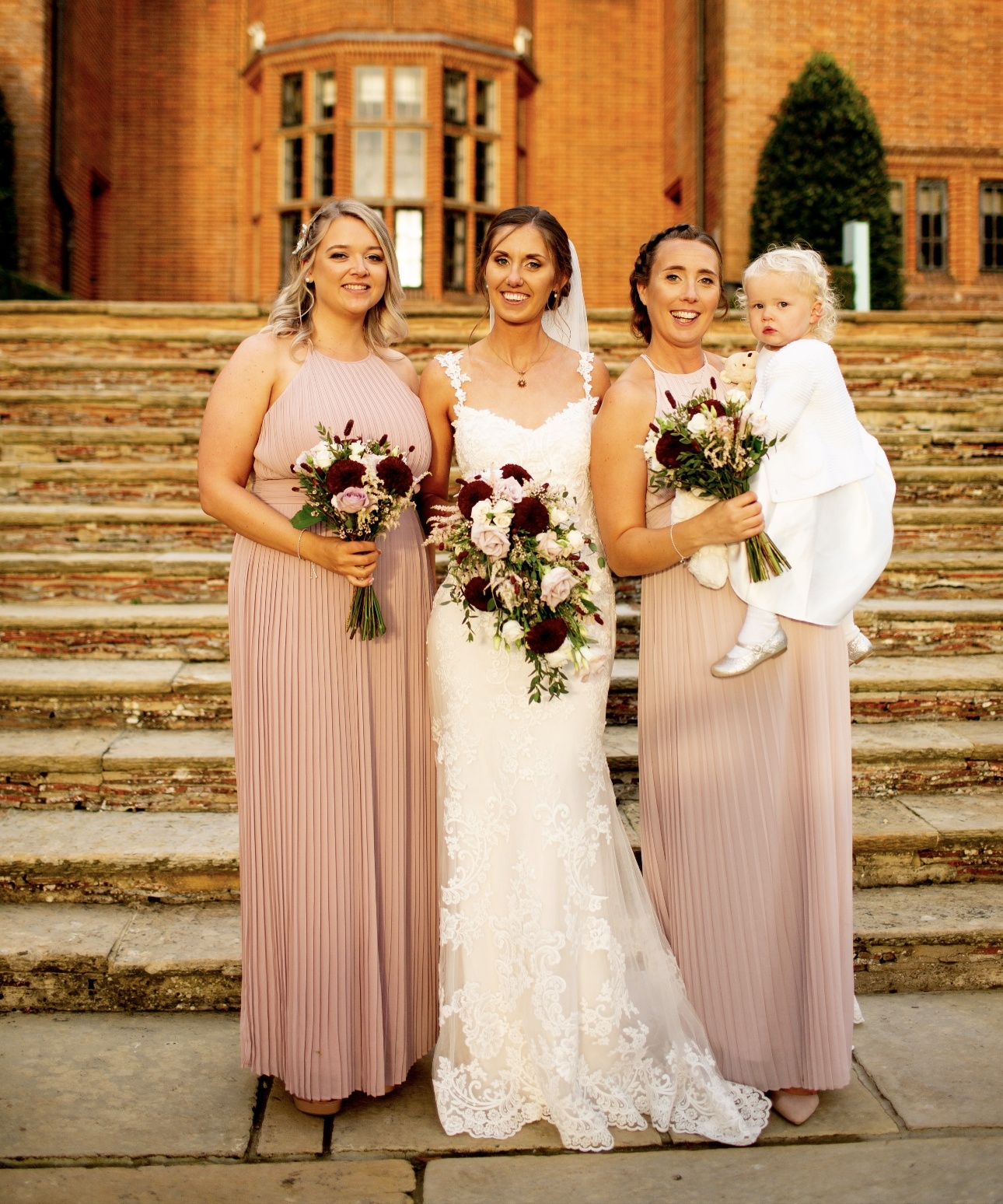 Their florist added to the atmosphere by creating a beautiful floral garland for the fireplace and as a fun personal touch, she filled their running trainers with flowers to match the theme. The cake complemented the look too, with a dusky pink middle tier and lace-effect overlay in keeping with Kelly's dress. "We had traditional fruitcake on the bottom, salted caramel sponge in the middle and the top tier was lemon," adds Kelly.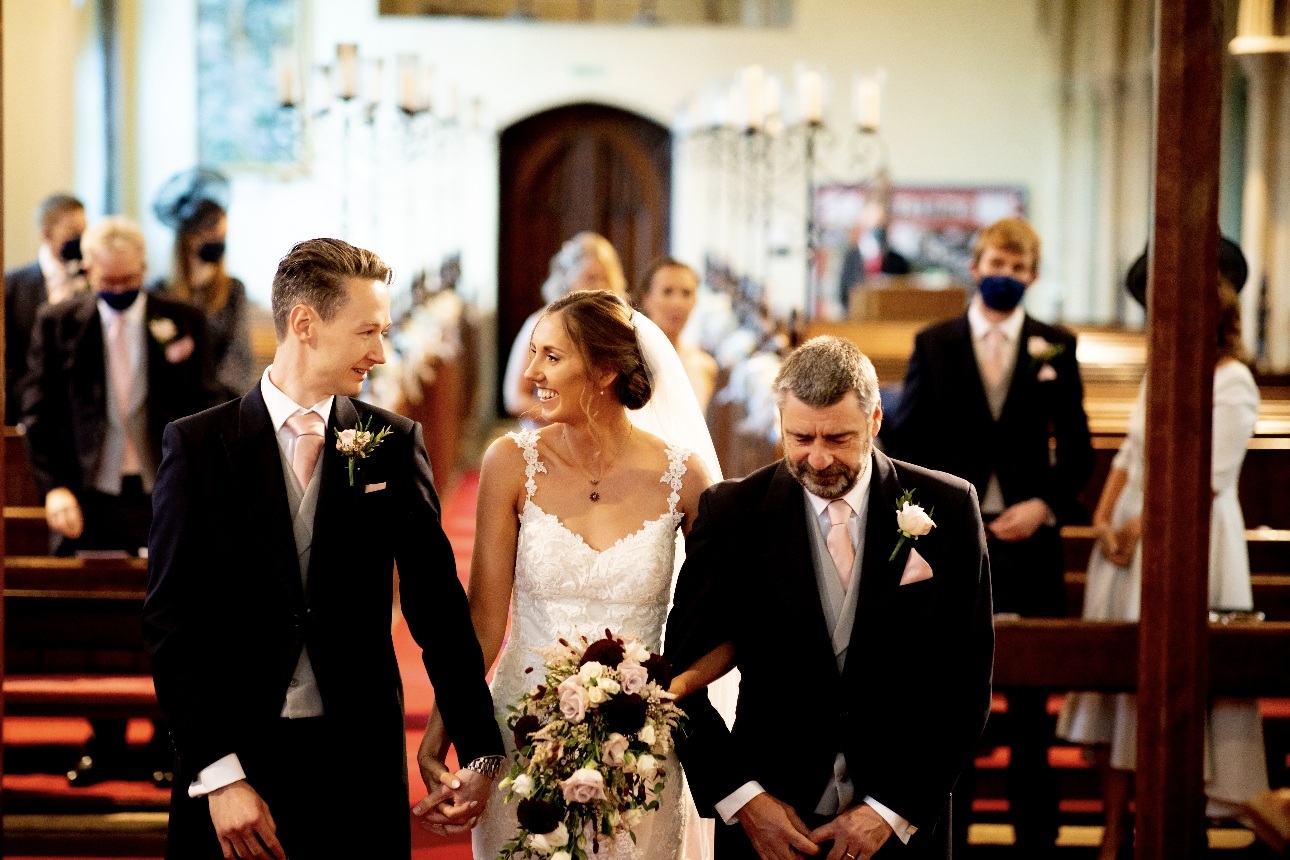 As a nod to Andrew's job working for Ordnance Survey, maps also featured in the decorative details. "We created personalised place names with everyone's address and a map of where they live," explains Kelly. "As we're both keen runners and met through running, we wanted to bring this into our wedding day too, so Andrew created maps for the table names showing where we'd achieved our most memorable personal bests and the route. As we originally planned to have 10 tables, we displayed the spare ones on the windowsill, which proved to be a great talking point on the day with everyone trying to guess whose personal best was whose and what distance was being run!"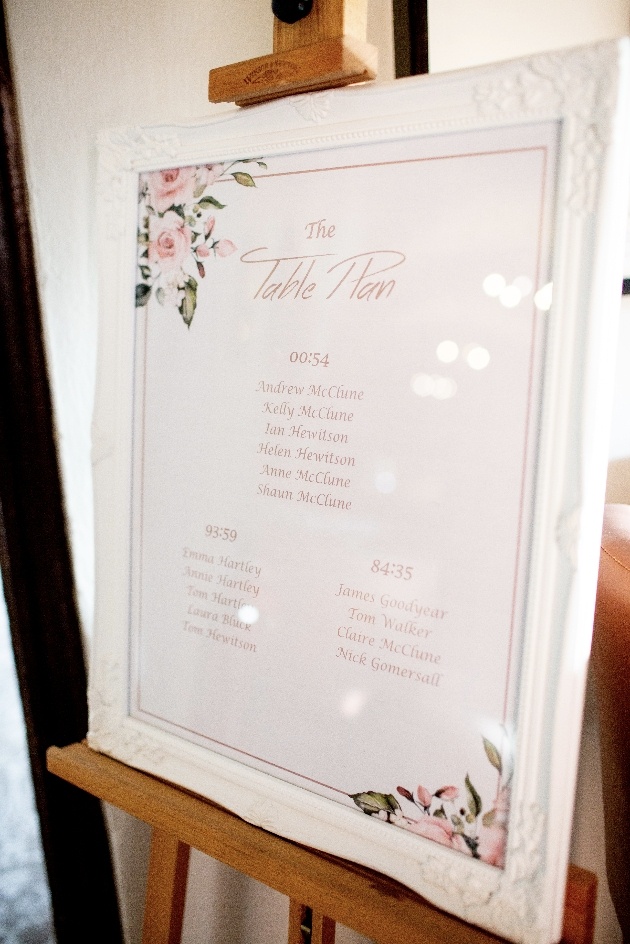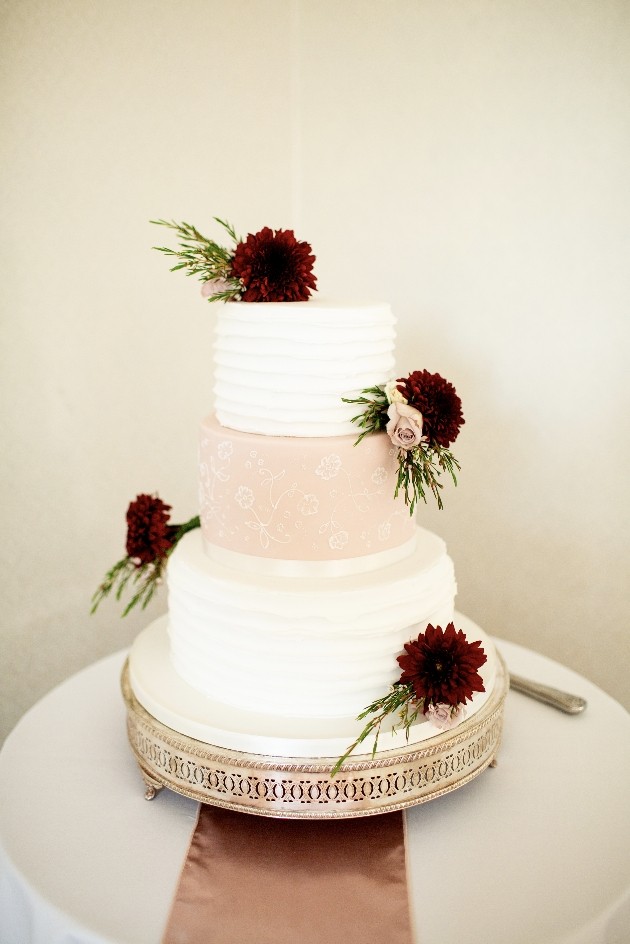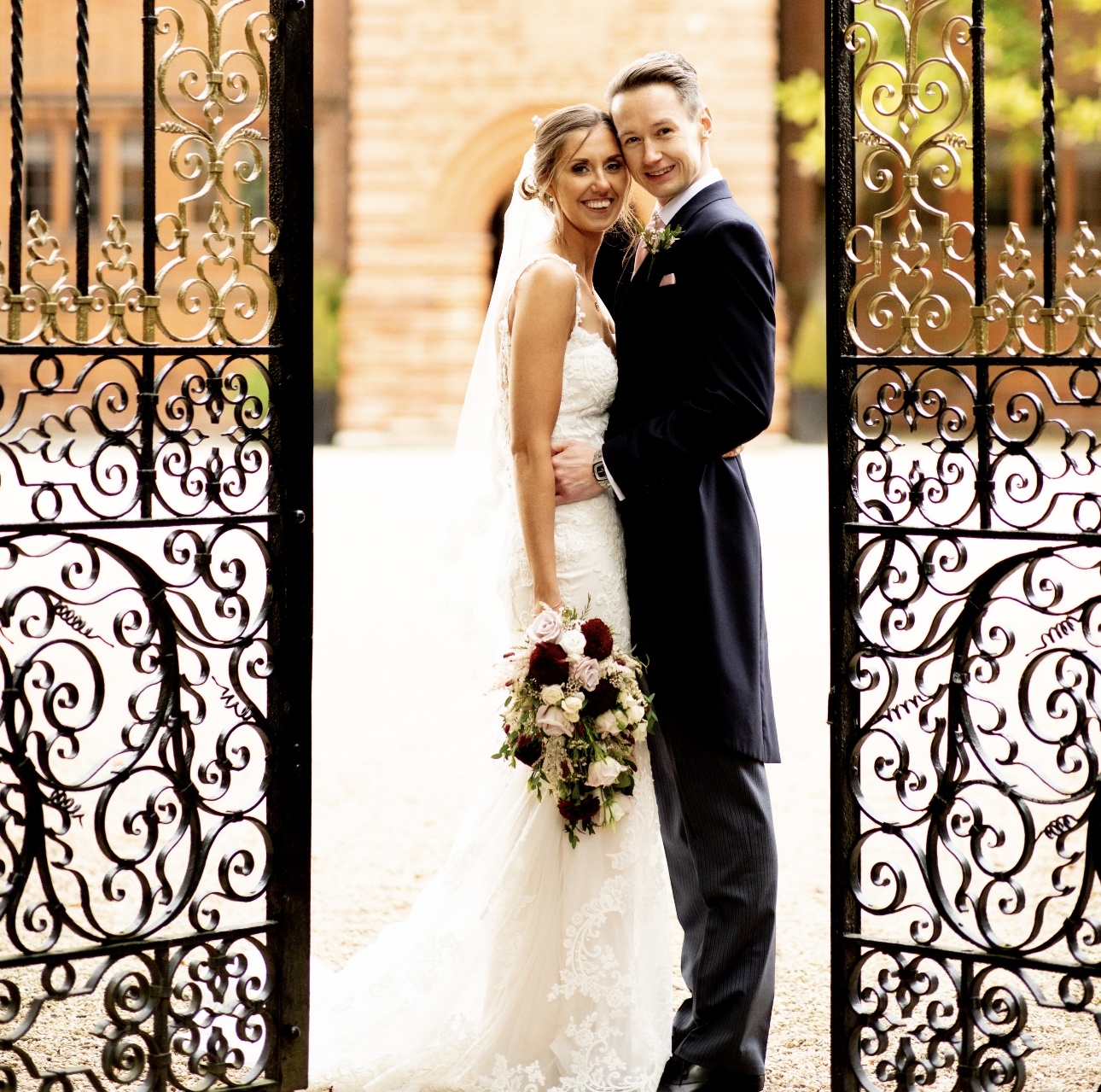 After the wedding breakfast, although they weren't able to have the wedding band and big party they'd hoped for, they were able to relax and enjoy special time together with their nearest and dearest. "We created a playlist of all our favourite songs which we had on in the background and, as it was such a small intimate occasion, we spent the evening chatting, laughing and having fun with all our guests! It honestly didn't feel like we were missing out and we had a great time spending it with our family and close friends," says Kelly. "The whole day was just incredibly happy and I couldn't get over the overwhelming feeling of joy. Being able to go ahead with our wedding surrounded by our closest family and friends, who will always be a part of our lives, was amazing. Andrew's mum described the day as 'two families coming together as one', which summed it up perfectly."
Kelly and Anrew's contact book