Teenage sweethearts Jess and Jack were together for 10 years before getting married. Jack popped the question at one of their favourite places, local beauty spot Farley Mount in Winchester. "It was a cold, crisp day just before Christmas and we were walking our black labrador Darla whose tail wouldn't stop wagging when Jack got down on one knee," laughs Jess. She said 'yes' of course and they went to the luxury Lainston House hotel afterwards for a surprise champagne afternoon tea.
"Jack had booked it in advance and I had no idea!" adds Jess. "It was wonderful and as it was Christmas time we had the chance to celebrate with all our family and friends too."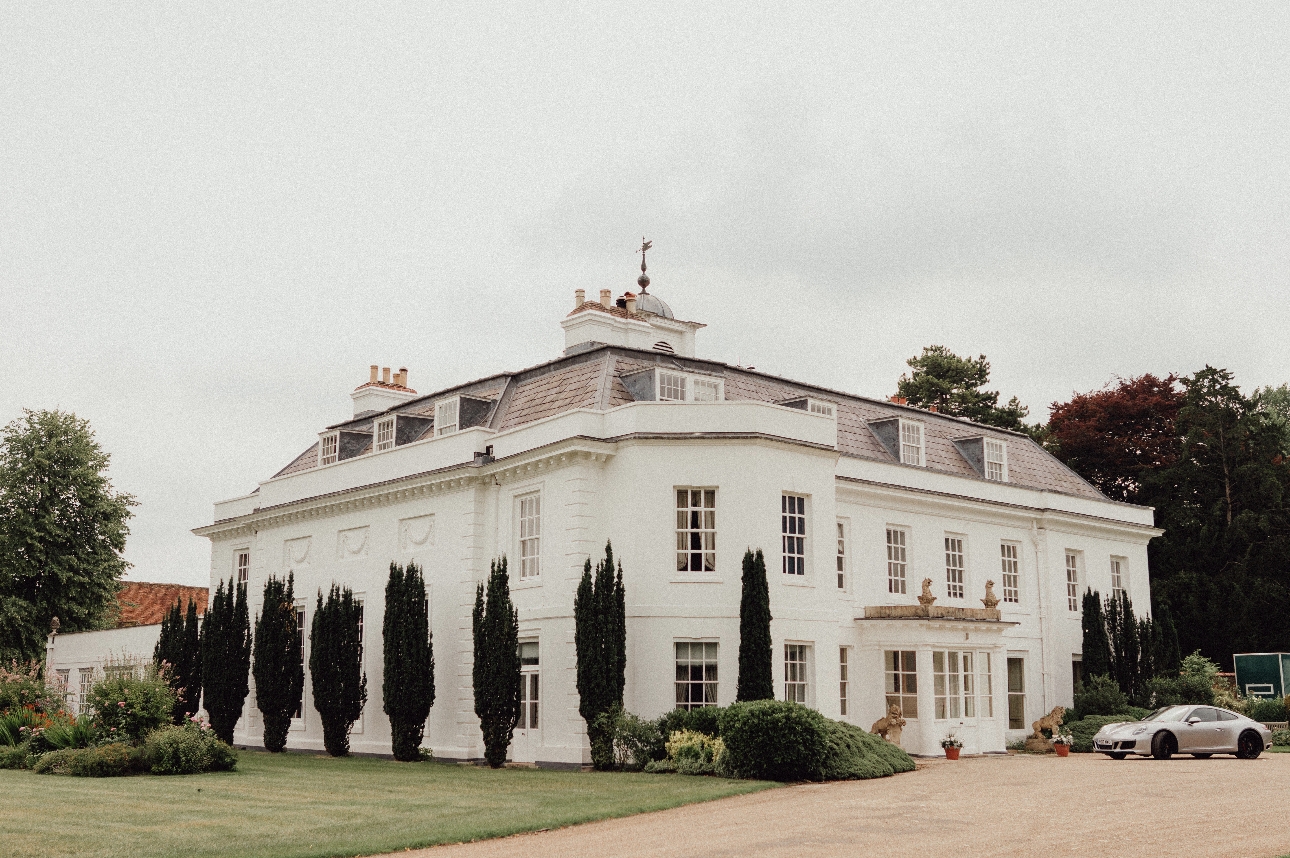 When it came to the venue hunt, the first and only place they visited was Hampshire's Wherwell Priory. "Jack remembered the place as he'd worked there a few years ago. It was perfect, there was plenty of space for themarquee wedding we'd always wanted and it had beautiful countryside views, a long drive lined with trees and a river running through the grounds. We could imagine having our day there from the moment we first saw it!" Jess recalls. They set the date for 3rd August, 2019 and opted for a church ceremony at St Catherine's Littleton.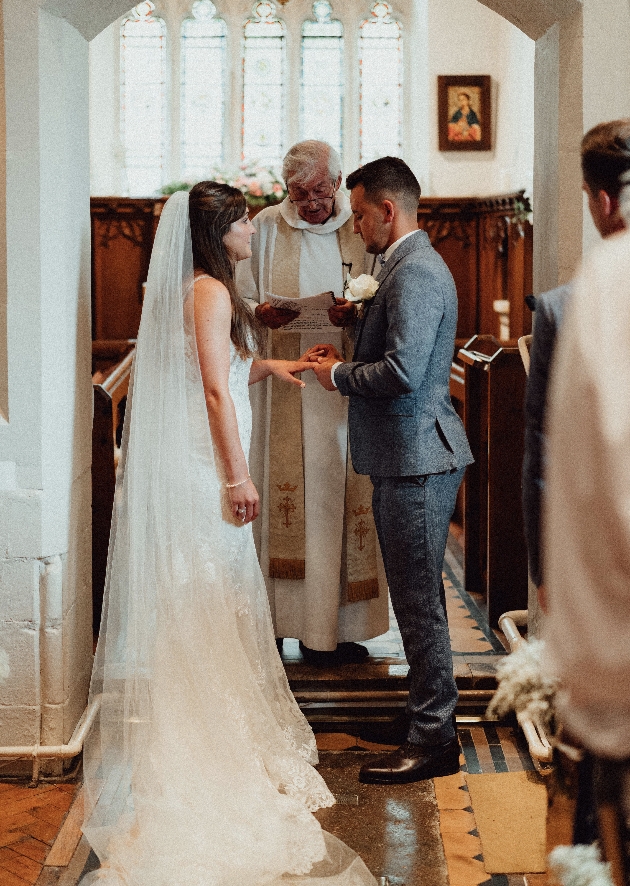 Jess and her best girls stayed the night before the wedding at The Fox in Crawley, near Winchester and travelled to the church in style. The bridesmaids travelled in a silver people carrier, while Jess drove herself and her dad in a sleek Mercedes-Benz S-Class. "It was lovely to spend some time with my dad before we walked down the aisle! We were both very nervous and I remember not really saying much, just enjoying the moment," recalls Jess.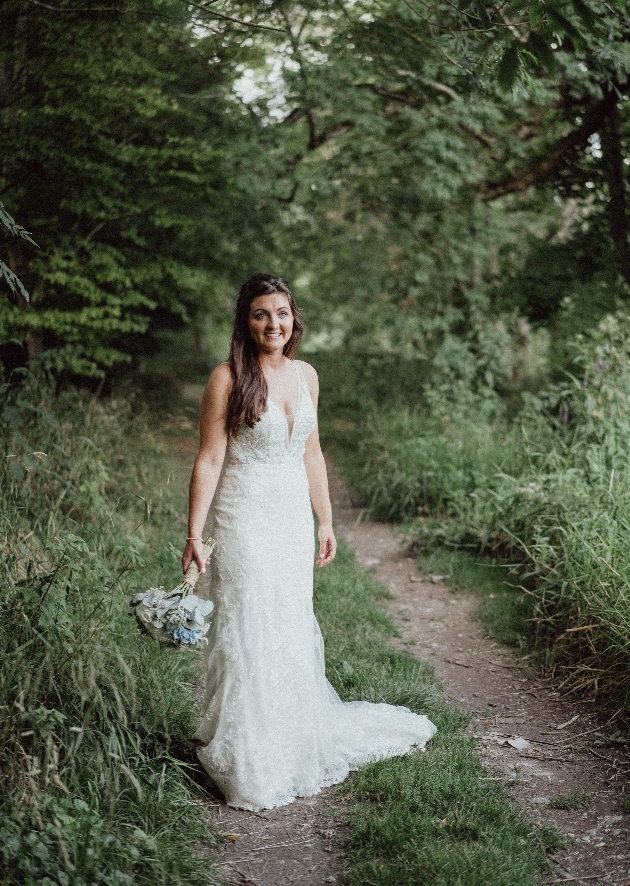 The ceremony was extra special as Jess' 88-year-old grandfather came out of retirement to conduct the service. "I'd been so calm on the wedding morning but when I arrived at the church and saw my dog Darla and flowergirl Imogen, I burst into tears. That's when it hit me that I was just about to get married!" remembers Jess.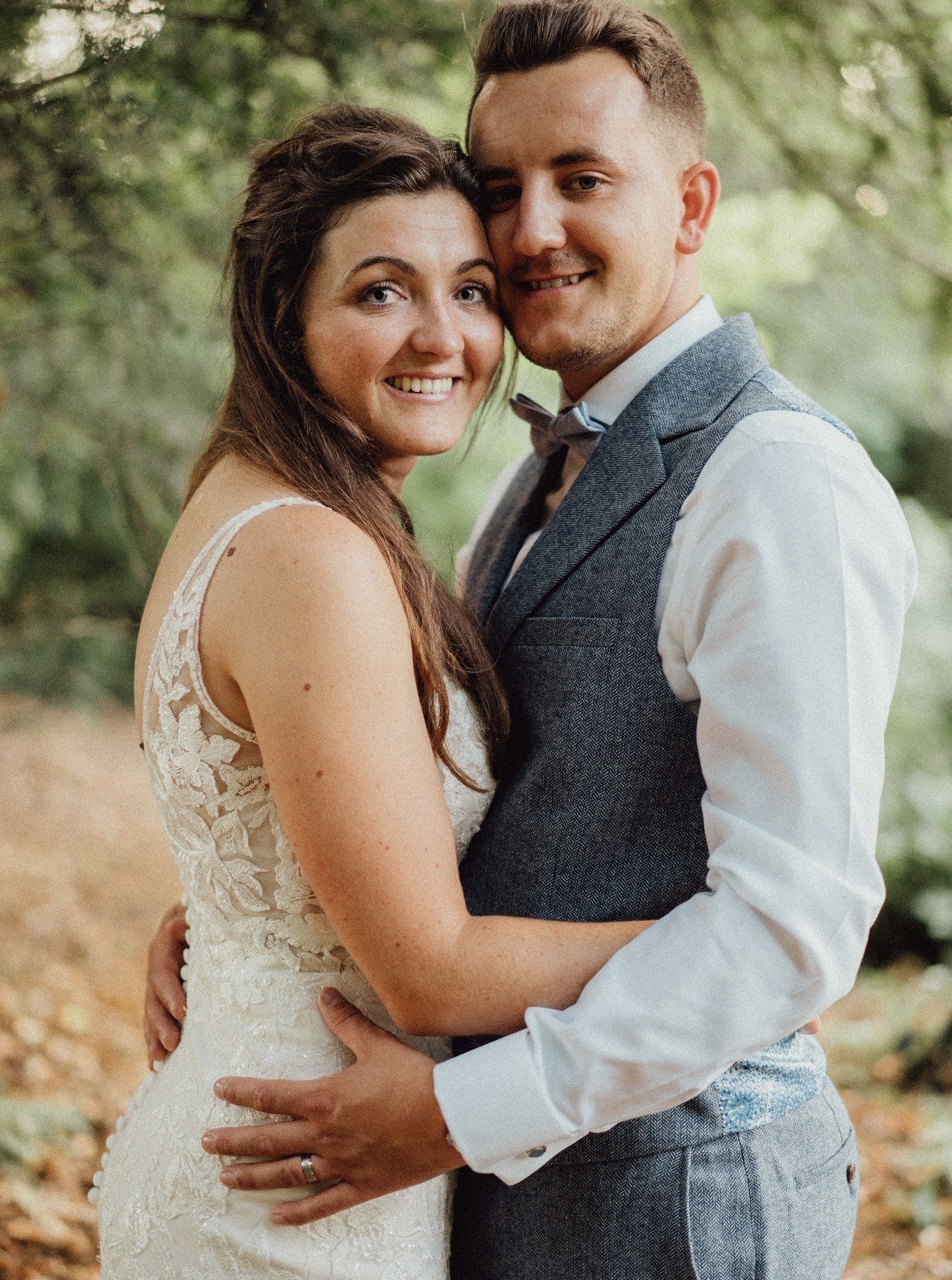 "My grandfather Bob was marrying us and after he gave me a cuddle I calmed down, ready to walk down the aisle. It felt amazing and as soon as I saw Jack, the tears started again. I was so overwhelmed by how beautiful the church was, full of our friends and family and how unbelievable it was that I was about to get married to my best friend and by my lovely gramps too!" As well as this, her brothers Alex and Oly sung and played their favourite song Crazy Love. "Neither of us had heard them play it before and it was incredible, something we'll never forget," adds Jess.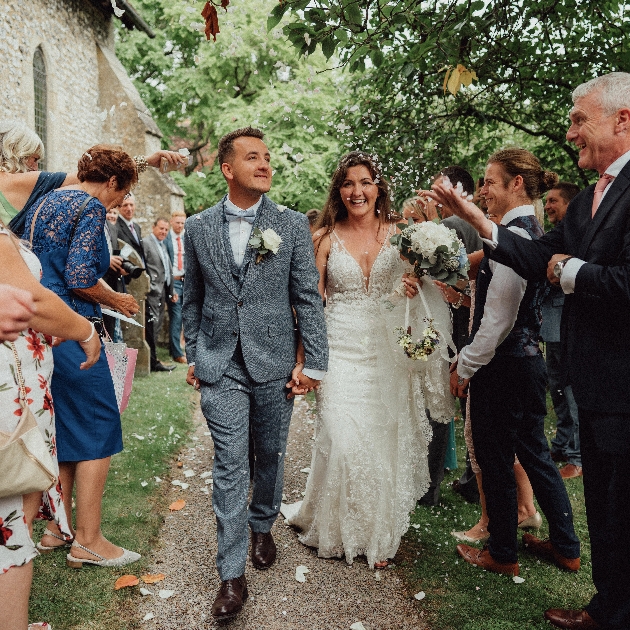 Jess wore a beautiful sheer lace Essense of Australia dress with a V back and beaded trim from Anya Bridal Couture in Droxford. A friend had recommended the boutique to her and she went with her mum, godmother and bridal entourage. "We went for a Sunday slot which meant we had exclusive use of the barn, complete with champagne, which made the day extra special." After trying on six different gowns, she started to feel a little disheartened until the lady at Anya Bridal picked one out for her. "As soon as I slid it over my hips, it just felt right. Everyone had their eyes closed when I came out and as I turned around they were all looking at me crying – all five of them! That's when we knew it was the one!"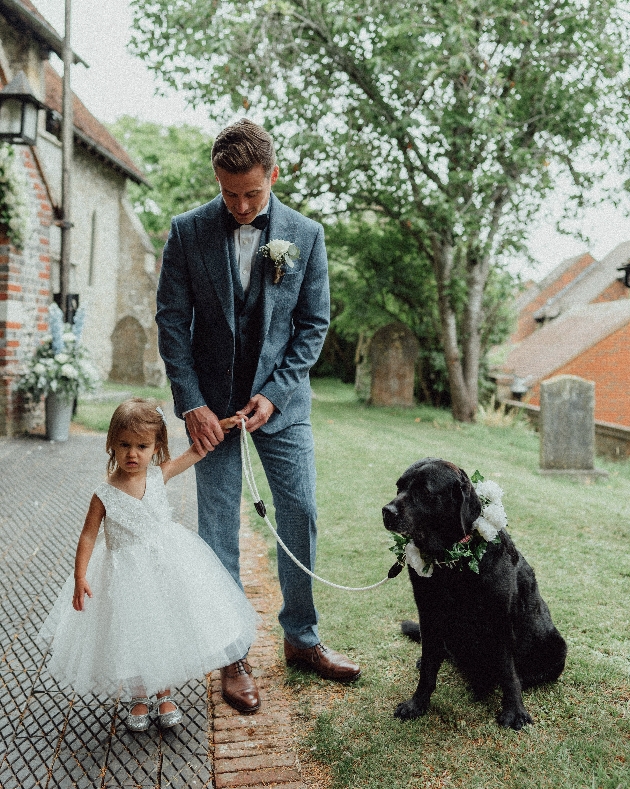 She completed the look with a Richard Designs full-length, scalloped, pearl-edged white veil, blue sparkly Jimmy Choo shoes and a white pearly bracelet that was worn by her grandparents' bridesmaid on their wedding day.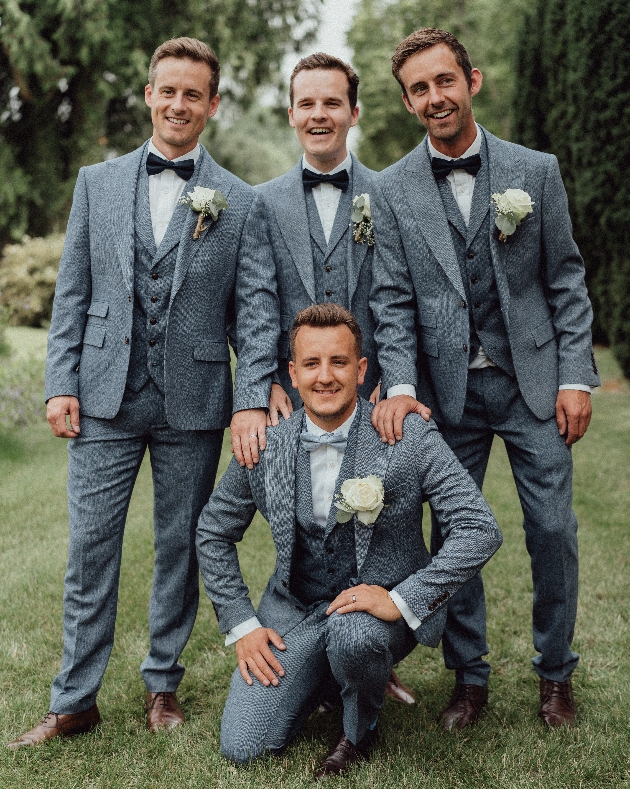 Jack and his groomsmen looked smart in blue three-piece suits which matched the six bridesmaids dresses perfectly. The bridal party also included their reluctant flower dog Darla, who had to be coaxed down the aisle.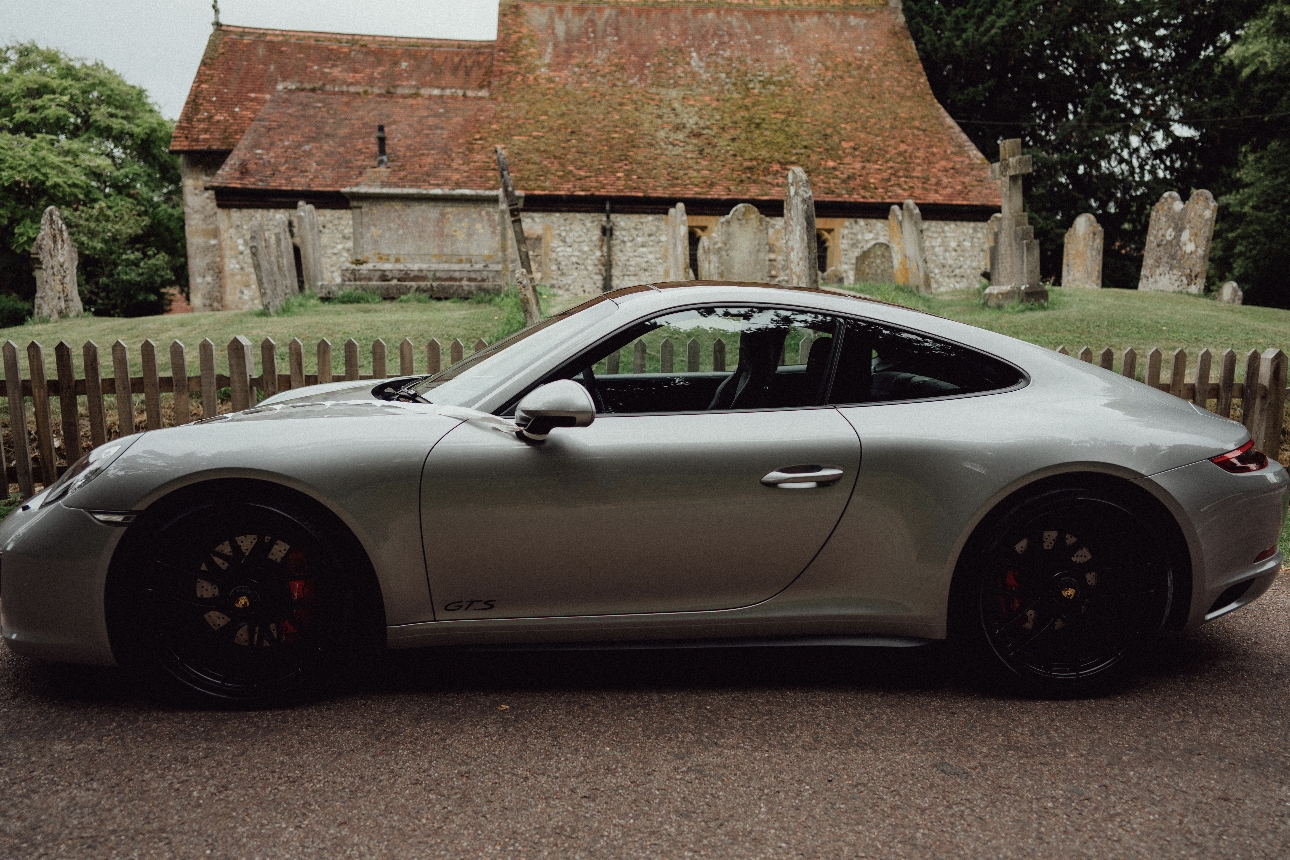 Post-vows the newlyweds arrived at Wherwell Priory in Jack's brother James' luxury Porsche. He'd arranged for Jack to drive it as a surprise for them on the day. "It was so special to have that quality time, just the two of us. We were in our own little bubble, driving through all the country lanes. It looked great in front of the house too," recalls Jess.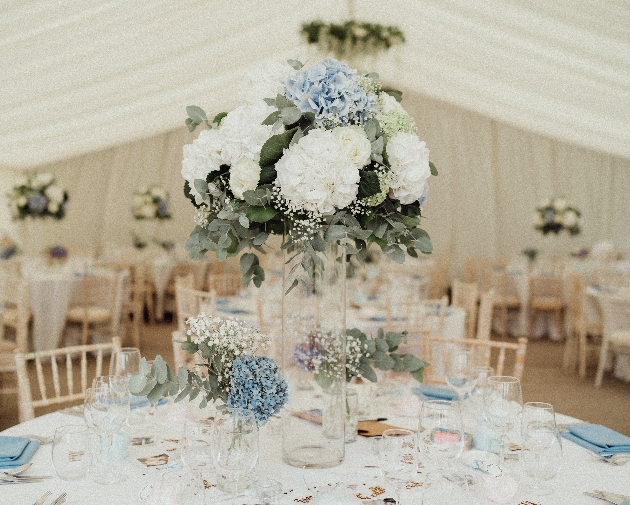 The venue provided the perfect blank canvas for their big day with plenty of scope to add their own personal stamp. Jess says, "We wanted the theme to reflect not only us, but our family and friends too, so we added special touches throughout."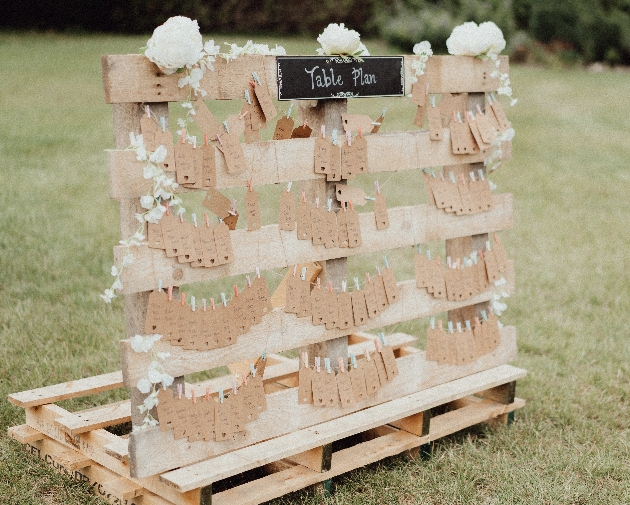 Their blue and white colour scheme was inspired by a trip to Jersey with her mum the year before when she fell in love with the blue hydrangeas growing everywhere. The wedding flowers reflected their chosen palette with arrangements of beautiful blue and white hydrangeas, old fashioned white roses, gypsophila and eucalyptus.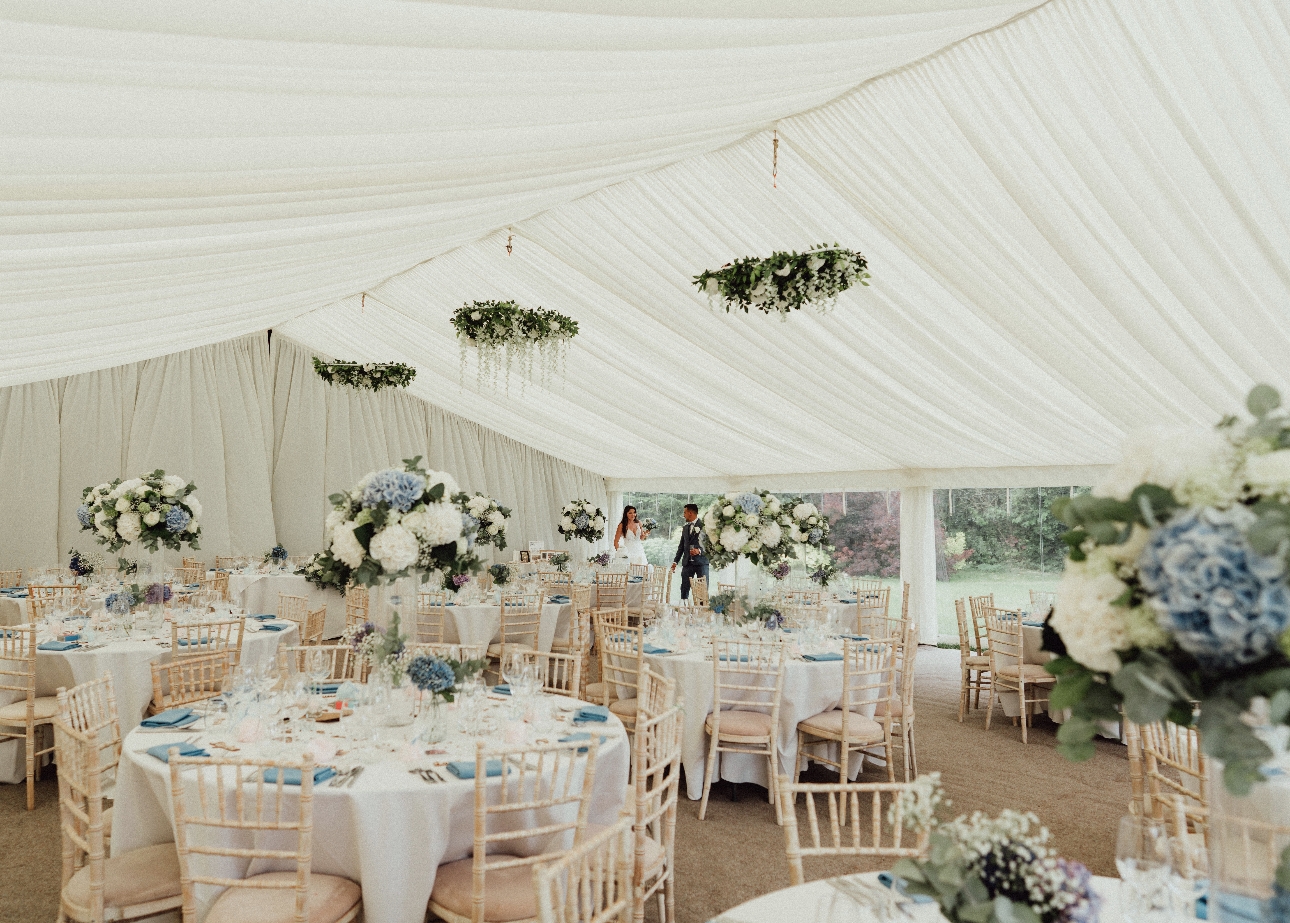 Jess added extra touches to the décor with jars of blue hydrangeas from a family friend's garden dotted around the marquee and hanging chandeliers which she made with one of her bridesmaids using artificial white flowers and trailing wisteria. "We also added lights and they looked amazing all lit up at night. So many people complimented them, which made all the hard work worthwhile!"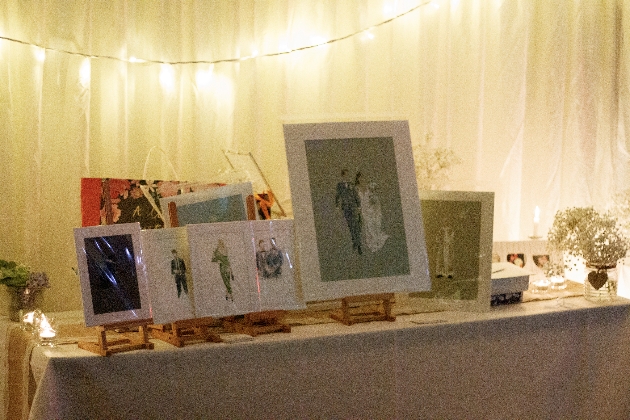 As an extra special personal touch, Jess' godmother Sarah arranged for live event artist Lucy McLoughlin to create lasting keepsakes of their big day. "She captured our guests beautifully and surprised them with their own hand-painted portraits for them to take home," explains Jess. "She also did a wonderful one of us which made me cry when I saw it. Lucy also had them made into little cards which we sent to every guest as a thank you note.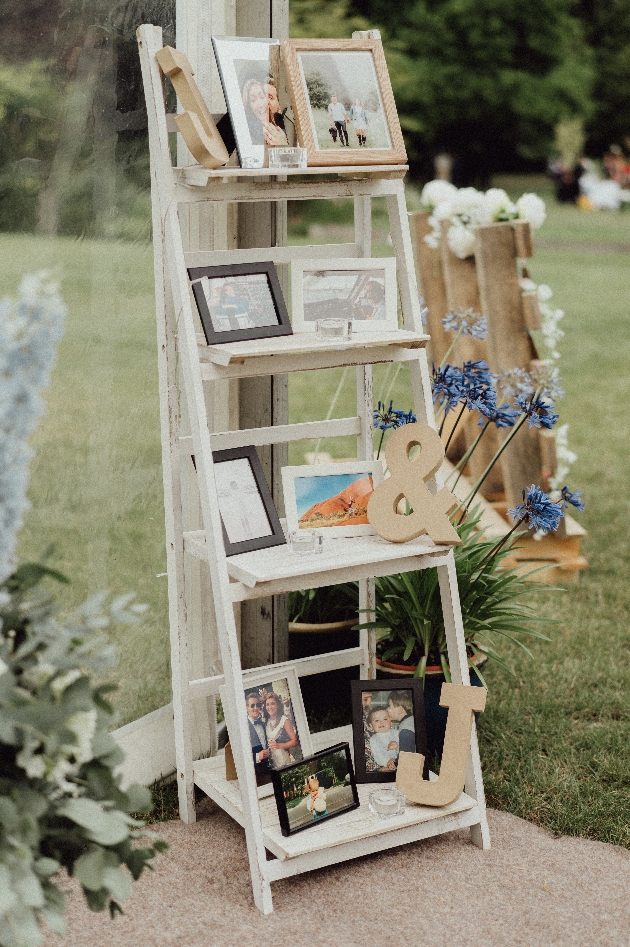 Everyone was able to relax and unwind post-vows with a barrow full of beers on ice for the drinks reception and a 'Pimp My Prosecco' table for guests to create their own tipple. Jess and her mum made the table plan from wooden pallets decorated with faux flowers.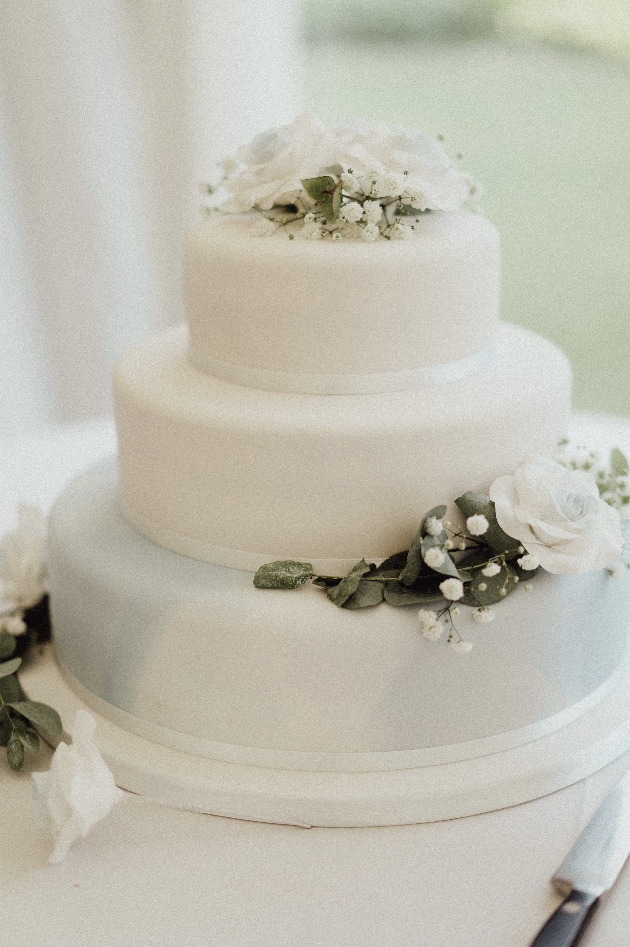 The tables were named after the years the couple had been together, starting at 2009 all the way to 'Forever', including Polaroid photos of the two of them from the different times relevant to each table. "We had wooden place names and hearts to scatter on the tables, games for our guests to play, as well as cards for them to fill out about themselves.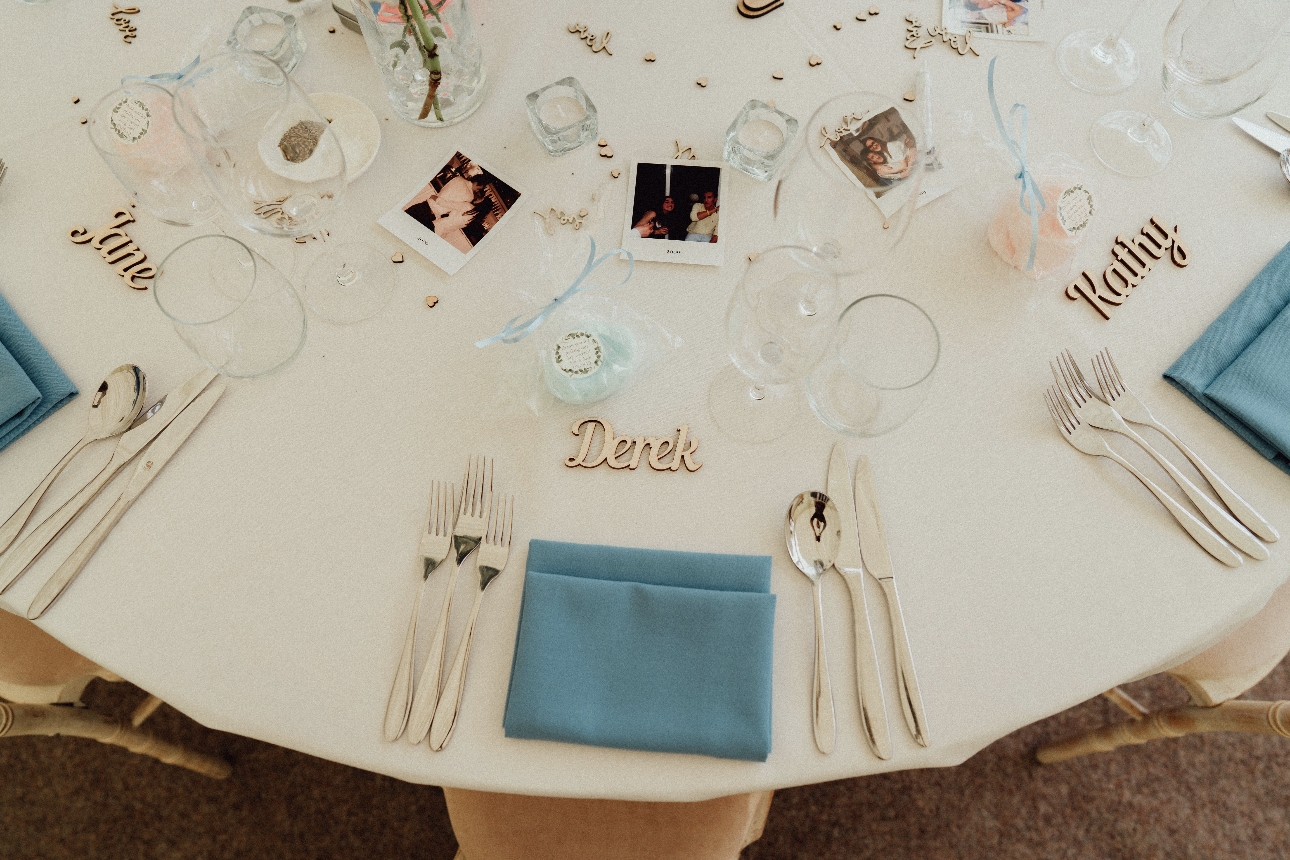 Our favours were bags of blue and pink candyfloss, tiedwith ribbon and a label saying, "Thank you for makingour day sweeter!" This was in honour of our grandmotherswho both love candyfloss," Jess explains.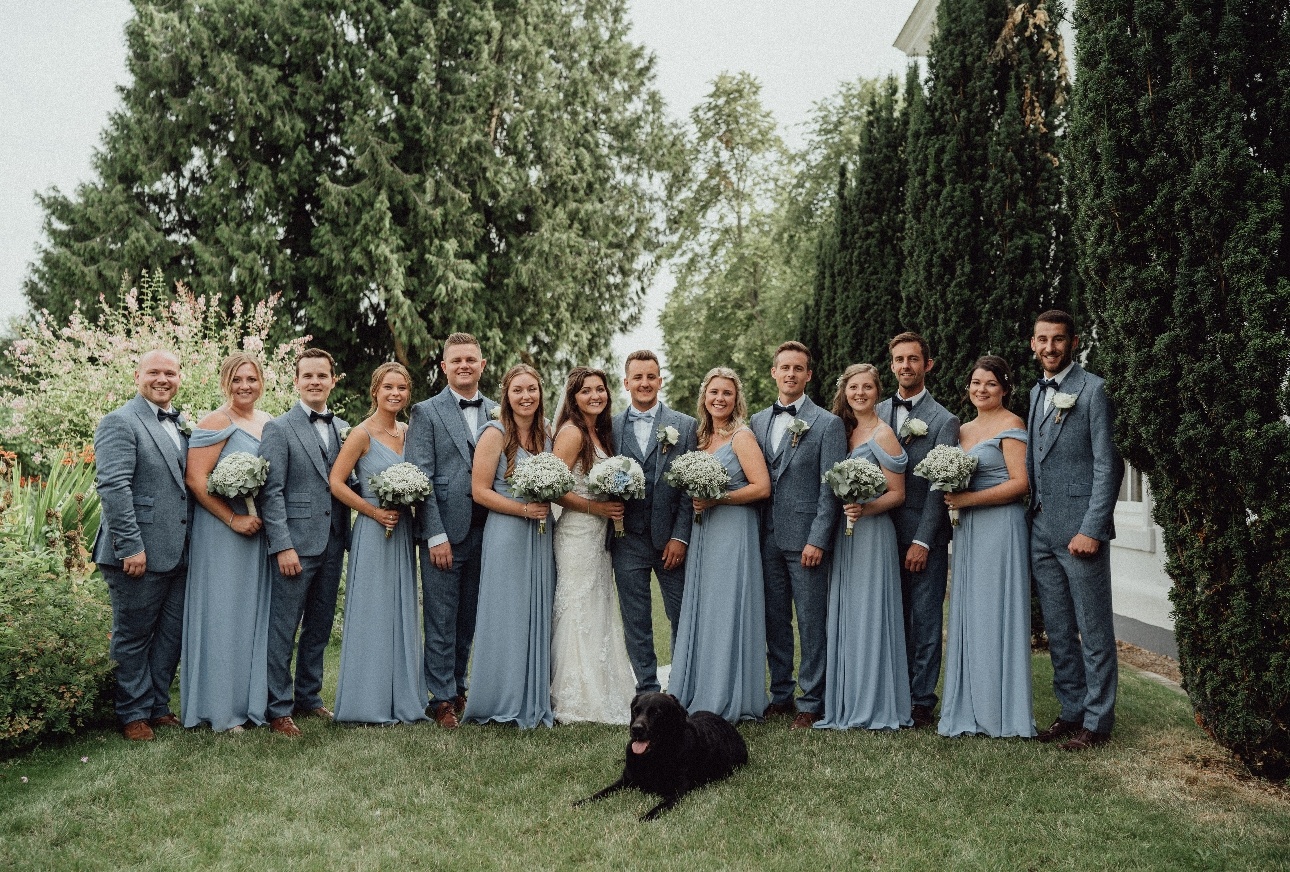 Jack's sister-in-law Christie designed the cake to complement their style and colour scheme with a subtle marble effect and different flavours including a tier of Jess' favourite red velvet. "She even managed to make it blue to fit in with our theme! We also had a layer of fruitcake which we kept out the back for cutting, which pleased the oldies!"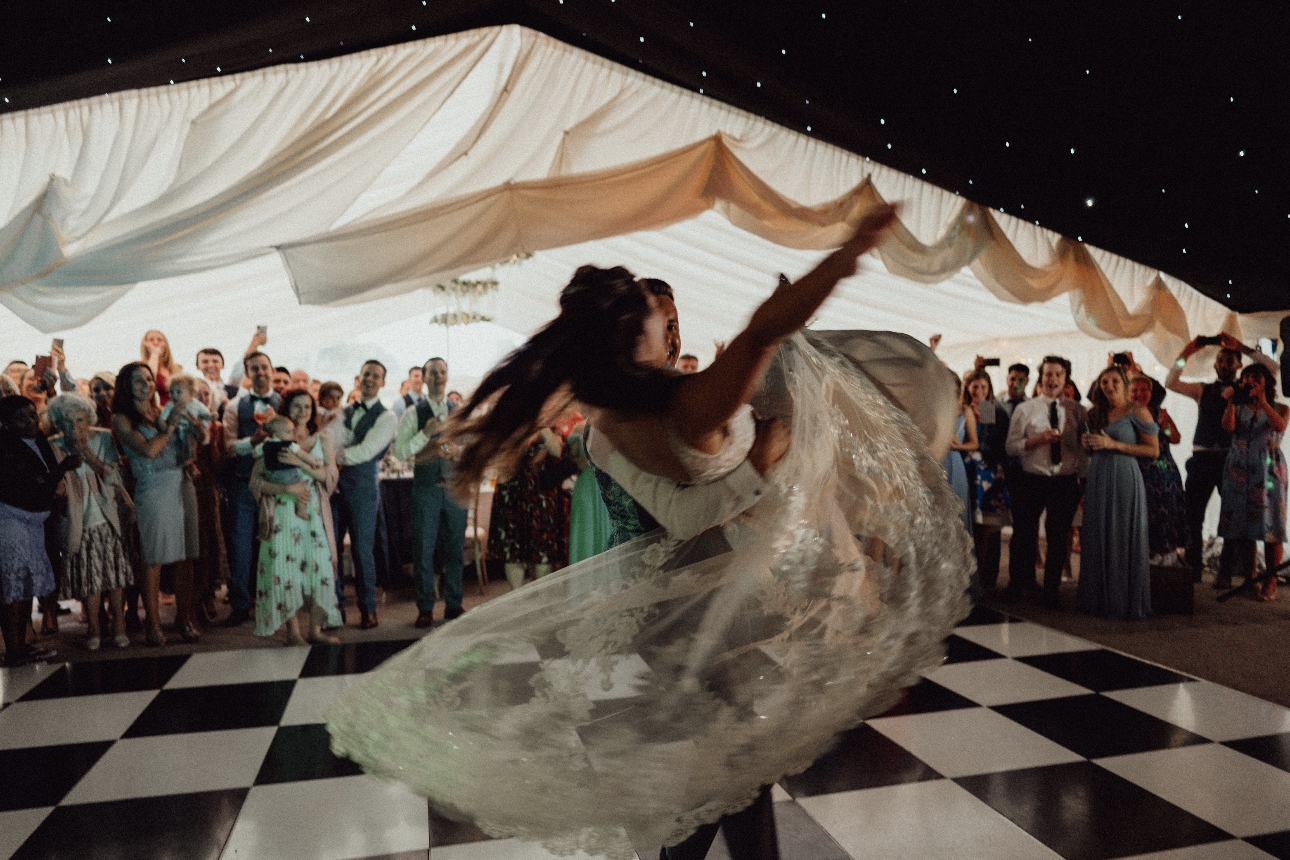 For the evening entertainment The Magic Tones band kept the dancefloor busy. "They were incredible and got the whole room dancing," enthuses Jess. "It was amazing looking around at one point, both Jack and I were on friends' shoulders and everyone was laughing and dancing. In between the band performing, a family friend stepped in as DJ and kept the party going with a playlist of all of our favourite songs!"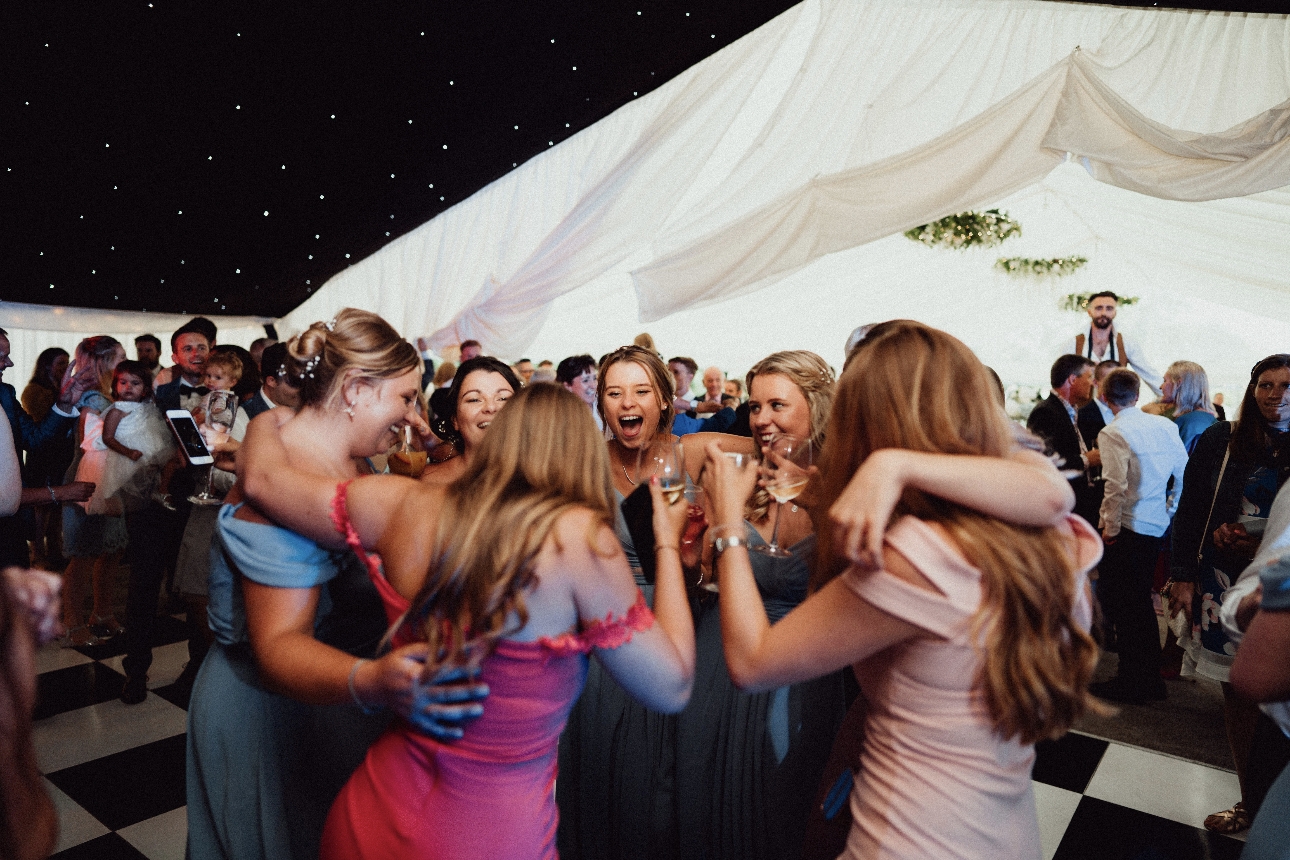 During the evening there was a hog roast on the go to help keep the late-night munchies at bay. "All our guests loved it but Jack and I didn't have time to have any so as we left, I grabbed two of the pork baps and we ate them in bed, laughing and reminiscing about our day!" adds Jess.
Jess and Jack's contact book