County Wedding Magazines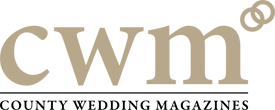 County Wedding Magazines publishes high quality wedding magazines specific to your area. We are the only publisher with separate regional wedding titles covering the whole of England.
Each issue is packed with area specific features, venues in your area, real weddings and regular features such as bridal fashion, beauty, grooms and honeymoons.
All titles have regular exciting competitions and giveaways, expert Q&A pages and lots more. Quite simply, all the information you will ever need to get married in your area.
If you want to ask for more information on wedding services from shops and businesses in your area, why not try our completely up-to-date Find your wedding services facility? With full information on each business including photographs, email, web and telephone numbers, you won't have to look anywhere else!