Looking for a post-wedding trip away? Look no further than the UK. Not only do you cut down on travel time, air miles, airport chaos and reduce the risk of cancellations; but the UK truly is blessed with picture-perfect beaches, stunning landscapes, Michelin-starred restaurants and quirky accommodation - you can even take your pet to boot!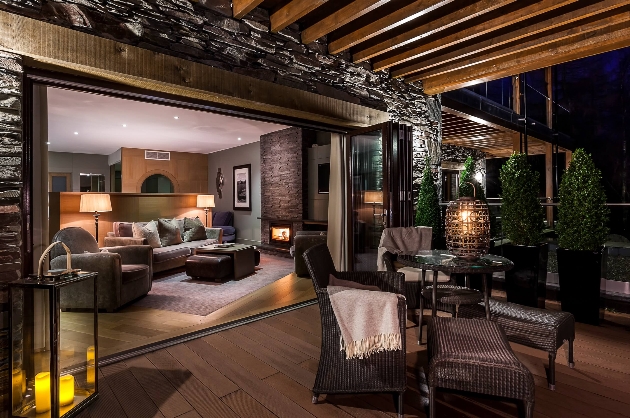 THE LAKE DISTRICT
Brimstone Hotel in the Lake District has 16 luxurious suites withlog-burning stoves, emperor beds and private balconies. Couples will receive complimentary access to the spa, thermal experience, pool, fitness studio, exercise classes and sauna. The Stove Restaurant and Bar serves brunch and dinner, plus it has a fantastic selection of fine wines and craft ales to try. If you fancy something a little more rustic, then the traditional Lakeland pub, the Wainwrights' Inn, offers hearty home-cooked meals.
To book and find out more, visit www.brimstonehotel.co.uk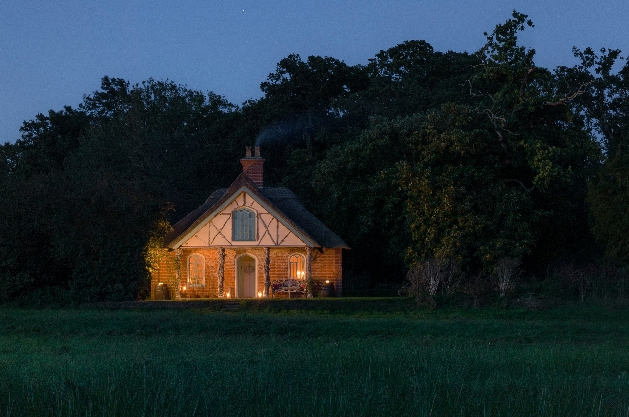 SUFFOLK
Hex Cottage in Suffolk is a romantic one-bedroom cottage with no electricity – the perfect place to experience times bygone and take adigital detox. Once a forester's cottage, it still retains many of its original features, from the bread oven to the outside larder. The candle-lit bedroom oozes romance with sheepskin rugs and a wood burner to keep you snug. The en-suite has a freestanding roll-top bath with stunning viewsout over the woodland. The cottage comes with plenty of candles, acosy fireplace, board games as well as wellies and pashley bikes.
For more information, visit www.fishandpips.co.uk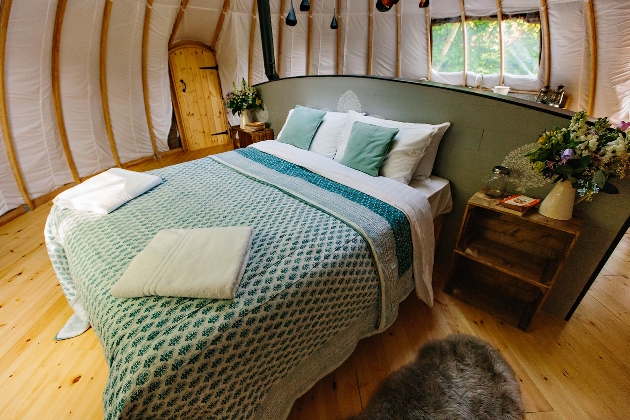 SOUTH WALES
Family-owned Penhein Glamping in Monmouthshire has launched a dedicated Go Wild family break to max out summer adventures for families wanting to roam free and switch off. For adults and kids wanting to carve out time in nature, to relax and run wild, then fall asleep smelling of woodsmoke in the comfiest of beds, the new Go Wild break is ideal. There is an adventure playground, rope swings, a crate of outdoor games, a brook for paddling and eight acres of wildflower meadow perfect for picnics, frolics, kite flying and hiding out. Relax in one of the eight spacious Persian Alachigh tents, with highdomes and skylights for stargazing, tucked away in a peaceful and private corner of coppiced woodland.
Discover more at www.penhein.co.uk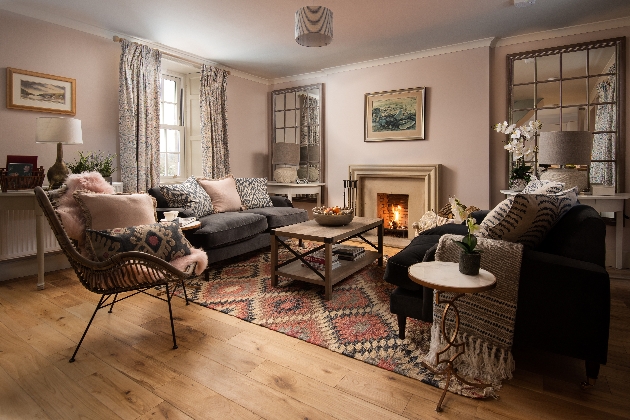 SCOTLAND
Bughtrig Cottage, in Coldstream on the Scottish Border, is a delightful, traditional stone cottage on the edge of the stunning Bughtrig Estate. This two-bedroom property has been completely renovated and boasts an exquisite interior and impressive original artwork. Outside, there is a charming garden with a small summer house and handcrafted bar for guests to mix delicious sundowners whilst admiring views over the Cheviot Hills. Couples will also have exclusive access to the formal gardens and tennis courts on the estate. Crabtree & Crabtree's Doorstep Delivery service is available and includes a diverse selection of edible and quaffable services, anything from parcels of delicious fresh produce and responsibly-sourced artisanalmeats to fine wines and pasta – the perfect treat for honeymooners.To find out more, visit www.crabtreeandcrabtree.com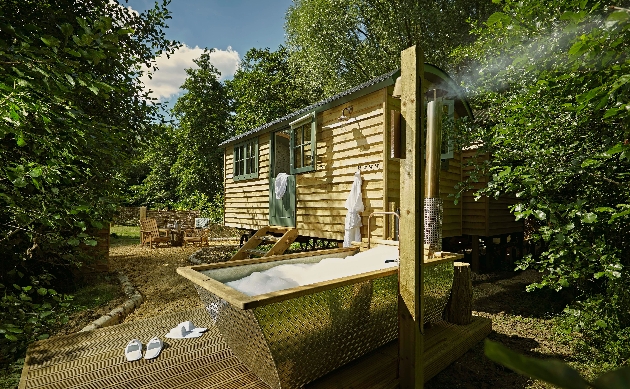 COTSWOLDS
Boaty McBoatface, one of the shepherd's huts at The Fish Hotel in the Cotswolds, is nestled into a hillside and offers impressive views. This luxury hideaway comes complete with a double bedroom and en-suite bathroom. Couples staying in Boaty McBoatface can embark on their own nautical adventure in the on-site paddle boat perfect for exploring theprivate lake or for popping across to the private island, which comes complete with decking and seats to enjoy long romantic evenings.
Visit www.fishandpips.co.uk for more information.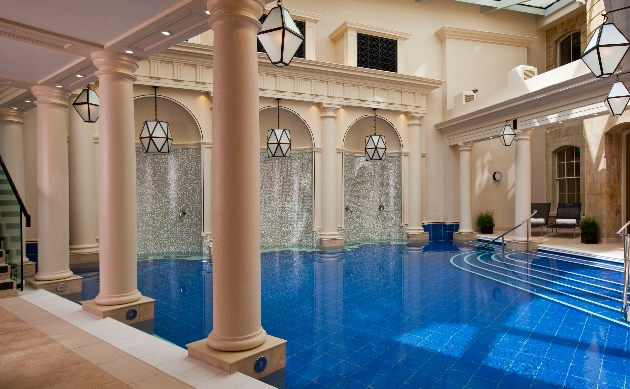 BATH
The Gainsborough Bath Spa is the ideal setting for those looking for grandeur and sophistication and is a stone's throw from where Netflix's new film, Persuasion, was shot. The Gainsborough Bath Spa offers guests a taste of living in an Austen novel with classic British afternoon tea and a prime location in the heart of the city, neighbouring the Bath Assembly Rooms, Roman Baths and Holburne Museum.The storybook cobbled streets carry you through regal architectureat every turn, all once explored by Jane Austen herself, who lived in Bath from 1801 to 1806. This is the only hotel that offers direct access to the city's natural thermal waters, where guests can look forward to an indulgent spa experience. Those looking to go all out can stayat The Townhouse, a private Georgian property that combines the grandeur of a private home with the five-star services of a luxury hotel. Head over to www.thegainsboroughbathspa.co.uk formore information.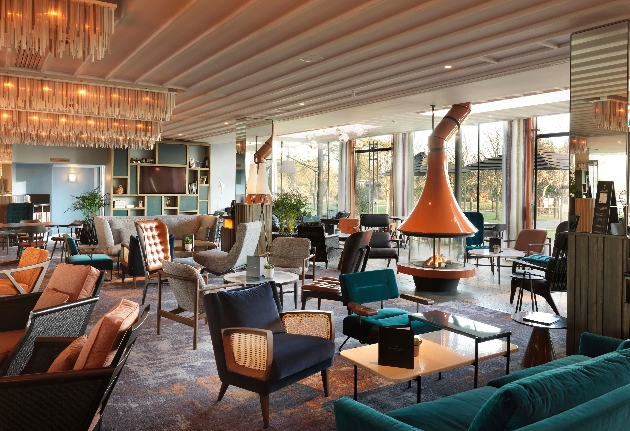 SURREY
The Runnymede on Thames is located on the banks of the River Thames and is surrounded by beautiful British countryside. Located just 10 minutes from Windsor, the property offers riverboat cruises, an array of exciting outdoor pursuits, both on and off the river, and new dining options. The impressive fleet of boats allow guests the chance to embark ona relaxing excursion on the water. Those wishing to self-drive for the day can set sail from the private jetty and navigate their way along the river. Whether you choose to sail up stream to Windsor or downstream to Shepperton, you can admire the picturesque views and local landmarks along the way, including Windsor Castle and Pharaoh's Island. The hotel has also reopened its spectacular, seasonally-heated outdoor swimming pool, in which couples can enjoy a refreshing dip and make use of the complimentary towels and comfortable sunloungers. Guests can enjoy four-hour paddle boarding sessions andglide down the river for an alternative way to admire the scenic views.
Check out www.runnymedehotel.com for more information.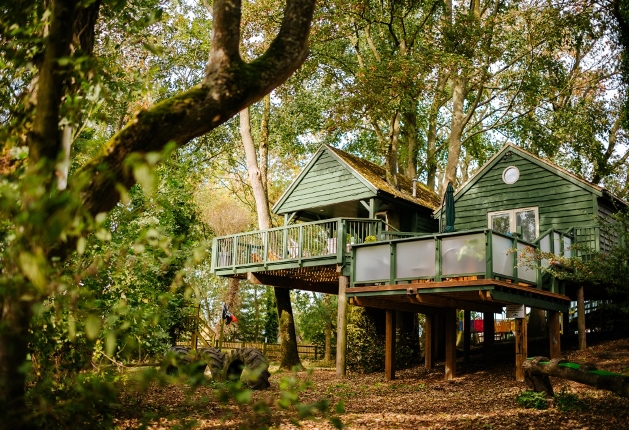 WEST MIDLANDS
Will's Tree House in Upper Tysoe, Warwickshire, offers a simply stunning tree-top location from which to enjoy the tranquil views of Winchcombe Farm. Luxury and attention to detail go hand-in-hand to ensure a truly memorable experience for every guest. Stand-out features include aprivate hot tub, situated on the lower deck, a spacious wrap around decking area with plenty of comfortable seating and an outdoor shower hidden in an alcove for privacy. Designed with outdoor living in mind, the huge tree-lined part-covered deck is well equipped with a charcoal pizza oven, a gas barbecue, hanging chairs, a giant beanbag, a hammock, a dining area and wooden ergonomic sun loungers. There are even complimentary robes in which to relax and take in the idyllic views of the Area of Outstanding Natural Beauty. This private country estate boasts a duck-filled pond, ponies, alpacas and lambs. There's also a sumptuous king-size bed and fold-down full size single bunk beds, cleverly concealed in cupboards ready for whenyou need them.
Visit www.winchcombefarm.co.uk/portfolio/willstreehouse for more information.