Jodie and Duncan first met 10 years before they started dating, at a get together before they left for university and went their separate ways. A decade later their paths crossed again at a mutual friend's birthday party at the Foresters Arms in Gosport. "We've been together ever since and two houses and two children later, we're now married," says Jodie.
Duncan proposed on Jodie's birthday in 2016. "It was on Richmond Hill, one of my favourite local beauty spots where we often go for picnics. It was a big surprise as we had our first child that year and it was a busy time for us,"
she recalls.

They tied the knot on 27th June three years later at St Mary's Church, Alverstoke followed by a relaxed al fresco reception in a field.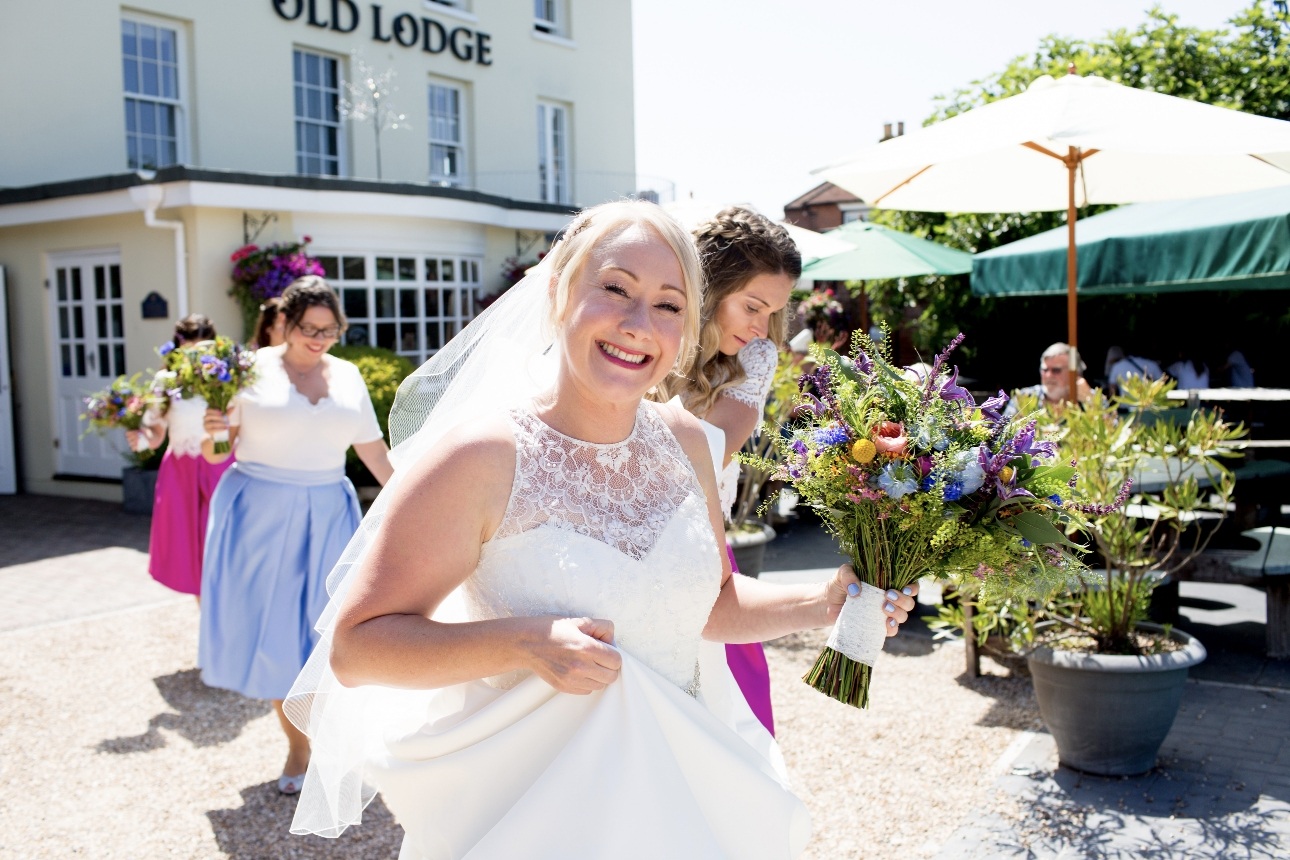 Jodie and the bridal party got ready at the Old Lodge Hotel in Alverstoke and then walked to the church. She wore a Stella York dress (style 6718) with a quality satin feel and full skirt. "I wanted a classic look and then fell in love with a lace jacket which I wore over the top."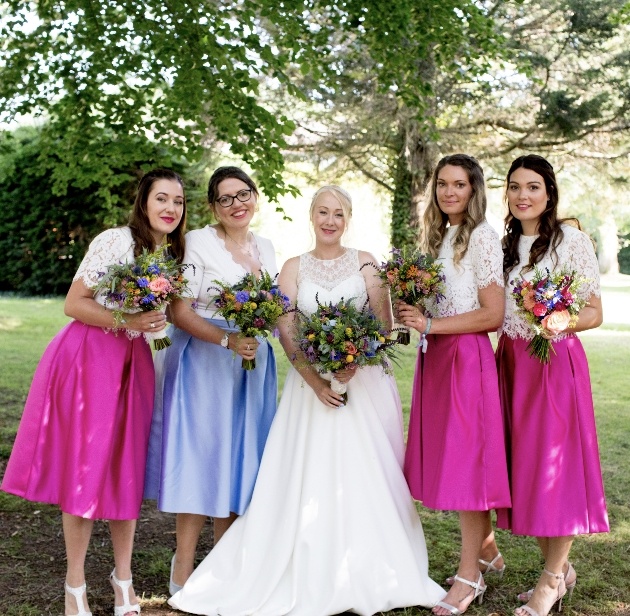 Instead of traditional dresses they opted for separates for the bridesmaids to reflect Jodie's favourite colours, pink and blue. "The skirts were made to fit by Marcia Devine, a local and very talented seamstress in Gosport, and we found the perfect white lace tops to go with them," adds Jodie.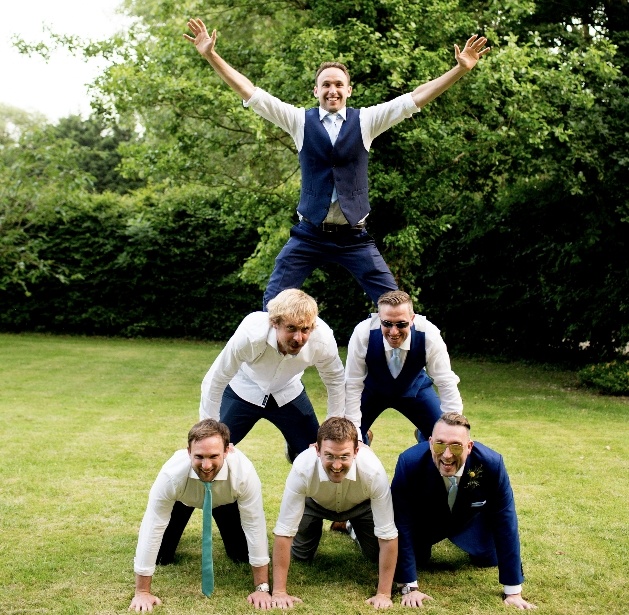 Duncan looked smart in a blue TM Lewin suit and the groomsmen wore their own suits in a similar shade.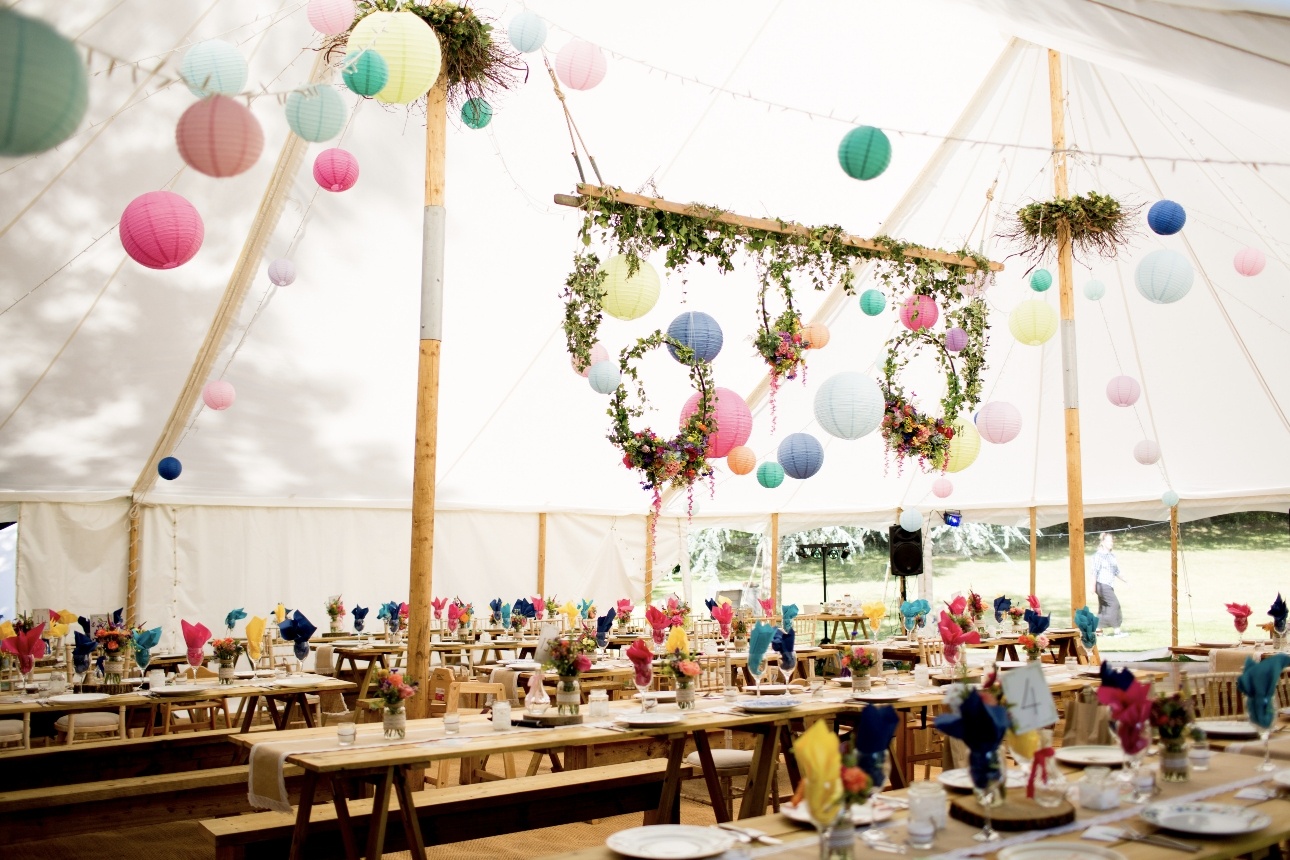 When it came to sorting out the reception they let Hampshire-based Kissing Gate Events take the strain. "They are a full venue organiser and were the perfect company to partner with. Initially I was attracted to the look and feel of the bell tent and also that they plan everything with you every step of the way. We wanted our day to be outside in the countryside where our guests could relax and enjoy themselves. We had a large number of children to cater for too and it was important to us to have local suppliers for all the food and drink. Most of all we wanted it to have a party feel," explains Jodie. Tessa from Kissing Gate helped tick all the boxes providing inspiration and planning guidance to help Jodie realise her vision for a rustic-themed wedding, full of bright colours and personal touches.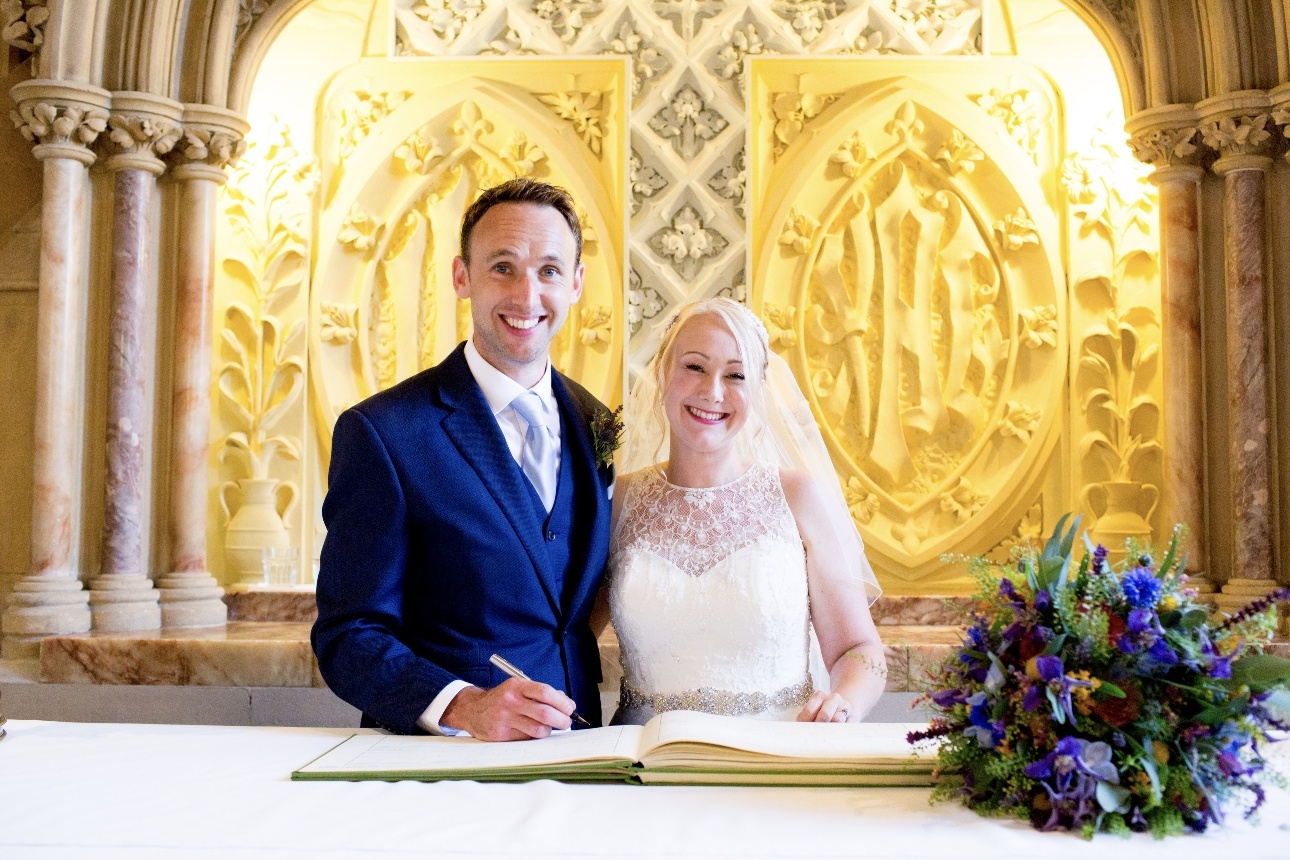 "Tessa made sure that every single detail was perfect, managed her fab team brilliantly, which meant I didn't have a care in the world all day!"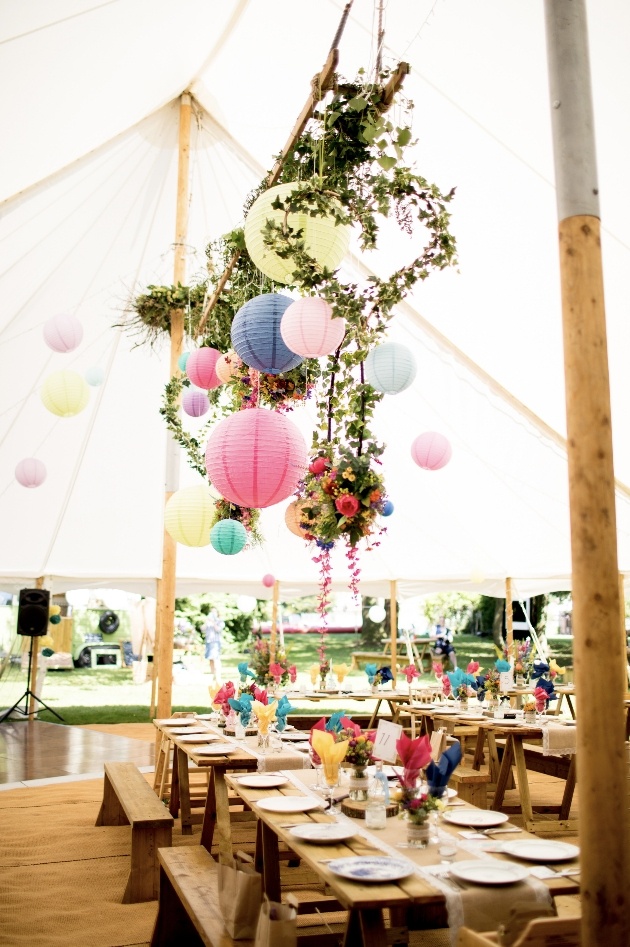 Top of Jodie's wish list was colour – the brighter the better, with plenty of her favourite shocking pink. An abundance of flowers was another must-have. "The most important thing for me was to fill the wedding with vibrant colours and as many flowers as our budget would allow!"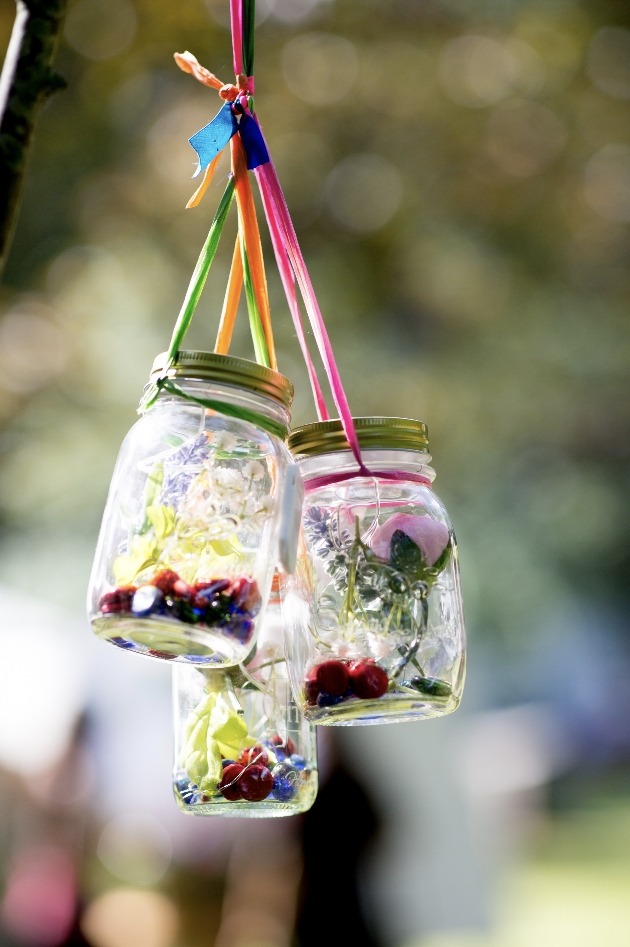 Rather than traditional roses she opted for a peony in her bouquet with other multi-coloured blooms. The two stunning floral displays at the doorway of the church were also used to decorate the bell tent afterwards. The bridesmaids had pretty bouquets and thistles were added to the buttonholes in a nod to Duncan's Scottish roots. "I also love craspedia, so we featured that too," says Jodie.
The reception was a picture, filled with decorative details, the biggest and most impressive being the large hoops hanging high up in the bell tent embellished with artificial flowers by Bloom Bloom Wedding Florists. The benches were dotted with colourful posies in jars decorated by Jodie, with larger versions as centrepieces. Standout features also included a ladder suspended from the roof, styled by Tessa from Kissing Gate with ivy, foliage and fairylights. "We also had a variety of different sized hanging lanterns in bright colours to create ambience," adds Jodie.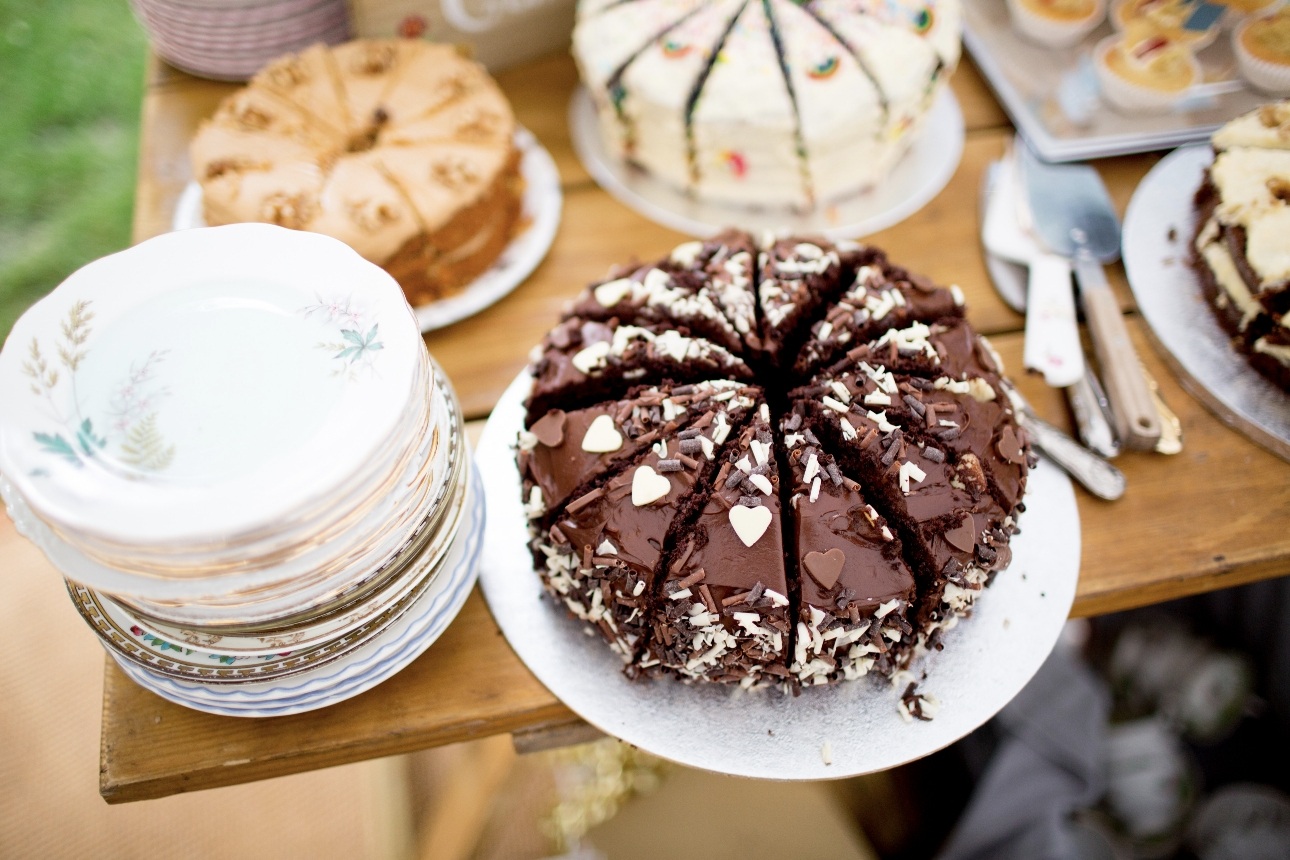 Instead of a traditional cake, they had a whole table full of sweet treats made by loved ones.

"I have lots of friends and family who bake yummy cakes so I was keen to include them in our day. I asked them to make a cake or dessert instead of giving us a wedding gift so we had a whole array, everything from lemon drizzle, rainbow, pecan and walnut, coffee and Victoria sponge to trifle, brownies and even milk-free options that my kids could eat, as they have allergies. It was perfect!"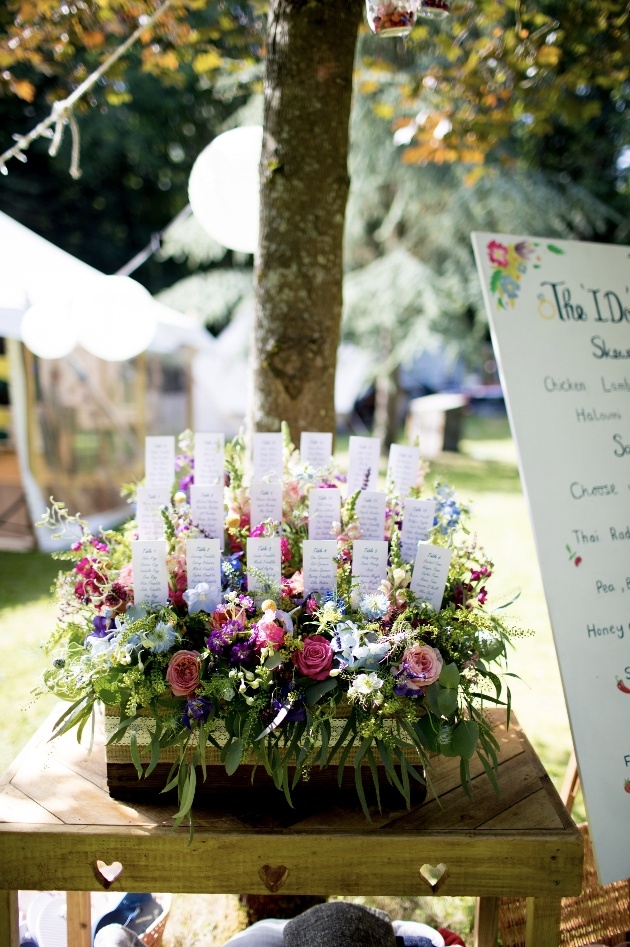 The benches fitted with the rustic theme, allowing plenty of space for guests to interact. Karen from Bespoke Graphics who did the hand-drawn artwork and the designs for the invites, save-the-dates and thank-you cards created all the place names and table plan.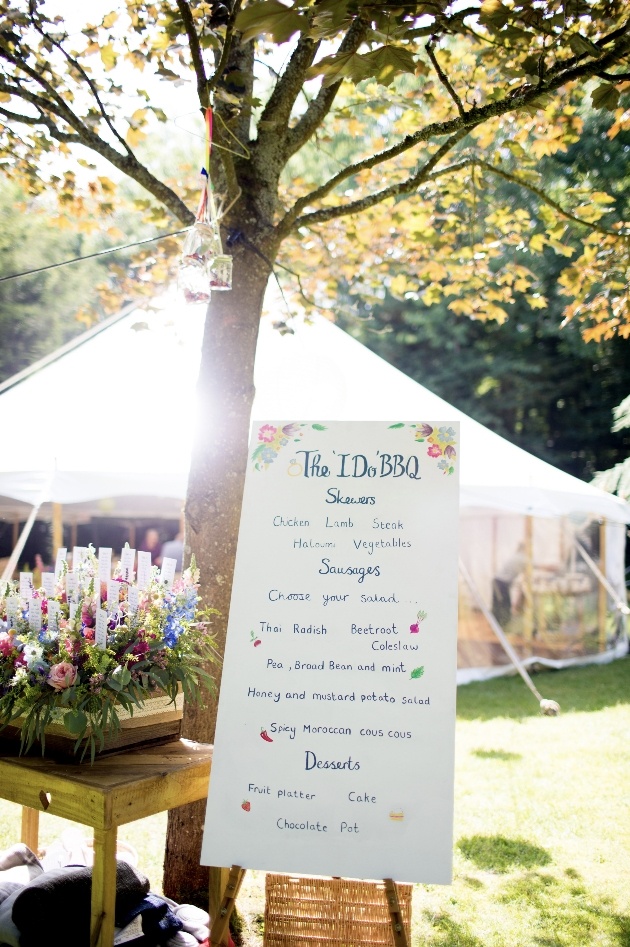 "My sister-in-law also created some lovely direction signs, an order-of-the-day board and painted a large wedding photo frame for people to pose in, which was a really lovely touch," Jodie adds.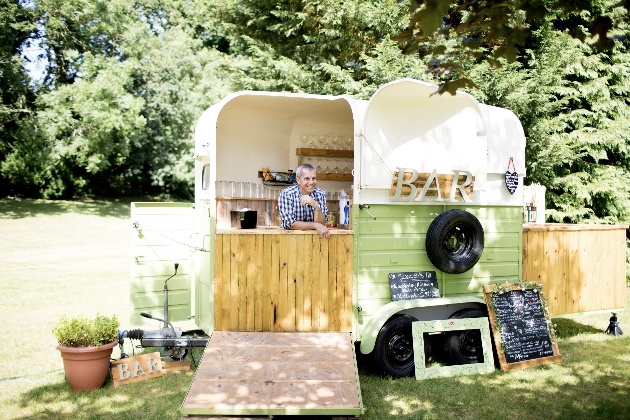 The food was another highlight of the day, with lots of locally sourced produce. "Tessa arranged all the catering and used a local bakery and all of the meat for the barbecue was provided by Hadlows family butchers in Titchfield.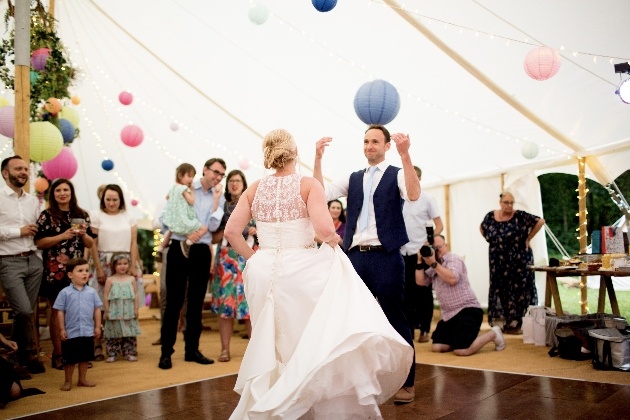 We were keen to have a 'posh' barbecue with lots of lovely meat on skewers and, just as importantly, plenty of nice salads and breads to go with it," Jodie explains. The wines and fizz were from Three Choirs Vineyard in Hampshire and guests also enjoyed delicious fresh fruit, including strawberries from a nearby farm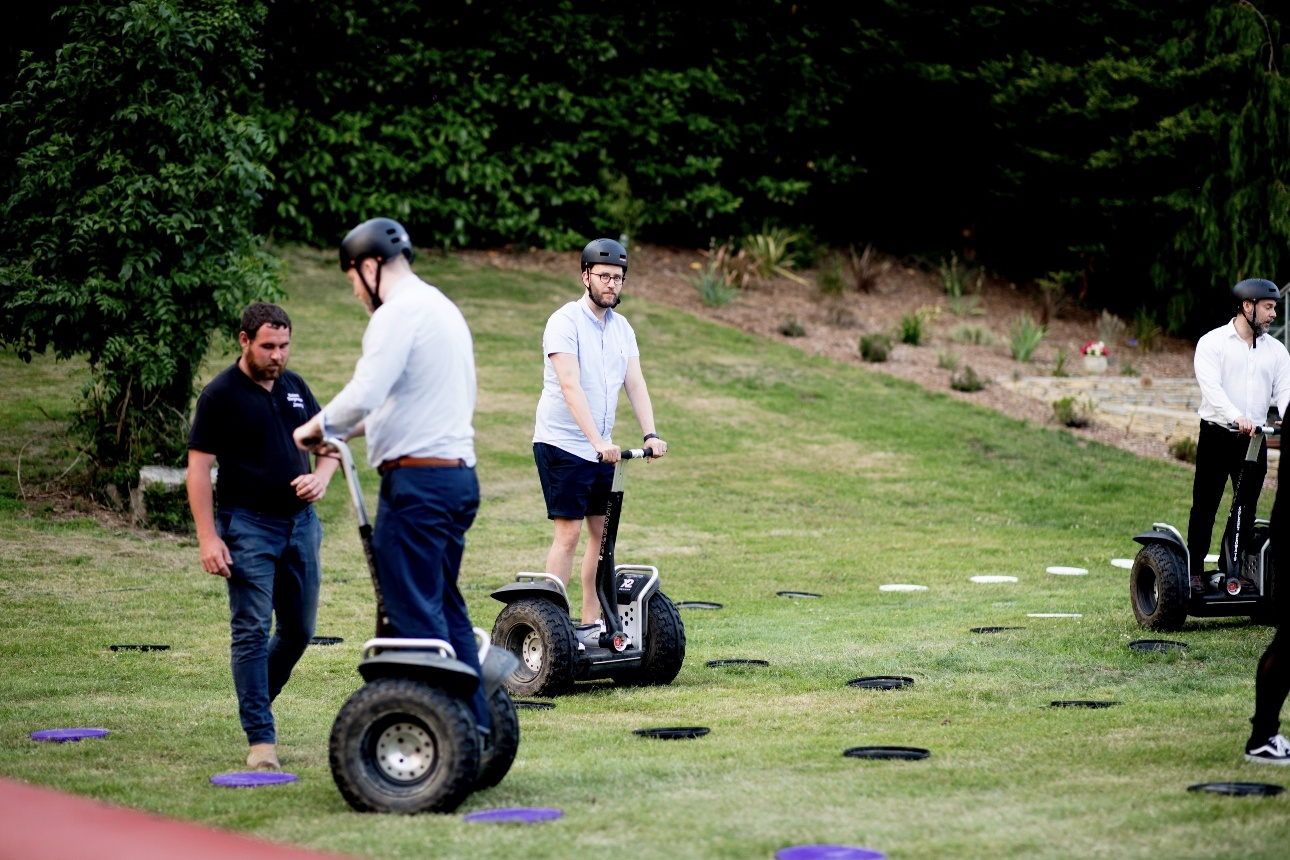 One of the most important things for Jodie and Duncan was to make the day fun for everyone, including the little ones. "We had 24 children there on the day so we arranged things for them, including toys and games. Tessa also set up a small bell tent where parents could feed and change their babies in peace and quiet, which was much appreciated," says Jodie.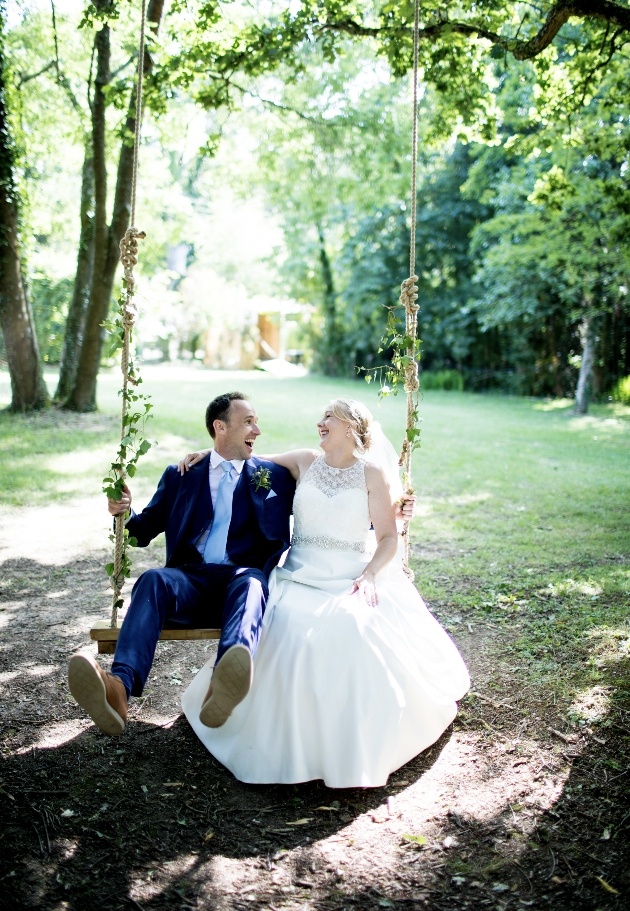 There was also a bell tent for the kids to play in and shelter from the sun and a big tree swing decorated with ivy; great for fun photos. "One of the biggest attractions was the Segway track; our guests spent hours having fun on this!" Jodie adds.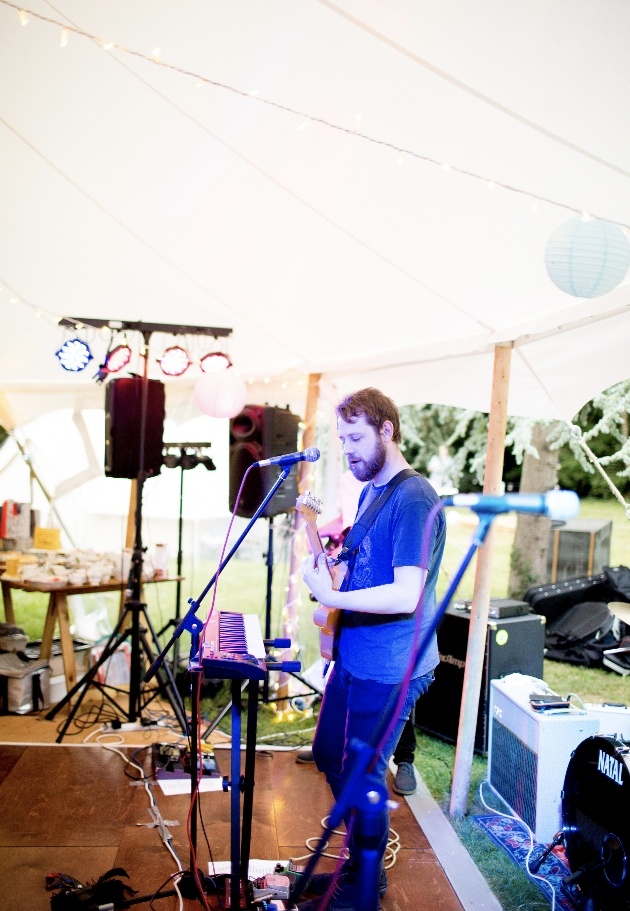 Live band Komaro were also a big hit for the evening party with a great playlist of rock, pop and indie favourites. "Everyone commented that it was like being at a gig, which is just what we wanted!"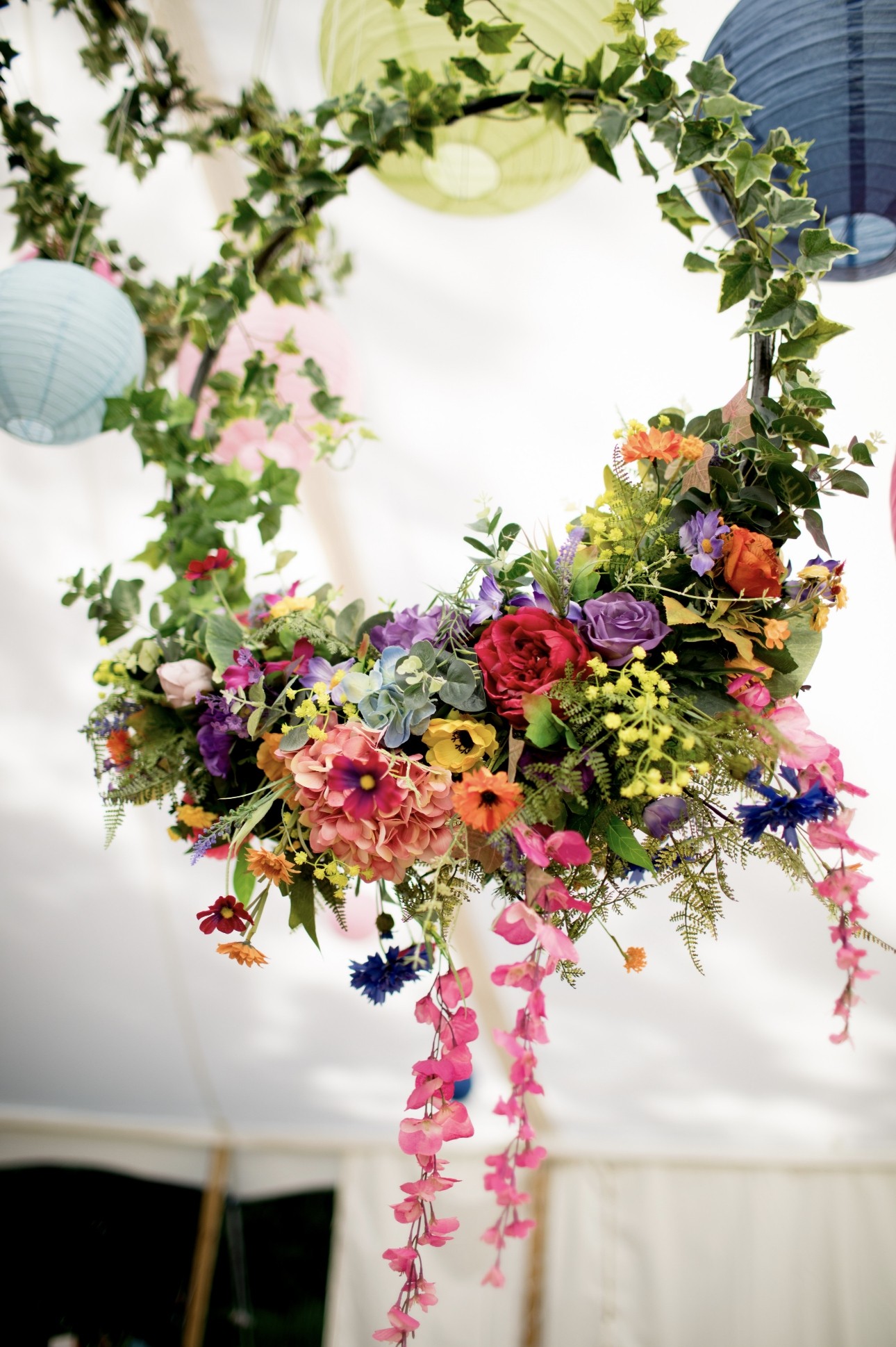 Make sure your suppliers not only understand your vision but are also inspired by it and fully on board with creating your perfect day. Mine seemed to read my mind!
Jodie and Duncan's contact book