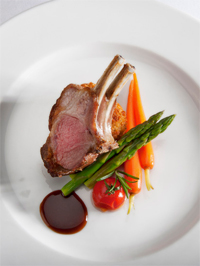 Taste the season
Q. We're struggling over what type of food to serve at our April wedding as the weather can still be chilly but we want the menu to reflect our spring theme. What would you advise?
A. Tony Beales says: In Dorset and Hampshire, we're blessed with such enviable choice when it comes to putting the perfect wedding plate together. With the green shoots of spring all around us, here's some ideas on how to deliver the perfect seasonal wedding feast.

- Make the most of local produce There are lots of ways to bring a fresh twist to classic dishes including regional produce such as local crab and Atlantic prawn starter served with an avocado mousse and baby herbs for a different take on an old favourite. Don't forget the stunning New Forest asparagus we have on our doorstep; wonderful served fresh with a poached free-range egg and truffle hollandaise. When it comes to meat, Dorset has an abundance of incredible local pork and lamb. Think pork fillet with a herb polenta, asparagus and roasted beetroot, served with a jus made out of local Joe's Purbeck Cider – delicious! We love local lamb and one of our favourite dishes is a stunning duet featuring a carved rack along with a confit shoulder croquette with seasonal vegetables and a rosemary jus.

- Formal or not too formal, that is the question? While many weddings err on the side of the traditional three-course wedding breakfast, some couples will prefer something less formal, especially if they're have a chilled, relaxed theme. And as the weather usually improves in the spring, why not try informal dining such as a barbecue, gourmet hog roast, an afternoon tea, or how about paella and tapas, or even a posh picnic? No matter what you choose, make sure your menu reflects you and your wedding and make it something extraordinary!