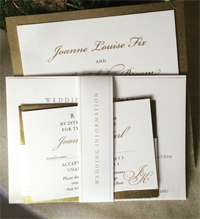 Hitting the 'write' note
Q. We love the metallics trend and want to incorporate shimmery touches throughout the décor for our winter wedding. How can we reflect this in our stationery?
A. Claire Harding says: Add some razzle dazzle allure with the look of authentic hot foil finish. Rose gold will give a delicious warm appearance and it's especially attractive as a romantic alternative to pink. Whether it's blush, pink or rose; the underlying significance of the revival of rose gold is that it represents love and will be on trend for a while yet.

For a chic, sophisticated effect, think nude shimmery papers layered with soft silver tones, gold and oyster, married with a cool grey marble effect and beautiful calligraphy. For something classic, black thermograph (raised ink) script on crisp white cotton board with elegant flourishes is a timeless favourite. To add a touch of sparkle, Swarovski crystal gems come in various shapes, cuts and colours. Use sparingly though for your on-the-day menus and place cards for glamour and unrivalled style.