Ask the experts
Here is a selection of Q&As from Your Hampshire and Dorset Wedding magazine. If you would like your question answered by our experts, please email it to editor@yourhampshiredorset.wedding.
To view more Q&A's on a different topic, please select one from the list below.
Hot topic: Al-fresco wedding
Local experts advise on outdoor celebrations
---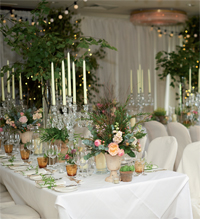 Forest fantasies
Q. I'm on the hunt for ideas and inspiration for our enchanted forest-themed wedding. What would you suggest to create a magical, fairytale vibe?
A. Claire Harding says: This is a theme that can work indoors or out. So whether you're celebrating under a canopy of trees with a carpet of wild flowers beneath your feet, or bringing the outside in, here are a few suggestions to set the tone:

- Use chunky log slices as the base for your centrepieces.

- Display floral specimens in different-sized glass bell jars for a fairy-like quality.

- Decorate a twisted willow wish tree with hanging, blown-glass bubble tea light holders for a Tinkerbell firefly effect.

- Rustic paper and hessian create a natural feel but don't be afraid to add metallic gold elements for a touch of luxury.

- Use pressed flowers to embellish your stationery.

- Try using beech bark, which is pliable and easy to cut, to make heart-shaped guest place cards.

- Spray leaves gold for confetti.

- Fill fluted glass hurricane vases, jars and vessels with tea lights to dot around your outdoor space.

- Keep it natural with a naked wedding cake decorated with seasonal berries.

- For a whimsical, dreamy feel use plenty of decorated crystal wine goblets.

- Add woodland animal models like a kitsch vintage Bambi fawn.
---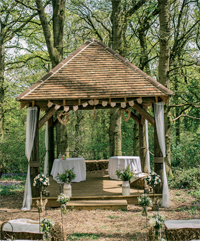 Above us only sky
Q. We're both outdoor lovers and want to have our wedding in the woods. Where do we start?
A. Amy Ashby says: This kind of wedding can be magical, so here are some ideas to help you pull it off:

- Meet your photographer on site before the big day so they can get an idea of the outside space. Try to visit around the same time of your ceremony so they can check the lighting.

- Let your guests know so they can wear appropriate footwear.

- Provide an 'essentials woodland kit' with handy items like sun cream, water, plasters, fun sunglasses and blankets, in case it's chilly.

- Have your order of service cards designed as fans; quirky but practical if it's a scorching hot day.

- Complement the natural outdoor setting with your décor. A flower arch works beautifully in the woods and you can create a romantic hideaway with strings of lights, lanterns in the trees and real petals scattered down the aisle.

- Make sure your venue has a wetweather option in place.

- Consider the acoustics. You want your guests to be able to hear your vows so check if there's a microphone available.

- Advise your hairdresser of your plans, you may need more hairspray or a few extra grips to keep you looking your best.

- Try not to worry too much about the weather! Although it's tempting to do an hourly check, just remember whatever happens this is your special day – enjoy it come rain or shine!
---
Mum's the word
Q. My daughter's having a relaxed, seaside wedding and I haven't a clue what to wear. I want something that'll be suitable for photos on the beach, lightweight and comfortable to wear, yet still stand out from the crowd. What would you suggest?
A. Tracie Beardsley says: When it comes to beach weddings, staying cool and still looking the part can be a challenge for mothers-of-the-bride and -groom. You don't want to look over-the-top but equally you don't want to feel like just another guest. So how do you get the balance right?

Our mums are loving long, floaty looks for this kind of celebration and the Michaela Louisa cold-shoulder dress (pictured) is perfect. It's posher than a maxi dress, partially covers the arms without being too hot and the cold-shoulder styling is right on trend. It packs easily too and won't crease. The dress looks fab teamed with smart sandals or even flip flops. For extra glamour you could also wear a flower in your hair or a small, feathery fascinator.

Popular festival-themed weddings pose similar challenges, after all what does look good with wellies? Well again, the Michaela Louisa dresses are proving a real hit. Their stylish, three-colour shift design is ideal and can be worn again for other occasions too.
---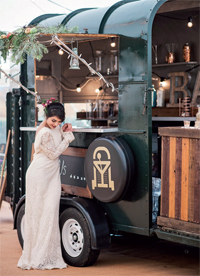 Raise a toast
Q. We're having catering trucks for our outdoor reception offering a variety of street food. What would you suggest for the drinks menu to complement the theme, that's a bit different?
A. Nicky Ashcroft says: The choice of countries represented can be amazing with this style of catering. So to fit into that vibe, you need to offer a choice of drinks that are capable of taking on a range of flavours, and of course still be a little different.

A modern, new and very British cocktail menu would fit the bill. Nothing too traditional but taking the opportunity to use some of our fantastic drinks manufacturers and really show what we can do with them. To start, I'd suggest a refreshing, summer-fizz cocktail of gin, blackberry and lavender syrup with English sparkling wine, served in a flute and garnished with a blackberry and lavender sprig on a stick. Call it the Gin Fizzberry and for a local twist use Fordington Gin, made in Dorchester, and a lovely English sparkling wine such as Hattingley Valley or Hambledon – the perfect English summer cocktail to partner any type of street food.
---
Contact our experts...

Amy Ashby
Wedding coordinator

Claire Harding
Stationery designer

Nicky Ashcroft
Mobile bar owner

Tracie Beardsley
Occasionwear boutique owner
---