Ask the experts
Here is a selection of Q&As from Your Hampshire and Dorset Wedding magazine. If you would like your question answered by our experts, please email it to editor@yourhampshiredorset.wedding.
To view more Q&A's on a different topic, please select one from the list below.
Hot topic: Setting the tone
Local experts advise on big-day styling
---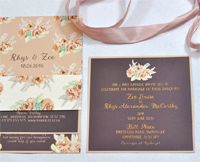 Make your mark
Q. We want our stationery to reflect the style of our wedding from the get go. What are the latest colours and designs to create maximum wow factor?
A. Zoe Barker says: I've noticed a move towards richer colour palettes for 2017 such as maroon, deep violet and copper tones paired with sage green and pastel shades to soften the darker hues. Watercolour floral patterns are always a hit. Personally, I like to incorporate these with hand-illustrated florals to give an edgier look while still maintaining a sophisticated and classic style.

There's been a shift away from the contemporary font – not too far – but mixing the hand-written, child-like style with more sophisticated typefaces. The quirky, illustrated designs are still in demand and the most popular line in my collection, featuring the ever-popular stag motif, remains strong this year.

For a completely different style a hand-painted landscape in bold, bright colours, such as the Summer Fields design (pictured above) makes a statement with a fresh colour palette and playful font.

You can always add your own personal stamp to reflect your colour scheme or create something bespoke from a venue sketch or landscape painting and incorporate hand-drawn elements to complement your theme.
---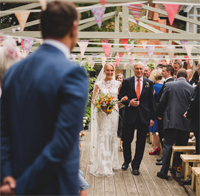 Get the look
Q. We're just starting out on our big-day journey and neither of us have a clue about what colours, themes or wedding décor to choose. Can you help?
A. Sam Savage says: Trends come and go, and to be honest, you don't have to follow them at all when it comes to your wedding. At the end of the day, if you're happy as a couple and you love black, Star Wars or unicorns; just go for it. For the heads-up on what's set to be hot this year though, think:

- Almost-bare, metallic tiers or hand-painted, illustrated cakes

- Rose gold; peach and grey; dusk and copper colour palettes

- Wedding dresses with a dash of sparkle, metallic embellishments or beading

- Out-of-the-ordinary entertainment to wow your guests

- Natural flora and plenty of greenery

- Interactive eating, such as sharing platters

- Romantic sunset photos, unplugged ceremonies, black and white images and drone footage

- Bigger-than-ever flower walls, twinkly light canopies and customised uplighters
---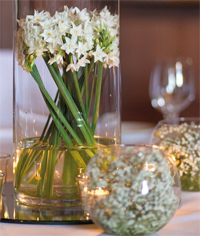 Seasonal inspiration
Q. We're getting married in spring because it's our favourite time of year and we want to celebrate the season in the details of our day, including the flowers. What would you suggest?
A. Lynda Robson says: You'll be spoilt for choice and as well as looking stunning, spring flowers can be extremely cost-effective. Beautiful, bright yellow daffodils are very versatile and look lovely in hand-tied bunches or simple wooden troughs for table displays. Cherry blossom starts appearing around the end of April, beginning of May, and can be used in tall, glass vases or in jugs for a more rustic style.

Muscari and paperwhites are a popular choice for hand-tied posies, especially if you want the country-garden look. For a more simple style try white tulips tied together or displayed in round glass bowls.

Roses are a popular choice all year round and there's an abundance of different varieties, including the stylish and wonderfully perfumed white Norma Jean, the pretty peach David Austin Juliet rose and the pale blush bombastic spray rose.
---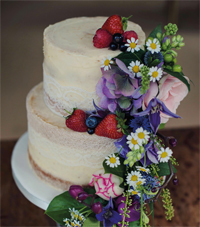 Sweet talk
Q. My fiancé and I are big cake lovers and we want a seasonal showstopper for our summer wedding. Any ideas?
A. Bronya Seifert says: Spring and summer wedding cakes are all about flowers this year. Naked cakes continue to be popular and make stunning centrepieces decorated with fresh blooms to coordinate with the bridal bouquet.

The increase of prints and embroidery on wedding gowns is reflected in the use of florals on cakes. Large opulent roses and peonies or smaller wild flowers, either fresh from the florist or handmade sugar-crafted ones, look beautiful in abundance and can be teamed with metallic or marble effects for a more modern feel.

Couples are also increasingly adventurous with flavours, and while our signature vanilla, lemon or chocolate options continue to be firm favourites, more alternatives are being included, such as passionfruit, salted caramel, Oreo and summer fruits for one or two of the tiers.

If it's variety you're after, then a dessert table is definitely a great option. Anything goes from cupcakes, macarons and afternoon-tea style bakes, often with a centrepiece for the all-important cake-cutting photographs.
---
Contact our experts...

Bronya Seifert
Cake maker

Lynda Robson
Wedding stylist

Sam Savage
Director

Zoe Barker
Designer
---