Ask the experts
Here is a selection of Q&As from Your Hampshire and Dorset Wedding magazine. If you would like your question answered by our experts, please email it to editor@yourhampshiredorset.wedding.
To view more Q&A's on a different topic, please select one from the list below.
Hot topic: Magical winter weddings
Capture the joys of the season with top tips from our experts
---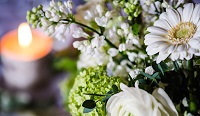 All white on the night
Q. We're getting married over the Christmas period but don't want to go down the traditional festive route for our colour scheme. What would you suggest for an on-trend seasonal look?
A. Jo Hicks says: Winter weddings are all about warmth, cosiness and crisp, cold weather, open fires and evocative scents. Create a magical wonderland with an abundance of white flowers and minimal greenery; grey foliage works well with white blooms. With the chilly weather and dark nights, atmosphere is paramount and candlelight is the ideal way to add a cosy warm feel. Many venues have open fires and special lighting to enhance the effect and strings of twinkling fairylights cascading from the ceiling can brighten up a dark spot. Natural materials continue to be popular, such as log slices and rustic containers decorated with twine, hessian and lace. Flashes of gold are a big trend too and will add extra warmth to a crisp, white colour scheme. Other key winter shades include purple, red and orange which, used together, can give a really bold, rich look for those wanting something warmer and brightly coloured. Incorporate seasonal berries as well to add to the effect. Submerged floral centrepieces will make a wow-factor statement especially with floating candles and tea lights. Scatter white, sparkly glitter to look like frost on the tables with crystals to give an icy touch.
---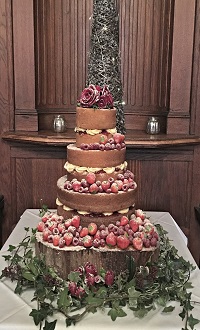 A cake for all seasons
Q. I love the idea of having a naked cake for our wedding but is it only really a summer trend?
A. Amanda Black says: The continued surge of beautiful naked wedding cakes shows no sign of slowing and there's no reason why it shouldn't continue into the winter months. These cakes not only look beautiful, but are a feast for all the senses with their wonderful aroma and taste of course. Try changing the lighter, summer flavours to spiced apple or pistachio and black cherry. Summer fruits are available all year round so you can still use them for decoration, however try frosting some or mixing in some winter foliage. For iced cakes, white with winter greenery and a hint of frost brings home the beauty of the season. Top with fir cones and use additional sparkly ones to decorate the table for a classic winter wedding.
---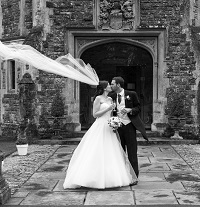 All-weather shots
Q. We met at Christmas and want to tie the knot during the festive season. However, we're worried we might not get the same range and quality of photographs as we would if we married in the summer. What would you advise?
A. Martin Bell says: Winter can not only be the most beautiful season to celebrate your wedding, but also be one of the most challenging for a photographer. You don't just have to think about rain, snow or wind but also where the sun is, as generally it sets much earlier. For a winter wedding I'd recommend having your ceremony no later than 12.30pm for the best chance to get as many outside shots as possible.

Another important consideration is the cold. For me this is a key factor as it means working quickly to keep all of the guests happy during the formal photographs as well as the bride and groom during their personal shoot. I always scout venues extensively to make sure I have an all-weather plan ready for the big day. Before booking a photographer ask to see their winter wedding portfolio so you can make sure they're up to the job. It's much easier to get good shots on a bright sunny day in summer when there's plenty of time and better conditions to get everything you need. A winter wedding can be a challenge but one that can produce some stunning shots and definitely separates the professionals from the amateurs.
---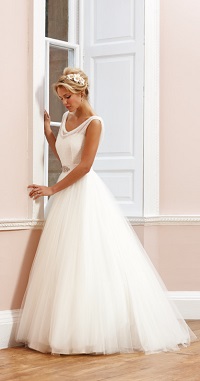 Razzle dazzle
Q. I haven't chosen my wedding dress yet because most of the styles I love are really summery. How can I look glamorous for my winter wedding and still be warm and comfortable?
A. Laura Ward says: This is your chance to feel like a princess and it's the perfect time of year to fully embrace a fairytale look. Go all out and pick a ballgown-style dress with plenty of sparkle and layers of tulle for a real winter wonderland effect. Accessorise with a glittery belt to catch the evening candlelight and throw on a faux fur or feather wrap to keep out the chills. Or don't be afraid to add a pop of colour with a lightweight pashmina or cardigan. Finally, invest in some plain, ivory-coloured umbrellas so you can pose outside for fun shots if it rains.
---
Contact our experts...

Amanda Black
Bespoke cake maker

Jo Hicks
Flowers

Laura Ward
Bridal boutique owner

Martin Bell
Photographer
---