Ask the experts
Here is a selection of Q&As from Your Hampshire and Dorset Wedding magazine. If you would like your question answered by our experts, please email it to editor@yourhampshiredorset.wedding.
To view more Q&A's on a different topic, please select one from the list below.
Hot topic: Big day dilemmas
Local experts tackle your big-day queries
---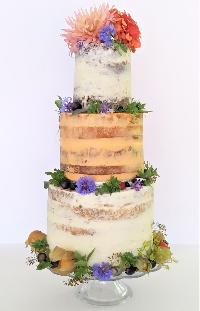 Cake for all
Q. We want something different to the norm for our wedding cake that will appeal to all our guests, including our vegan friends. I know it's a tall order, but what would you suggest?
A. Penelope Hurst says: Just because you need to cater for guests with different dietary needs doesn't mean that you can't indulge in something original, spectacular and beautiful. Tiered cakes can accommodate many different styles and flavours and semi-naked creations, decorated with fresh flowers, are a great way to combine layers. If you want your centrepiece iced, then that shouldn't be a problem either, as there are vegan fondants on the market that can be used to cover the cake and make beautiful decorations.

At Cocoa & Whey we love combining sweet and savoury options. The cake (pictured) has a tier of rhubarb, orange and lemon verbena with lemon buttercream at the bottom; feta, tomato and basil with cheddar and red pepper cream in the middle and a chocolate vegan cake on top with vanilla vegan buttercream. We decorated it with fresh edible flowers supplied by the wonderful Blooming Cow Flowers together with fruits and herbs.

To suit a range of tastes, you can always combine your main cake with cupcakes in any flavours you want. The ones pictured include lime and coconut; cheddar, olive and tarragon; and chocolate fudge.
---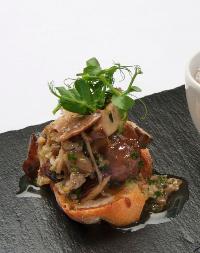 Local bounty
Q. We're planning to have a sit-down meal for our October wedding. What would you suggest that's seasonal and local?
A. Tony Beales says: The autumn months offer us some of the most sensational produce, available right here on our Dorset doorstep. Some of my personal favourites include New Forest mushrooms, tasty served on toast with a cep velouté and truffle foam.

Damsons are in season in the autumn months, and they make the perfect jus accompaniment for our local pork and pumpkin dish – served two ways with curly kale and a smooth sage mash.

However, it's with desserts that you can really have fun with some of the season's finest such as the humble pear and sloe berries. We've created a divine pear and almond tart which we serve warm with Chantilly cream, pear coulis and a sloe gin gel – delicious!
---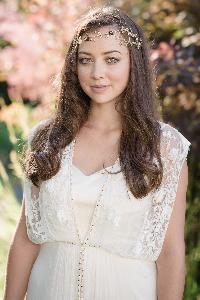 The finishing touch
Q. We're getting married next autumn. What kind of hairpiece can I wear to go with our seasonal theme?
A. Jo Barnes says: A beautiful floral and leaf one would work wonderfully for an autumn bride. Opt for a design in golden hues to go with the beautiful rustic autumnal colours. We have a number of headpieces that would be perfect for the look you're after. Our top picks are:

- Primrose headband, created with golden shadow crystals and peach freshwater pearls.

- Fluer, gold leaves and flowers with golden shadow crystals delicately wired into a vine that trails around the head.

- Ginny, an elegant hair comb created with gold flowers and peach freshwater pearls.
---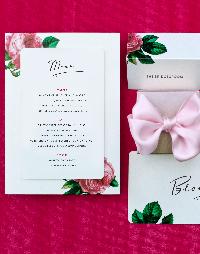 The write stuff
Q. We want to reflect a simple but classic theme throughout our wedding including the stationery to give our guests a flavour of what's to come. What would you advise?
A. Claire Harding says: Keep it simple with uncluttered pieces and elegant typographical styles. Prevent your invites from looking like a leaflet by not putting too much information on them. Opt for an additional sheet instead to include more details. Neutral cream, fresh white and soft grey tones work well for a base. You can always add a pop of colour with velvet ribbon and brightly coloured envelopes. Following the royal wedding earlier this year, magnificent trellis and festoon work printed on wedding stationery is also very on trend.
---
Contact our experts...
Claire Harding
Stationery designer
---