Ask the experts
Here is a selection of Q&As from Your Hampshire and Dorset Wedding magazine. If you would like your question answered by our experts, please email it to editor@yourhampshiredorset.wedding.
To view more Q&A's on a different topic, please select one from the list below.
Hot topic: Summer loving
Local experts advise on chilled festival-style weddings
---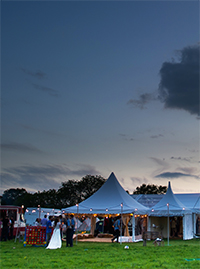 Above us only sky
Q. We're having a marquee reception and although we're hoping to spend as much time as possible outside, we want to create a wow-factor space in keeping with our summer festival theme, that's cosy and inviting if the weather's bad. Any ideas?
A. Neal Hendes says: Marquees come in all shapes and sizes and can be used for all types of weddings, large or small. Whether you're having an intimate celebration or grand affair they can provide a versatile option to suit your big-day needs and theme as well as your budget.

You can create your own personal wedding space using a variety of combinations including everything from entrance to catering marquees, walkways and bars. Organise chill-out zones outside with deckchairs, random sofas, upcycled pallet and drum tables and fire pits for toasting marshmallows and to gather around as the sun goes down. If the weather's not on your side, break-out areas are a great idea decked out with haybales, garden furniture, comfy cushions and throws to create an inviting, cosy atmosphere.

Marquees are a blank canvas venue, so you can go to town with the décor and add your own personal stamp. Think drapes, coloured swags and mood lighting, hanging floral arrangements, themed props, bunting and Chinese lanterns to match your colour scheme.

Bell tents are great for staying guests and you can even have your own romantic wedding night retreat complete with bed and wrought iron bedstead, chest of drawers, sheepskin rugs and more, set up to your own personal specification.

For the reception, trestle tables add to the relaxed informal vibe with a mix-and-match array of chairs as well as other tables for the cake, cards and presents. Rustic decorations including wooden name place holders, log slices for the centrepieces and touches of hessian help bring the outside in and create a natural feel. Don't forget the essentials either, such as heating, power and conveniences – it's often the little things that make a difference and there's nothing like luxury loos to make your guests feel special.
---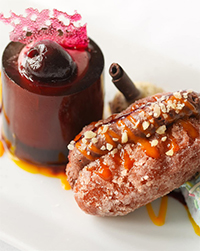 Cool catering
Q. We're outdoorsy people and want to host our big day al fresco; weather permitting. What would you suggest for the catering to fit with this kind of informal affair?
A. Sally Ann Pickles says: You can't beat canapés in the great outdoors as a roving starter followed by sharing platters or a sizzling barbecue, great as an icebreaker to get the party started. Vegan is the new vegetarian, so why not add a twist by serving tasty dishes such as grilled corn with coconut miso, portobello mushroom or blackbean, coriander and lime sliders, grilled egg plant with Xiang sauce, salt and pepper tofu steaks with a selection of vibrant salads served in huge sharing bowls with fragrant fresh herbs.

Alternatively rustic sharing platters served with local meats and cheeses such as Tunworth and Old Winchester are delicious with homemade bread and focaccia or fougasse all stuffed with interesting things such as olives, pancetta and sweet potato, complemented with good quality oil, vinegar and butter.

And for desserts, mini pots are wonderful. They're easily served and you can have a great variety so everyone can pick their favourite plus you get to present them in all sorts of cute containers. Finally, even in the summer, there's nothing better than huddling around a real fire and toasting marshmallows. Why not go one better though with a s'more, a deliciously gooey marshmallow and chocolate campfire treat.
---
Mood lighting
Q. We want out big day to be as informal as possible to reflect us as a couple and our love for the outdoors. What would you suggest to create a relaxed atmosphere with plenty of colour and fun?
A. Bethanie Ashby says: If you want to create a casual, chilled feel, then the atmosphere has to be just right and one of the first things to think about for this is the lighting. I'd suggest masses of fairylights to set the tone. Drape them everywhere and use as your main source of illumination as a dimly-lit room creates a natural relaxed and romantic setting.

Another major consideration is the venue, if you love the outdoors then somewhere with a great garden is a must. I love all the tipi weddings that are so popular at the moment, they're so inviting and give a lovely rustic vibe. They're also great if you're going for a festival-style celebration!

Finally, if you're after a splash of colour then you can't go wrong with flowers, flowers and more flowers. For me, the more the merrier! They look gorgeous and bring the outside in; great in rainbow shades for a pop of extra bright colour.
---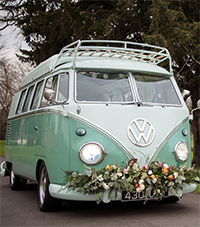 Star of the show
Q. We don't need transport for our wedding but I'd always dreamed of having a beautiful retro Campervan as part of my big day. Is there some way I can incorporate one into our summer wedding?
A. Jenni Trigg says: A vintage VW Splitscreen provides so much more than just transportation. These cult icons not only look fabulous in your wedding album but also allow newlyweds some valuable alone-time on what is a busy, exciting and, at times, overwhelming day. Take a moment together, enjoy a glass of chilled champagne while enjoying the charm and quirky character of these wonderful vehicles!

The versatility of a classic Campervan provides such a variety of entertainment options for the big day too. We offer a mobile karaoke pod and an e-shisha lounge, with an adjoining bell tent – perfect for an outdoor summer-festival theme and personalised to your specifications.
---
Contact our experts...

Bethanie Ashby
Wedding planner

Jenni Trigg
Owner

Neal Hendes
Managing director

Sally Ann Pickles
Managing director
---