Ask the experts
Here is a selection of Q&As from Your Hampshire and Dorset Wedding magazine. If you would like your question answered by our experts, please email it to editor@yourhampshiredorset.wedding.
To view more Q&A's on a different topic, please select one from the list below.
Hot topic: Spring weddings
Local experts advise on special touches to reflect the season.
---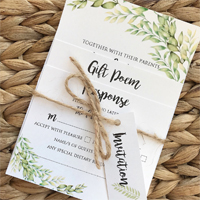 Setting the tone
Q. We want to celebrate the season throughout our big day, starting with the stationery. What type of design would you suggest?
A. Emma Farwell says: The stationery is often the first glimpse your guests will have of the look and feel of your big day. You can give a flavour of what's to come in many ways from the colours you choose to the design, motifs and type of font to convey a sense of the style and theme of your celebration. Spring offers a wealth of inspiration, from pretty pastel shades to seasonal flowers and foliage. Using the same details throughout from the save-the-dates to the on-the-day stationery and thank you cards will help to tie everything together and create a beautiful coordinated effect. Some of the designs I'd suggest are:

- Floral watercolours
Set the tone with something bright, colourful and vibrant such as the floral illustrated range (pictured); perfect to reflect the spring season. The modern calligraphy-style font creates a neat, sophisticated finish and is so on trend and looks beautiful carried through to the stationery on the day.

- Intricate laser-cut invitations
This is an elegant wedding invitation design comprising an intricately laser-cut sleeve in a floral pattern from ivory pearlescent card and finished with a hand-tied satin bow to add a little luxury. Bespoke colours can be introduced to reflect the spring season.

- Vintage/rustic lace Invitations
Vintage lace has been a popular trend within the bridal industry for several years and there's no sign of it going anywhere soon.
---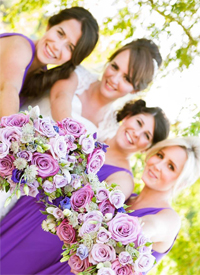 Pick of the bunch
Q. We're getting married next spring and I want the flowers to be one of the major features of our day. How far in advance can we plan as I want the style and look of my bouquet and floral arrangements to be as on trend as possible?
A. Louise Avery says: Start now, is my advice! A wedding takes a lot of planning, there's so much detail and flowers can feature in almost every aspect from the dresses, bouquets, hairstyling, ceremony venue, floral arches and photo-points, to the reception venue, guest and top tablescapes. Keep your florals on trend by booking a wedding specialist who will be in touch with what's current and up-coming and consider my three top tips:

- A new Pantone Colour of the Year is released annually to give inspiration to all creatives including wedding and event florists. So why not consider accent points in the current shade Ultra Violet as an up-to-date colour reference.

- Provenance is still really important and including English flowers will keep you right on trend. If your florist supports English growers with schemes like Flowers From The Farm you'll know you've got that covered.

- Seasonality is a major factor and works like magic with wedding flowers. Choosing varieties that are in season and therefore naturally at their optimum will not only give you the best florals in your displays, but will also offer the best value for money too.
---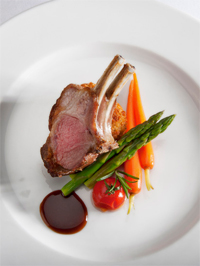 Taste the season
Q. We're struggling over what type of food to serve at our April wedding as the weather can still be chilly but we want the menu to reflect our spring theme. What would you advise?
A. Tony Beales says: In Dorset and Hampshire, we're blessed with such enviable choice when it comes to putting the perfect wedding plate together. With the green shoots of spring all around us, here's some ideas on how to deliver the perfect seasonal wedding feast.

- Make the most of local produce There are lots of ways to bring a fresh twist to classic dishes including regional produce such as local crab and Atlantic prawn starter served with an avocado mousse and baby herbs for a different take on an old favourite. Don't forget the stunning New Forest asparagus we have on our doorstep; wonderful served fresh with a poached free-range egg and truffle hollandaise. When it comes to meat, Dorset has an abundance of incredible local pork and lamb. Think pork fillet with a herb polenta, asparagus and roasted beetroot, served with a jus made out of local Joe's Purbeck Cider – delicious! We love local lamb and one of our favourite dishes is a stunning duet featuring a carved rack along with a confit shoulder croquette with seasonal vegetables and a rosemary jus.

- Formal or not too formal, that is the question? While many weddings err on the side of the traditional three-course wedding breakfast, some couples will prefer something less formal, especially if they're have a chilled, relaxed theme. And as the weather usually improves in the spring, why not try informal dining such as a barbecue, gourmet hog roast, an afternoon tea, or how about paella and tapas, or even a posh picnic? No matter what you choose, make sure your menu reflects you and your wedding and make it something extraordinary!
---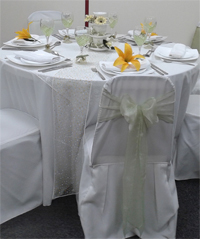 The finishing touches
Q. We're newly engaged and as spring is my favourite time of year, we're planning to tie the knot next March. What are your top styling tips to reflect the season?
A. Lynda Childs-Osborn says: For a springthemed wedding, I'd suggest:

- A soft pastel palette
- Bridesmaids dressed in their choice of soft hues to complement the colour scheme
- Neutral décor with an accent shade
- A floral ceremony arch
- Flowers are in abundance in spring so go for an array of different shades
- Serve fruity drinks like cosmopolitans and Pimm's
- Pretty floral bunting
- Rustic/vintage styling
- Alice in Wonderland-inspired afternoon tea reception
- A naked wedding cake decorated with assorted fruit
---
Contact our experts...

Emma Farwell
Stationery designer

Louise Avery
Florist

Lynda Childs-Osborn
Co-owner

Tony Beales
Catering
---