Ask the experts
Here is a selection of Q&As from Your Hampshire and Dorset Wedding magazine. If you would like your question answered by our experts, please email it to editor@yourhampshiredorset.wedding.
To view more Q&A's on a different topic, please select one from the list below.
Hot topic: Winter weddings
Local experts advise on seasonal styling.
---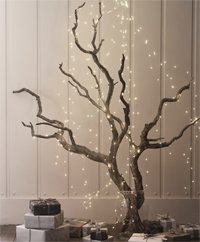 Festive flair
Q. We're getting married near Christmas and want to include a nod to the season in the reception décor without it looking like Santa's grotto. What would you suggest that's on trend and sophisticated, yet still festive?
A. Angela Gibson says: Whether your wedding is in a rustic barn or an opulent manor house, a palette of sparkling silver and crisp white with a touch of icy blue will transform your venue into a winter wonderland, producing a flavour of Christmas without being overpowering. Metallic colours are on-trend, so a touch of silver will ensure your wedding has not only the luxe vibe, but is stunningly stylish and festive.

Showstopping tall centrepieces made from white twigs with hanging crystals bring height and elegance to a room, with a couple of strategically placed 6ft-tall snow trees to provide the ultimate wow factor. Ceilings covered in white drapes, delicate white fairylights and hanging crystal chandeliers, coupled with gentle blue uplighting, will also evoke a wintry feel.

For sophisticated dinner tables, think cool blue tablecloths, set with silver cutlery, charger plates and white napkins, surrounded by acrylic dining chairs with silver sashes. For the cake, frosty blue icing adorned with delicate crisp white snowflakes makes a stunning focal point, coupled with a wishing tree with white decorative balls.

Once all of these details are brought together your venue will be transformed into an elegant winter wonderland full of romance and opulence, while gently hinting that Christmas is just around the corner.
---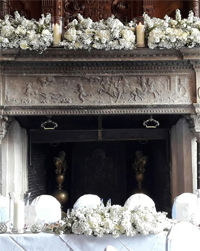 Pick of the crop
Q. We want to surprise our guests at our winter wonderland-themed wedding with a really memorable experience and food that's warming and seasonal. Any suggestions?
A. Tony Beales says: Winter offers some of the year's most exciting and warming ingredients, conjuring up images of blanket throws and toasty open fireplaces. There's a wealth of stunning dishes you can choose. A favourite is our south-west duck, which we confit and serve with savoy cabbage, forest mushrooms, creamed potato and a port jus. For something a bit different try a taste of Italy, with Limoncello drizzle cake, a lovely (if slightly boozy) variation on the classic lemon drizzle, served with smooth lemon curd and a winter berry coulis. No matter the weather, there's always something delicious on the seasonal menu. And if you can't find what you're looking for, why not come up with your own dream dish? Personally, we love a culinary challenge!
---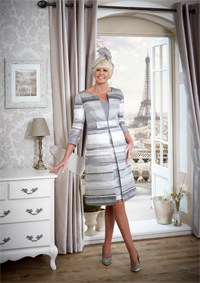 The chill factor
Q. My mum feels the cold and can't decide what to wear for our winter wedding that's smart and warm enough for the church ceremony yet still glamorous for the reception and evening do. Can you help?
A. Tracie Beardsley says: A dress with long sleeves teamed with a faux fur wrap is the perfect look for a winter wedding and will take your mum effortlessly through to the evening celebration. Many stand-alone dresses have beautiful detailing such as beadwork or subtle sequins so they transfer easily to a cocktail look once the lights go down and it's time to hit the dancefloor.

Another great option is a dress and frock coat. The fabric for the coats tends to be weightier so will keep her warm. Obviously, when you take it off you need a dress that also has wow factor. Designers such as Dress Code, Cabotine and Zeila do this combination really well, offering fabulous dresses with sleeves underneath their frock coats. Bear in mind too, that a frock coat looks great with trousers to wear after the wedding's over.
---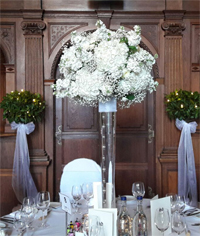 Less is more
Q. We're having our wedding in a historic venue and want the décor to look fabulous without detracting from the stunning setting. What would you advise?
A. Lynda Robson says: The secret is to have a few beautiful statement pieces, well above eye level (no one wants flowers blocking their view!) and don't go overboard with lavish displays all around the venue. Huge pedestals can be very costly and your money could be better spent on having a gorgeous tall display on every table. If allowed, candlelight is a must. !t warms everything up; even in the summer. Most stately homes tend to have dark walls, so keep the flowers light and elegant.

Keep the table clean and if you're having chair covers go with a simple white or ivory taffeta sash. I personally like the taffeta as it gives a more secure bow.
---
Contact our experts...

Angela Gibson
Wedding planner

Lynda Robson
Wedding stylist

Tony Beales
Catering

Tracie Beardsley
Occasionwear boutique owner
---